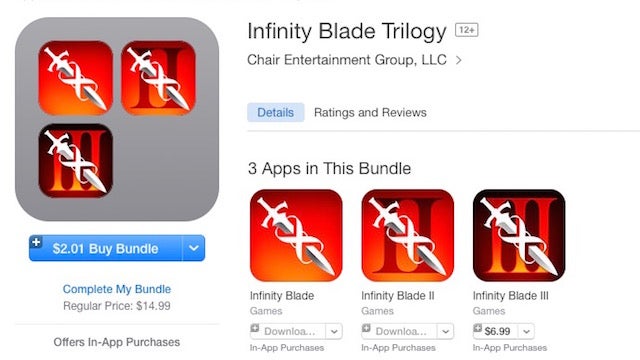 Apple recently introduced App Bundles that allow you to snag a group of apps at a discounted price. There's also a "Complete My Bundle" option that can be confusing at first. The developers over at Panic figured out how it works.
If you see the "Complete My Bundle" option in the iTunes App Store, you'll sometimes notice that you can buy an app for way more (or less) than the actual price. Panic breaks it down:
Complete My Bundle takes whatever money you've paid for the individual apps and applies that towards the bundle's fixed price. So, if you buy an app on sale, or use a promo code, your Complete My Bundle price can be different than someone else's, and in some situations it might be cheaper to buy the remaining app(s) individually...

The user owns three of the four apps. Why would the user's Complete My Bundle price be $US10.02, if Prompt 2 alone is $9.99? Here's why: the user bought Transmit iOS for $9.99, Status Board for $9.99, and Diet Coda when it was briefly on SALE for $9.99. That's a total of $29.97 worth of "credit" towards the price of the bundle. Now, the bundle's fixed price is $39.99, based off current app prices. See where this is going? $39.99, minus $29.97 in credit, equals $10.02. Bingo. Don't complete this bundle.
It's confusing, but it also brings to light to the fact that the "Complete My Bundle" option isn't always a deal, so don't just click on them assuming you're getting a better price.