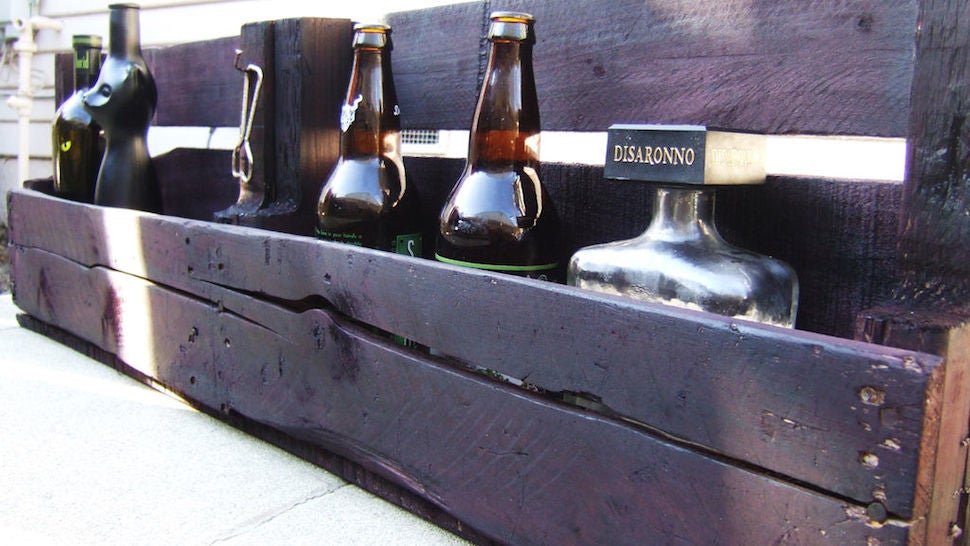 Wooden pallets are great for all sorts of DIY projects. If you have access to one, grab some of that wood and build this DIY bar shelf. It's big enough to hold several bottles of your favourite drink, it can be placed indoors or outdoors, and it looks good for something that is easy to make.
You'll need a few basic tools for this project, including a saw, nails, a sanding block and wood stain. Instructables user American Ruin walks you through the build at the link below, including how to properly break down the pallet and save the wood for future use. Just saw it down to size, sand it, rearrange the wood into your shelf shape, nail it back together, stain it, and you're good to go. Depending on how much work you put into it, it could go just as well outdoors to hold other things as well as inside to hold your favourite drinks. Hit the link below to see the full step by step.
Note: When working with pallets, make sure you're not using wood that's been chemically pre-treated. Those chemicals are often carcinogens, and have no place in your house. Here are a few guides on how to tell the difference at a glance whether the pallet you have is safe for use. Thanks to SafetyCynthia for the reminder!
Up-cycled Pallet Bar [Instructables]