Many of us already know and love Google Docs for being free, available on the web, and relatively robust. What you may not know is that there are a lot of features hiding in Google Docs that either don't exist in other suites, or are just too awesome to not use all the time.

Google Docs also comes with a lot of sweet add-ons you can get to extend the functionality, but today we're looking at built-in functionality.
Do Anything with the Universal Google Docs Keyboard Shortcut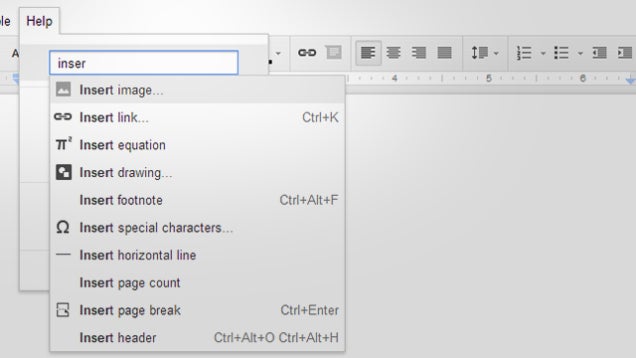 One of the downsides to any document editing app is that there are so many features and buttons, it can be hard to find them all. Google Docs makes it simple with one, all-powerful keyboard shortcut. Simply press Alt+/ and you'll enter a search box for all the functions in Docs. Start typing "Insert image", for example, and before you reach "ins", the option will be right there. If that function has its own dedicated keyboard shortcut, you'll also see it listed as well. If you take away nothing else today, this is the shortcut to remember.
Look Up Words with the Define Tool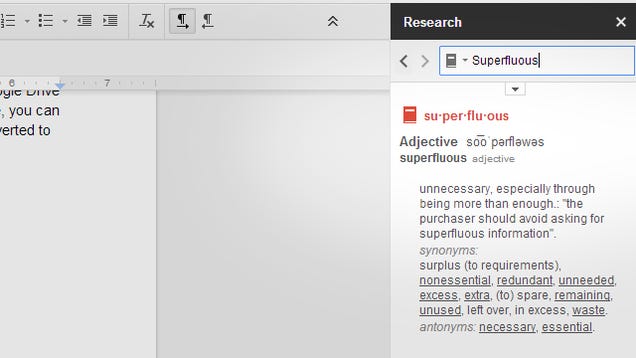 Getting definitions of words is pretty easy already since Google built dictionary results into search. Why should you have to open up a new tab for that though, if Google's the one making your document editor? The answer is you don't. Highlight a word, hit Ctrl+Shift+Y, and Google will open up a panel on the side with the definition of that word. Handy!
Add Links via the Search Dialog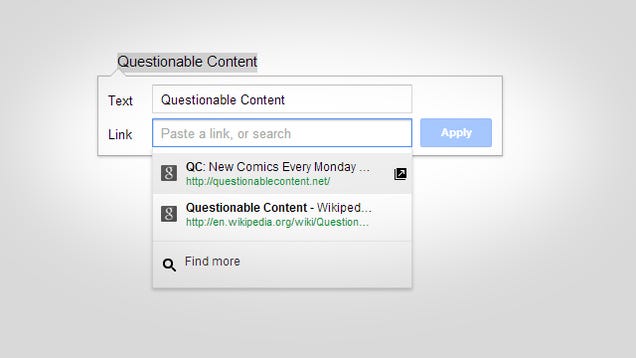 We've talked about how you can add links to text in Google Docs by using the built in search box. Select some text and press Ctrl+K. You can either paste a link in the box that pops up, or you can use it to search Google. The usual search operators (like site:lifehacker.com.au) even work so you can drill down pretty specifically and find the link you need without leaving the document.
Get Information More Quickly with the Research Panel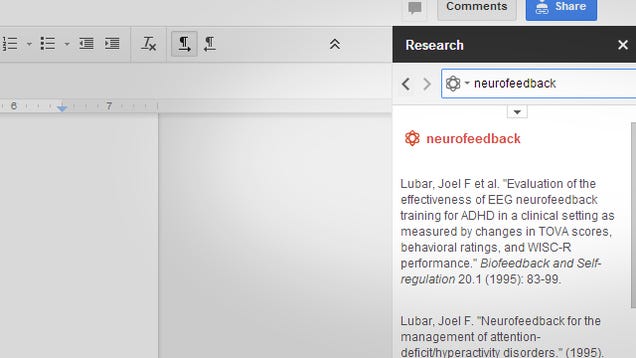 The panel that opens when you look up a definition can actually do a lot more than just look up words (though that function is useful enough to get its own separate menu option). Press Ctrl+Alt+Shift+I to open up the research panel where you can quickly search the web, find pictures, look up articles on Google Scholar (another service you might not be using to its full potential) and lots more. It's an excellent starting point for finding information and you might even find sources you wouldn't find via a regular Google search.
Go Back in Time with Revision History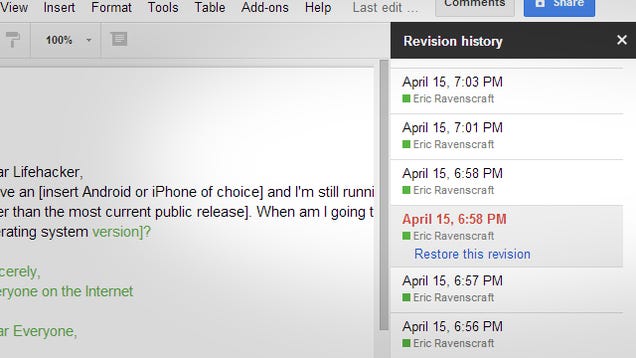 You get halfway through a document, decide to rewrite it, only to realise that it was better the first time. Wouldn't it be great if you can go back in time? Good news! You can. With the revision history explorer, you can pull up any major and most minor changes to your document since its inception. Press Ctrl+Alt+Shift+G to open up the revision explorer. Major revisions will be shown by default, but if you want to see the minor changes, click "Show more detailed revisions" at the bottom. The feature is enabled by default so you can even check this out on any documents you've already created.
Scan Documents with OCR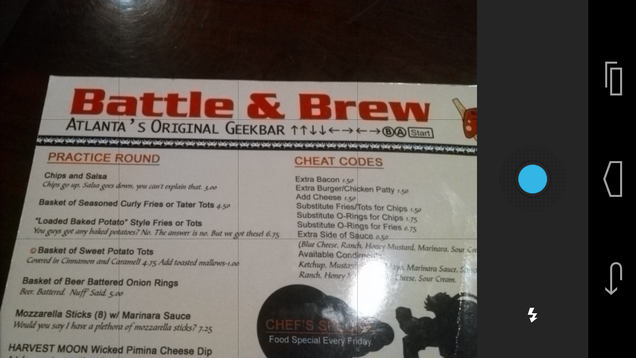 The mobile Docs app is somewhat limited compared to their desktop counterparts, but there's still at least one feature worth mentioning: OCR scanning. Technically, this is in the Google Drive app (a distinction that's only recently become necessary), but using your Android phone, you can take a picture of documents like receipts, papers or bar menus. The image will be converted to PDF format and uploaded to Drive. From there you can copy text directly from the PDF.
If you have a particular Google Docs feature you love that not everyone knows about, feel free to let us know in the comments.