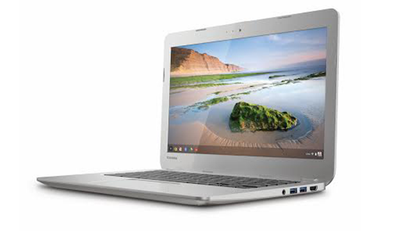 Toshiba has entered the Chromebook market with a new model launched at CES. A key selling point for the device? It has a 13.3-inch screen. I can't convince myself that's necessarily a good thing.
The main selling point for Chromebooks isn't usually the hardware specifications: it's the minimal OS overhead, the extended battery life and the low price. Toshiba hasn't announced local pricing or availability details for its new Chromebook, but has confirmed it will be coming eventually. The US pricing is $US279, which is likely to translate to an Australian price point of between $350 and $400.
The 13.3-inch screen doesn't make Toshiba's the biggest device on the block (that would be the HP Chromebook). Either way, it strikes me that when your device has a potential nine-hour-plus battery life, that means you want to use it on the road. And in those contexts, a smaller screen makes more sense. On your lap in a conference centre or on the seatback tray of a budget airline, those extra inches can be a nuisance.
At least these newer-generation Chromebooks don't sort the ludicrous pricetag of the original pretender in this larger-screen space, the Chromebook Pixel. That never scored an Australian release, and I can't imagine too many people missed it. But I'd still rather see more Chromebook models with a sub-12-inch screen. What do you think?