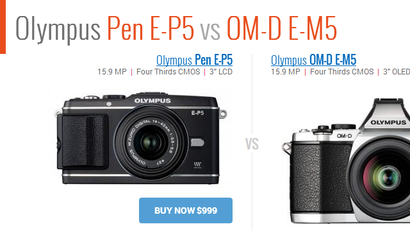 Even professional photographers can find camera shopping a little overwhelming. CameraRocket simplifies the process with handy comparison sheets.
The site allows you to choose two camera models and highlights the pros and cons of each. The list doesn't seem to be comprehensive, but it has a good selection of both high-end and low-end cameras.
You can look over the comparison spec sheet, but the real meat of the site is in the plain-English advantages and disadvantages. Under a sub-heading titled "Differences", the site will lay out why each one is better with simple statements like "Has a flash" or "Slightly smaller" with the actual specs listed next to it if you want to get more specific.
CameraRocket [via Addictive Tips]