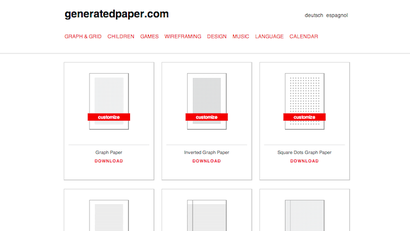 If you need a specific type of paper for your notebook or organiser, don't settle for drawing lines on bits of paper. Generated Paper has over 40 printable PDF templates for ruled paper, graph paper, business cards, music sheets and more, and they're all completely free.
All of the templates at Generated Paper are high-quality PDFs without shading or colours, and they're all licensed under Creative Commons, so you can use them, share them and remix them to suit your needs. Plus, it's faster and cheaper than heading to Officeworks to buy specifically ruled notebook paper, graph paper or calendar sheets.
Generated Paper is full of templates, but if you can't find what you're looking for, you can always try Printable Paper or Konigi. Hit the link below to see what they have available.