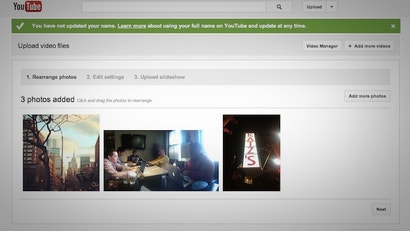 We're all well aware that YouTube is great for sharing videos, but tech blog Digital Inspiration points out that it can also be used to create easily shareable slideshows in a matter of seconds.
The process is incredibly easy. Log in to your YouTube account, and head over to the upload area. Navigate over to "Photo slideshow" and click create. Now you just need to drag your photos into the upload area. When you're done, head to the next screen to change time duration, transition effects and add some background music.
You can always set your slideshow to private or unlisted if you're just trying to share holiday pictures with you grandma and not the entire world.
Not Just Videos, Upload your Photos to YouTube [Digital Inspiration]