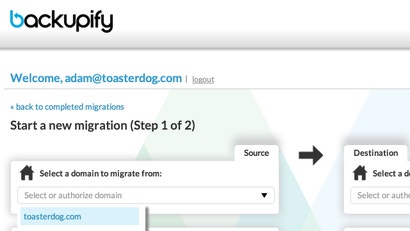 Moving data from one Google Apps account to another usually requires manual migration, which can be a time-consuming process. Some data can't even be migrated. Backupify's new Migrator tool solves the problem by automating the entire process.
You just sign into multiple Google Apps accounts and specify which one is the source and which one is the destination. If you have multiple migrations, you can run them all at once.
Migrator works on a credit system, with one migration costing you one credit. By signing up, you get a single credit for free. Additional credits cost quite a bit — costing $US149 for 10 — but that's irrelevant if you only have a single migration in order. (You can also get migration for free with a yearly Backupify subscription, which is only $US36 per user.)
The other downside is that you can't migrate a standard Google accounts. Currently, only Google Apps accounts are supported. Migrator is a very new tool, however, so if people are interested in adding standard Google account support, it's likely that Backupify's team will add it in.