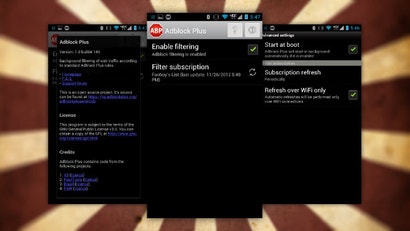 Android: If you love Adblock Plus on the desktop, now you can take it with you on your Android phone. Adblock Plus for Android blocks ads on sites while you browse and even suppresses ads inside of ad-supported applications. Best of all, it's completely free.
Adblock Plus for Android works best if your device is rooted, but it's not necessary. If you're rooted, it will suppress ads over 3G/4G and Wi-Fi with no additional configuration required. If you're not rooted and you're running Ice Cream Sandwich, it will block ads over Wi-Fi but not 3G/4G. If your device is running Gingerbread or earlier, you'll have to set up Adblock's proxy manually to get it to work. Speaking of proxies, that's how Adblock Plus for Android manages to strip out all of those ads: it routes all of your traffic through their servers and removes the ads before it gets to your phone.
I've been testing builds of Adblock Plus for Android for months now, and the app has come a long way. The app is still a little quirky, especially when your device loses contact with the proxy server and you wonder for a few moments why none of your apps are refreshing and why your sites won't load, but restarting the app or your phone usually takes care of it. It works as advertised and allows you to choose which blocking list you want to use (Fanboy's List is the default, but EasyList and other specific regional lists are also available).
I still had an app here and there where some ads sneaked in, and it's important to note that the only reason so many great Android apps remain free are because the ads support the developers. If you're tired of obtrusive and annoying mobile ads in your favourite apps though, Adblock Plus for Android is worth a look.
Adblock Plus [Google Play]