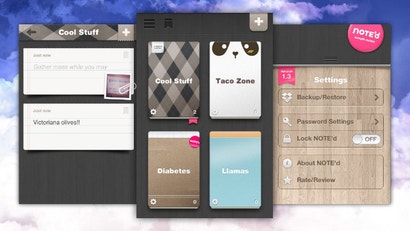 iOS: If you've used an iPhone before, you've probably used one of the many note apps available for iOS devices. Some of them sync, some focus on features, and some are just pretty. NOTE'd manages to be all three packaged into one elegant note-clipping app.
Its design lends itself to shorter snippets of text, photos, audio and links — not so much for longer forms of text. You can clip all your notes together, categorise them and create bookmarks. Your notes are displayed in a single stream and either saved locally on your iPhone or synced with Dropbox. If you don't have any other devices linked to your Dropbox account, you can just use the service to backup your notes.
NOTE'd also features plenty of sharing options, as well as the ability to lock notes with a password. It lacks a search feature, but it's still one of the best note-clipping apps you can get for a dollar.
NOTE'd ($0.99) [iTunes App Store via App of the Day]