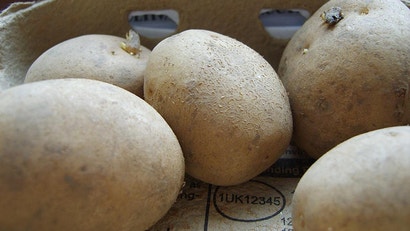 If you need to clean up tiny shards of glass, often a vacuum cleaner just won't do. Fortunately, you can easily clean it up with a raw potato.
Photo by Ripplestone Garden.
Weblog Real Simple recommends this method if you've broken some glass in your dishwasher:
Start by grabbing a flashlight and turning off the lights in your kitchen. Shine the flashlight in the bottom of the dishwasher. Any pieces of glass will catch the light so you can see where they are. Then take 1/2 of a raw potato, and while wearing thick gloves, run the potato over the glass shards. The glass will become embedded in the potato and be easy to remove.
The potato fits easily in your hand, and it's much safer than using a damp cloth.
How to Remove Broken Glass From Your Dishwasher [Real Simple via The Kitchn]