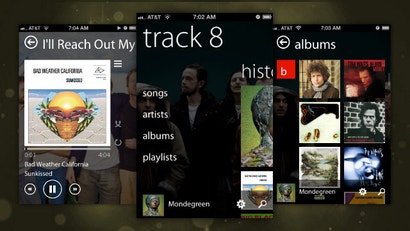 iOS: The Metro-styled music player Track 8 has received an update to make it universal. This means the once iPad-only music app is now compatible with the iPhone and iPod Touch. Alongside the universal update the app now also supports AirPlay.
We really liked Track 8 for iPad when it was first released because of its elegant interface, large images and immersive listening experience. The iPhone app maintains all the same functionality as the iPad app and still looks great on the smaller screen.
In addition to the iPhone compatibility, Track 8 also now has built-in AirPlay support so you can stream music directly from the app to your stereo. The update also adds the minor but incredibly handy new ability to hold down on the back button to navigate to the app's home screen so you don't have to manually scroll back. The Track 8 update is free for anyone who already purchased the iPad version and $1.99 for new users.