Google Chrome on iOS has finally added one of the best features of Safari—the ability to move the address bar to the bottom of the screen. When you're using a phone with a massive display, it's hard to reach the top of the screen to type the name of the site. If the tab bar is at the bottom, it's much easier to reach.
Safari added this feature two years ago with the release of iOS 15, and now Chrome has finally joined the club. This feature is not enabled by default, however, so you might not know it's there. But once you get used to it, keeping the URL on the bottom is so much better.
How to move Chrome's address bar to the bottom on your iPhone
First, update Google Chrome to the latest version. At the time of writing, that's version 119.0.6045.109. You can go to the App Store and search for Google Chrome to check if it needs an update.
Once you install the update, open Google Chrome and tap and hold the address bar at the top. Then select Move address bar to bottom. That'll switch you over to the superior address bar layout. This layout also puts the share icon in Chrome, which is located to the right of the address bar, within reach.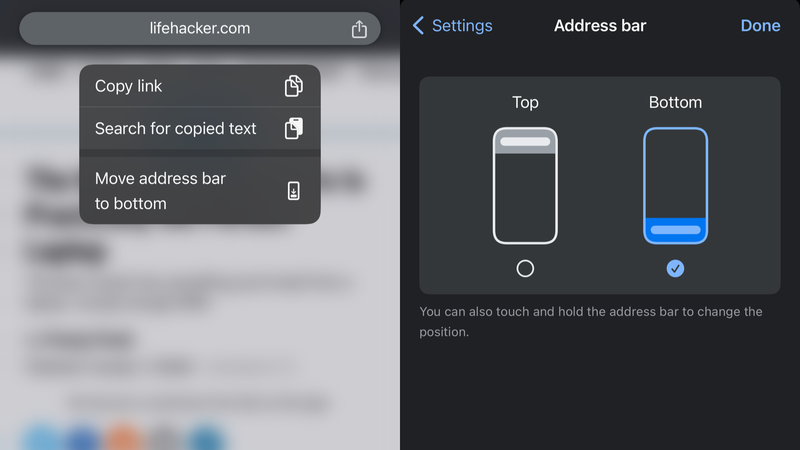 Alternatively, you can enable this feature by tapping the three dots icon in the bottom-right corner of the screen, select Settings > Address bar. You can tap the Bottom option on this page and you're all set.
Chrome's Android version doesn't appear to have this option just yet. Google briefly added this feature via experimental Chrome flags, but that option has since been removed. That's surprising, because Google owns Chrome and Android, and yet one of the best new browser features is missing altogether on that platform. Sure, only Safari has a bottom URL by default, but you'd think Google would at least offer the option for Android users, too.