If there's one thing iPhone owners obsess over, it's battery life. We all want our iPhones to last as long as possible in between charges, but the more these batteries age, the less charge they can hold. That's why it's helpful to occasionally check your iPhone's battery health, and see where it stands in terms of capacity and performance.
How batteries age
According to Apple, the lithium-ion batteries in your devices are designed to operate at up to 80 per cent capacity through around 500 complete charging cycles. A charging cycle occurs when you've depleted 100 per cent of your iPhone's battery capacity. That doesn't just mean when you run your battery from 100 per cent to 0 per cent (although that is one cycle as well). One cycle might mean discharging your iPhone from 100 per cent to 25 per cent, charging back up to 100 per cent, and using it to 75 per cent. Once you've used 100 per cent of your battery's capacity in any one period, that's a cycle. As you accumulate cycles, the battery wears down.
As the battery capacity declines, you'll get fewer hours of use before you have to juice it up again. Batteries naturally degrade over time, and they certainly don't operate at 100 per cent for long (and may never do so after you start using your device). That's why it's not worth worrying about keeping a "perfect" battery health percentage, but it is worth checking in on this number for a general sense of your iPhone's battery health.
How to check iPhone battery health
To simply find your iPhone battery's current maximum capacity, head to Settings > Battery > Battery Health. Here, you'll see a percentage next to "Maximum Capacity," which represents the capacity of the battery compared to when it was new. For example, if your percentage is 93 per cent, that means charging your iPhone to 100 per cent today is the same as it was charging to 93 per cent when you bought it.
If your battery is old, say, under 80 per cent, you might see an option to reduce the peak performance of your iPhone for battery purposes. Flip this feature on to help prevent an accidental shutdown or other adverse effects to pushing your iPhone's chip to the fullest when running on an old battery.
How to check iPhone battery cycles
While this information is all good, you might also be interested to know exactly how many charging cycles you iPhone's battery has gone through. This can be a more precise figure than the battery health percentage: If you know your iPhone is around 500 charge cycles, then you can see whether it matches up to Apple's 80 per cent capacity guarantee. You might even be surprised at how "healthy" your battery is even after a large number of cycles.
If you have an iPhone 15 (iPhone 15, 15 Plus, 15 Pro, or 15 Pro Max), iOS will actually tell you this stat. On your iPhone 15, head to Settings > General > About. You'll find the number under "Battery," next to "Cycle Count." Seeing as the iPhone 15 isn't out yet as of this article, your Cycle Count should be pretty low when you check this for the first time.
For all other iPhones, there's a less convenient way to check in on your battery's cycle count:
Go to Settings > Privacy & Security > Analytics & Improvements.
Toggle on Share iPhone Analytics (or Share iPhone and Watch Analytics if you have an Apple Watch). This should be enabled by default, but if it isn't, you'll have to wait a few days for data to compile before you can go through the next steps.
Tap Analytics Data and scroll to entries that begin with "log-aggregated" and select the most recent date available.
From here, you're looking through a wall of code for "batterycyclecount"—you can either scroll (it's a lot of data to sort through) or copy and paste the report text into a text editor or document that you can manually search. The number under this entry will tell you how many charging cycles your battery has been through.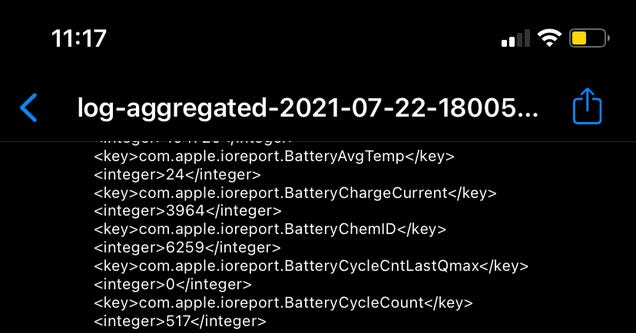 ---
The cheapest iPhone 15 plans (24-month, 128GB)
The cheapest iPhone 15 Pro plans (24-month, 128GB)