I know. I can't recall the last time I set foot in a public library, either " no matter how much I love that "stacks of books" smell. But if you don't have a library card, you don't even know what your nearest local public library is, or you are contemplating paying Apple $14.99 each month to read magazines, you owe it to yourself to get informed.
While the process of signing up for a library card might require you to spend a few minutes travelling to your nearest public library, it's worth it, because there's a chance you'll be able to get many of the magazines for free that you'd otherwise read on an expensive aggregation service.
Before you sign up, scour your library's site for information about any magazines it might offer as part of your free library membership. For the libraries near me, that comes via a partnership with "RBdigital," but it's possible your library might use a different service entirely. (The NSW State Library uses PressReader, for example.)
If you're browsing for magazines to read via your desktop or laptop browser, you'll likely have to bookmark your library's portal page for digital publications. That is, your library probably has a unique URL you might need to use, as well as a login, to get access to the free magazines.
Otherwise, if your library is working with a service to offer free publications, you'll want to bookmark the portal page that's exclusive to your library. For example, here's the Digital Magazines page for Libraries of SA.
RBdigital is great, because you can set up an account with the service and link your public library card, which then allows you to just use the RBdigital apps to read magazines whenever and wherever you want. Libraries that use other services might require you to first log into an online library portal via your browser, and then tap a link to open up a magazine you want to view within a mobile app " a more cumbersome process.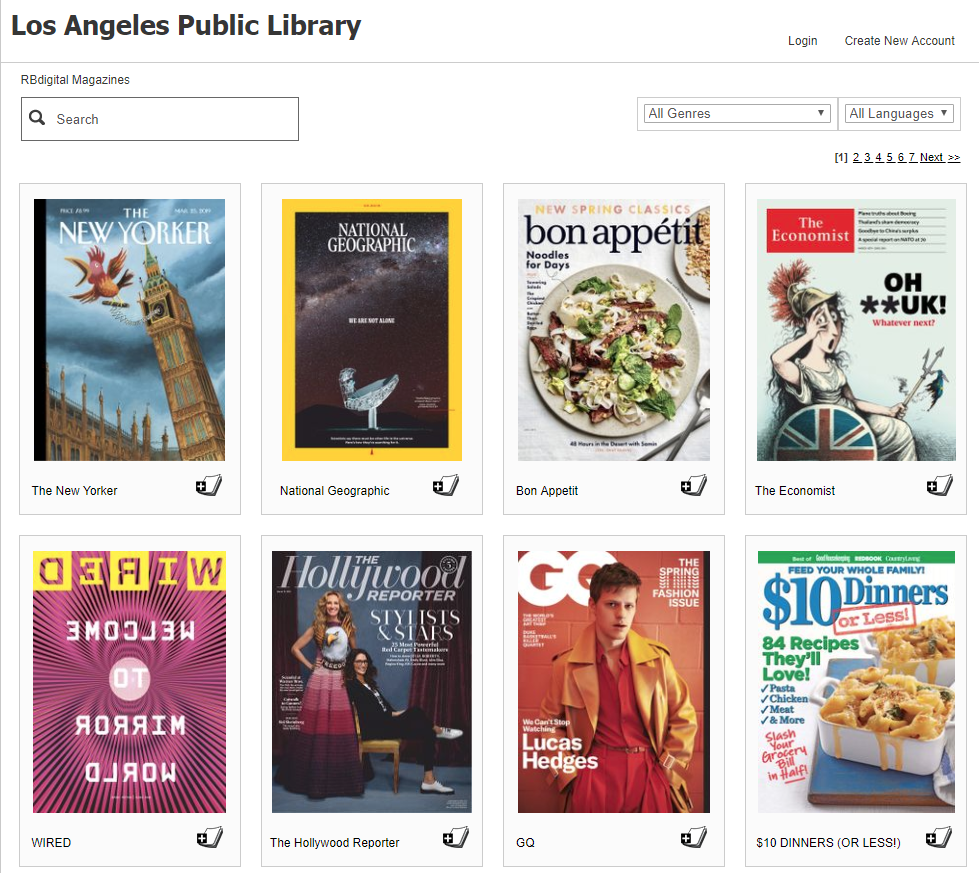 Los Angeles Public Library @ RBDigital" loading="lazy" > Screenshot: David Murphy,
Los Angeles Public Library @ RBDigital
Though you might have to jump through a few hoops to gain access to free content instead of the "it's right there" design of a service like Apple's News+, you'll be saving $14.99 a month for your troubles. And if you only read magazines when new issues come out, you might only need to go through the credentialing process a few times a month, if that.
More importantly, the publications your local library offers are likely just as good as what you'd find on News+, though what you have access to is going to differ by library. (When in doubt, get a library card from your largest and most well-known local library.)
For example, I went through all the magazines Apple touted in its press release, and here's what I was able to read via my public library's RBdigital tie-in:
The Atlantic: no

Better Homes & Gardens: yes

Bon Appétit: yes

Condé Nast Traveller:Â yes

ELLE:Â yes

Entertainment Weekly: no

ESPN The Magazine: yes

Esquire:Â yes

Food & Wine: no

Good Housekeeping: yes

GQ: yes

Health: no

InStyle: no

Martha Stewart Living: yes

National Geographic:Â yes

New York Magazine: no

The New Yorker: yes

O, The Oprah Magazine: yes

Parents: yes

People: no

Real Simple: no

Rolling Stone: yes

Runner's World: yes

Sports Illustrated: no

TIME: no

Travel + Leisure: no

Vanity Fair: yes

Vogue: yes

WIRED: yes

Woman's Day: yes
While that's not a perfect score on the library's part, that's still roughly two-thirds of the list. Your library might do better (or worse), but it's a healthy amount of reading material given it costs you absolutely nothing to access " just a little bit of your time.