Is it going to be called Pumpkin Pie or Peppermint Patty? Or how about Popsicle? Well, whatever Google ends up deciding on, if history is any indication, we're not going to know for sure until spring. So to hold us over, why don't we take a look at all the new updates and features Google showed off for Android at I/O 2018?

Photo: Sam Rutherford (Gizmodo)
For Android P, Google is propping up three main tenets: Intelligence, simplicity and digital wellbeing.
Android P – A New Look and Feel
While other Google apps such as Gmail and Tasks have already gotten a recent visual update, in Android P, Google is overhauling the OS' overall look with what people are calling Material Design 2. Changes include more minimalist lines, the use of even more circular icons, and a new dock at the bottom to make it things look more organised and easier to use.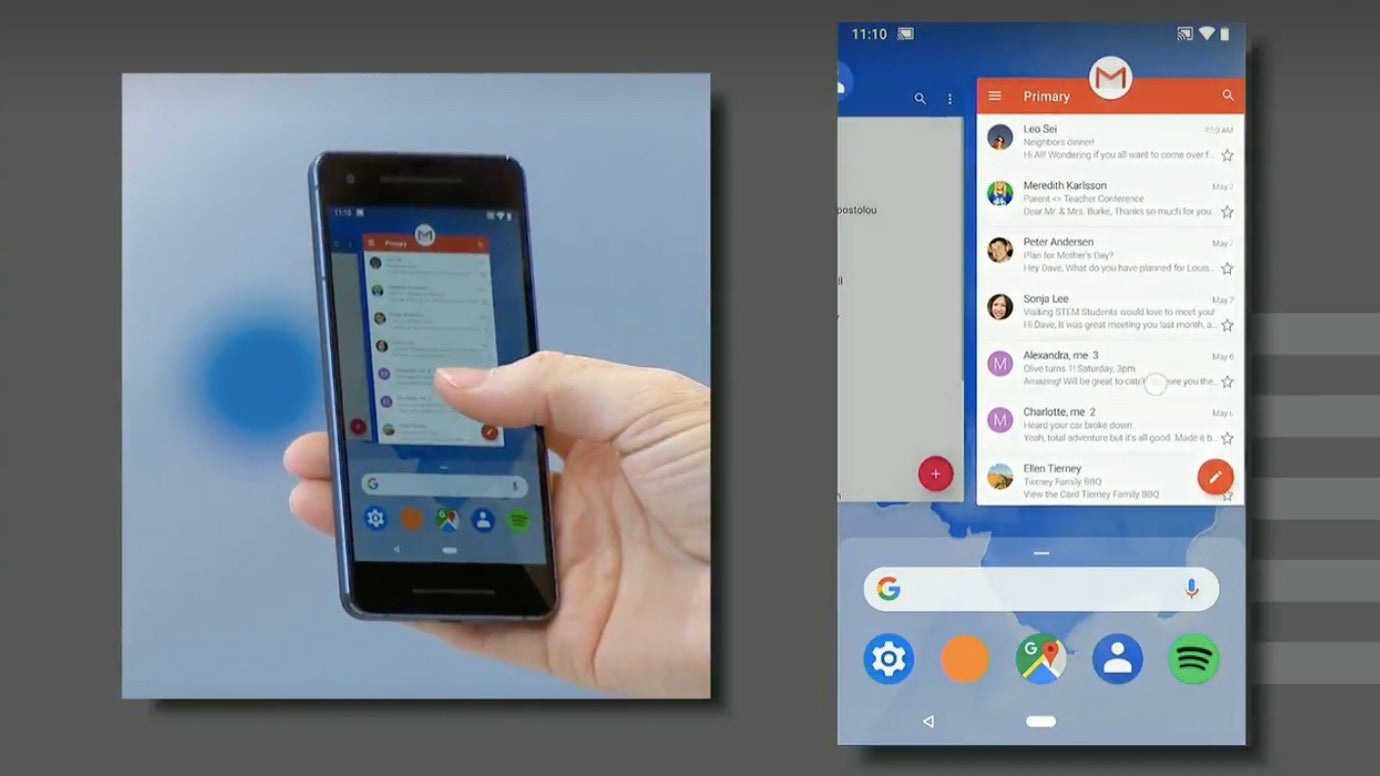 Check out the bottom to see how the new dock in Android P will look. Note the redesigned pill-shaped icon for the app drawer. Screenshot: Google
Additionally, Google has also revamped many Android UI elements such as the notification and quick setting panels, which now includes a list of vertically scrolling icons a redesigned settings menu, and a new vertically-oriented volume slider featuring mute and vibrate toggles and separate controls for ringer and media volume.
Smarter Suggestions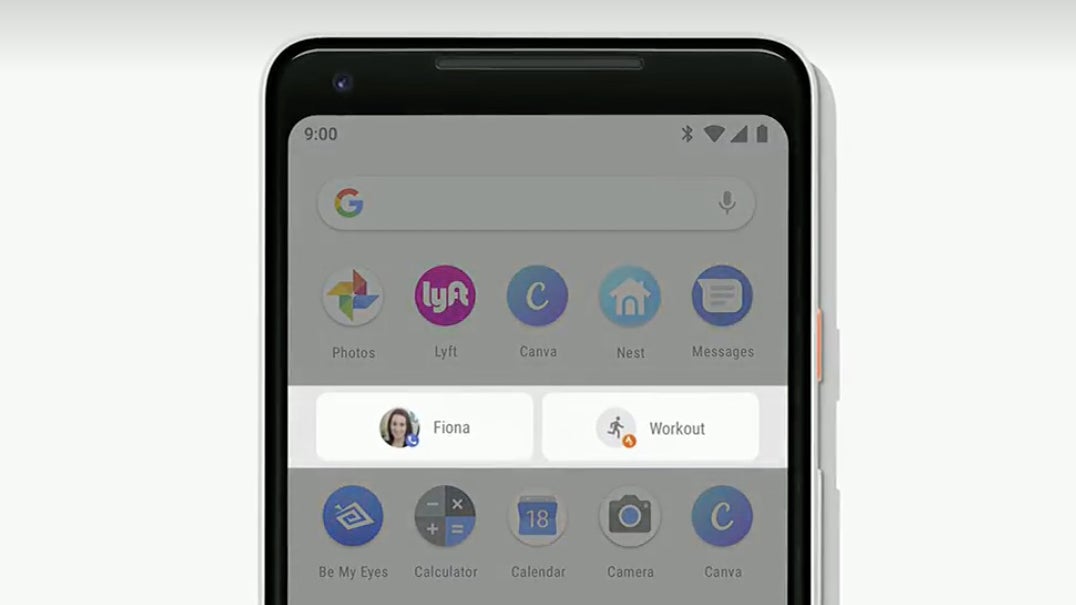 New App Actions in Android P. Image: Google
And to make the things you do most on your phone faster and easier to accomplish, Google is introducing App Actions that combine multiple apps and past actions into new suggested tasks inside your app drawer.
Under the hood, Android P is also getting new support for phones with notches (which seems to be featured on every new handset nowadays) and the ability to markup screenshots as soon as you take them. New security updates will prevent apps in the background from accessing your device's microphone and camera. There are also new restrictions prevent apps from tracking where your data is going.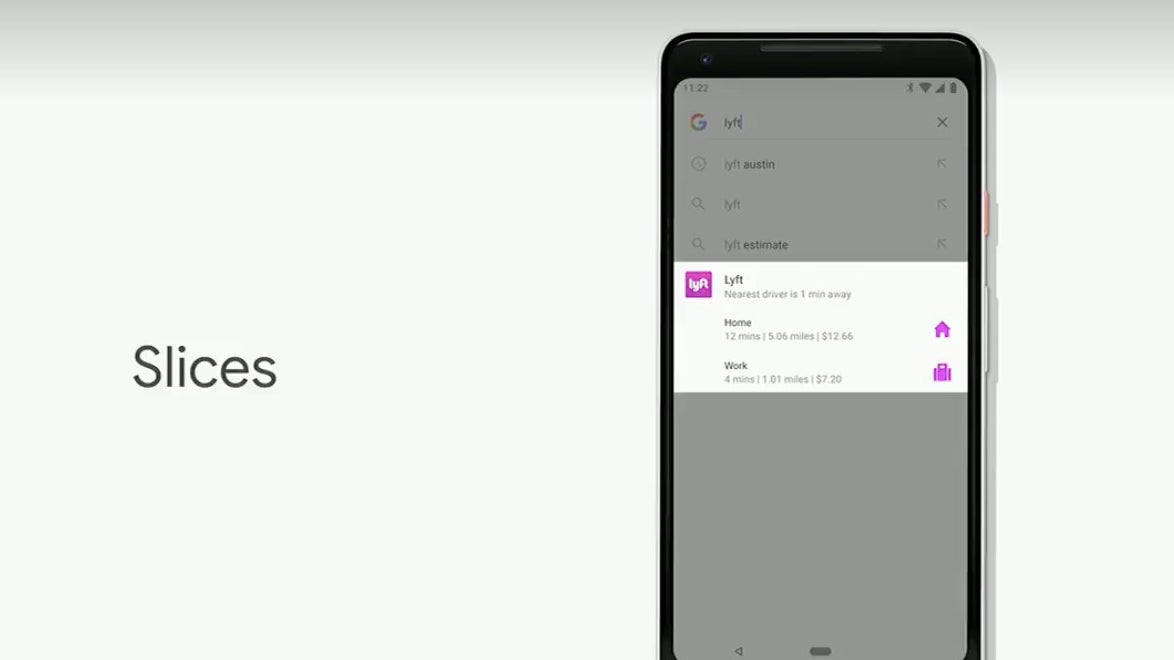 Image: Google
Google is also introducing a new Slices API that lets you see real-time info from one app inside other apps, so you can multi-task easier without constantly needing to switch back and forth between different screens.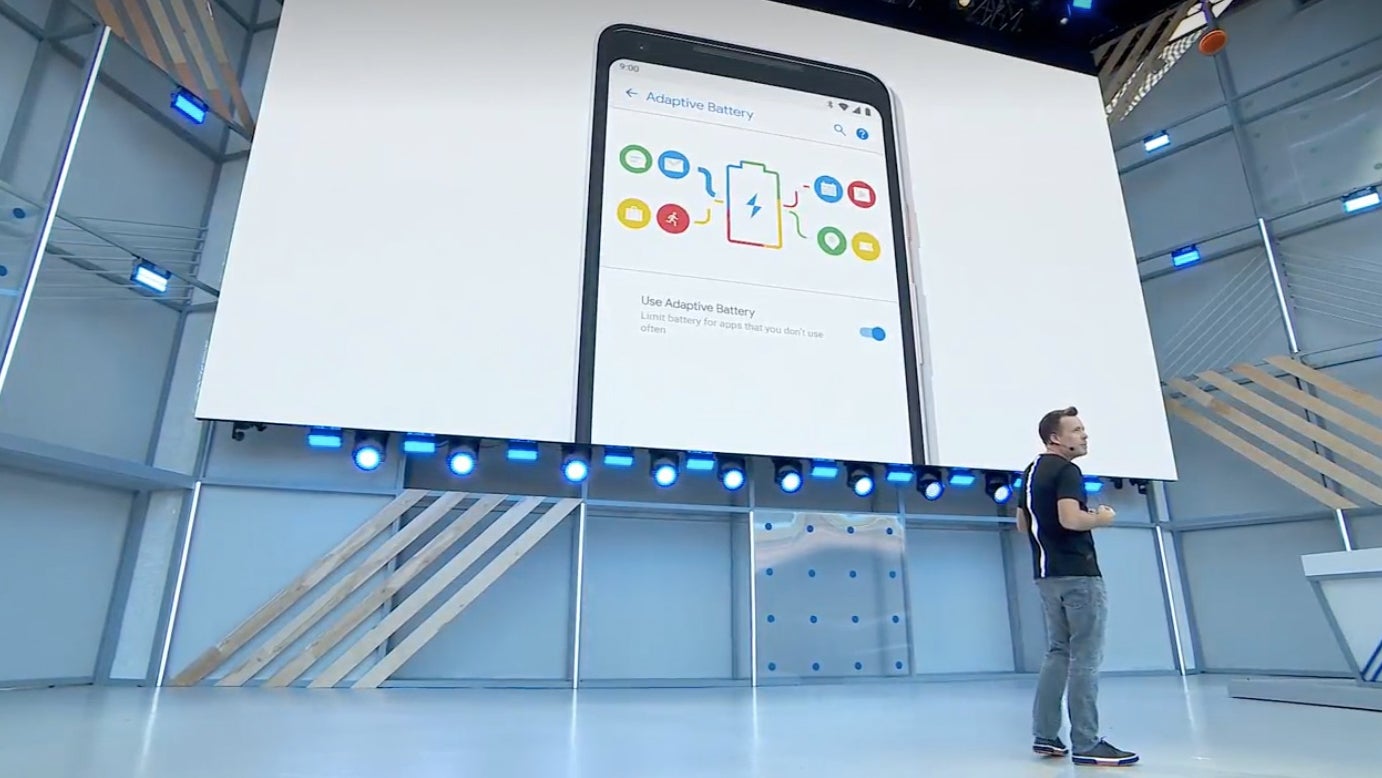 Photo: Google
And to help alleviate any sort of longevity concerns, Google's new adaptive battery tech can automatically adjust processor speeds for your current workload, and reduce app wakeups by up to 30 per cent.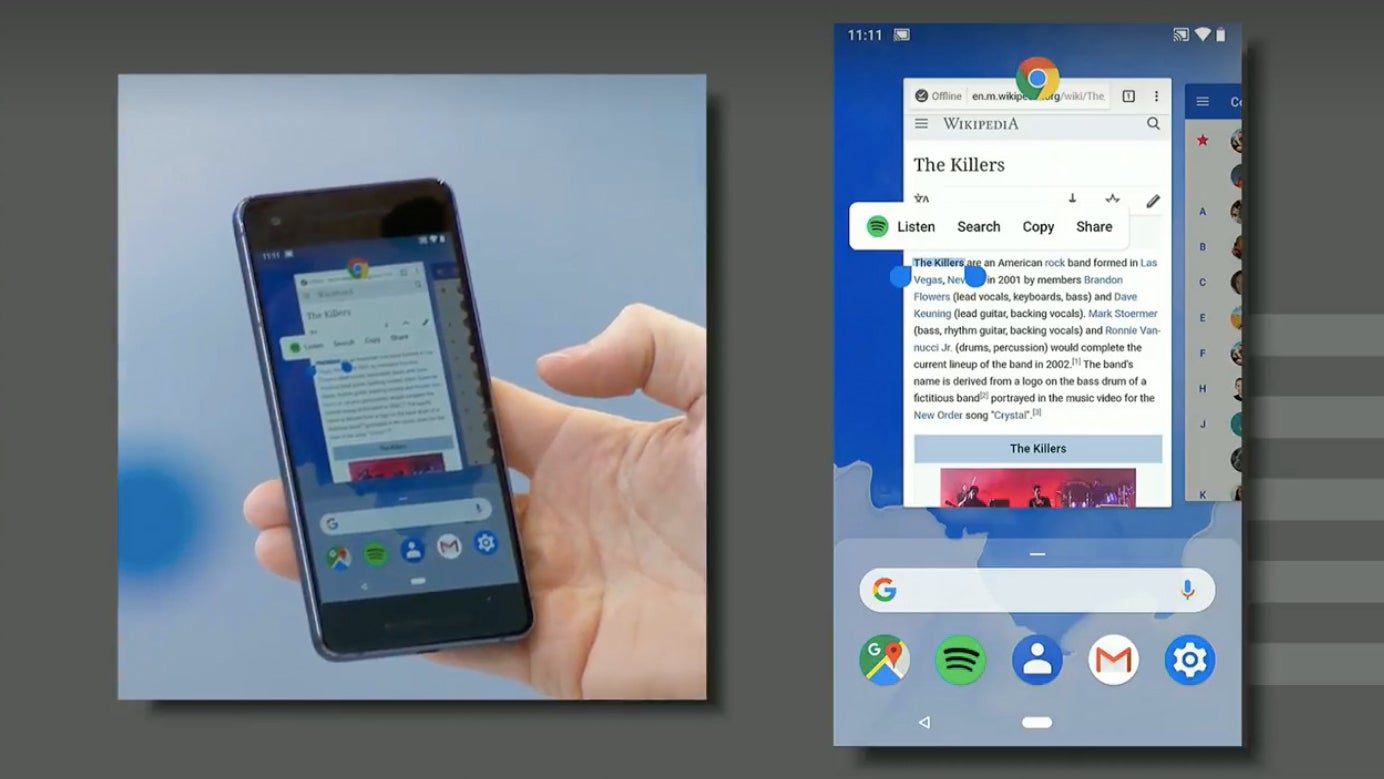 The new zoom lens for text is sure to be pretty handy. Screenshot: Google
There are also a whole host of small tweaks and changes that should make Android a little easier to use, such as a new zoom lens for fine-tuned text selection, support for inline photos and smart replies, and a new quick settings toggle for turning alarms on and off.
Digital Wellbeing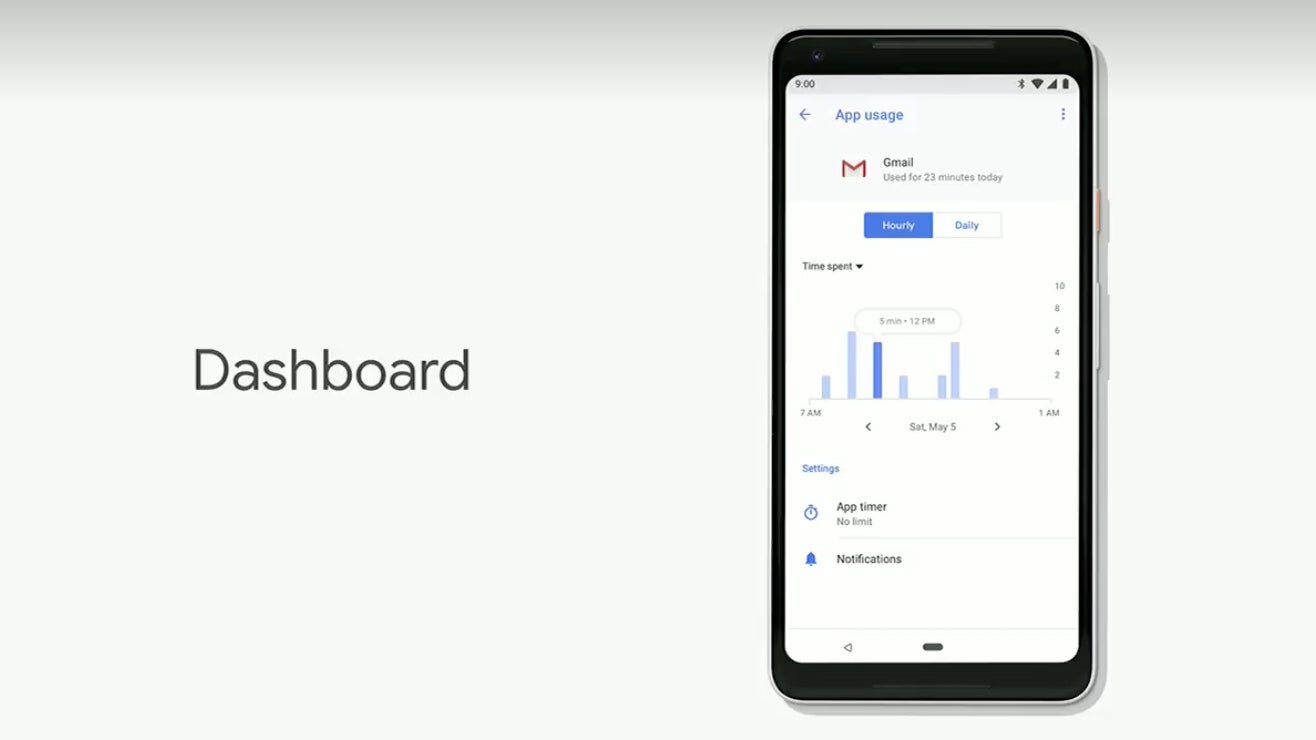 Screenshot: Google
Lastly, to reinforce Google's goal of improving our digital well being, Android P is getting a new dashboard that will show you how much time you have been using your phone, right down to specific apps and what you are using them for. And if you notice time spent in a certain app is becoming a problem, Google is adding an app timer to limit how long you can use it.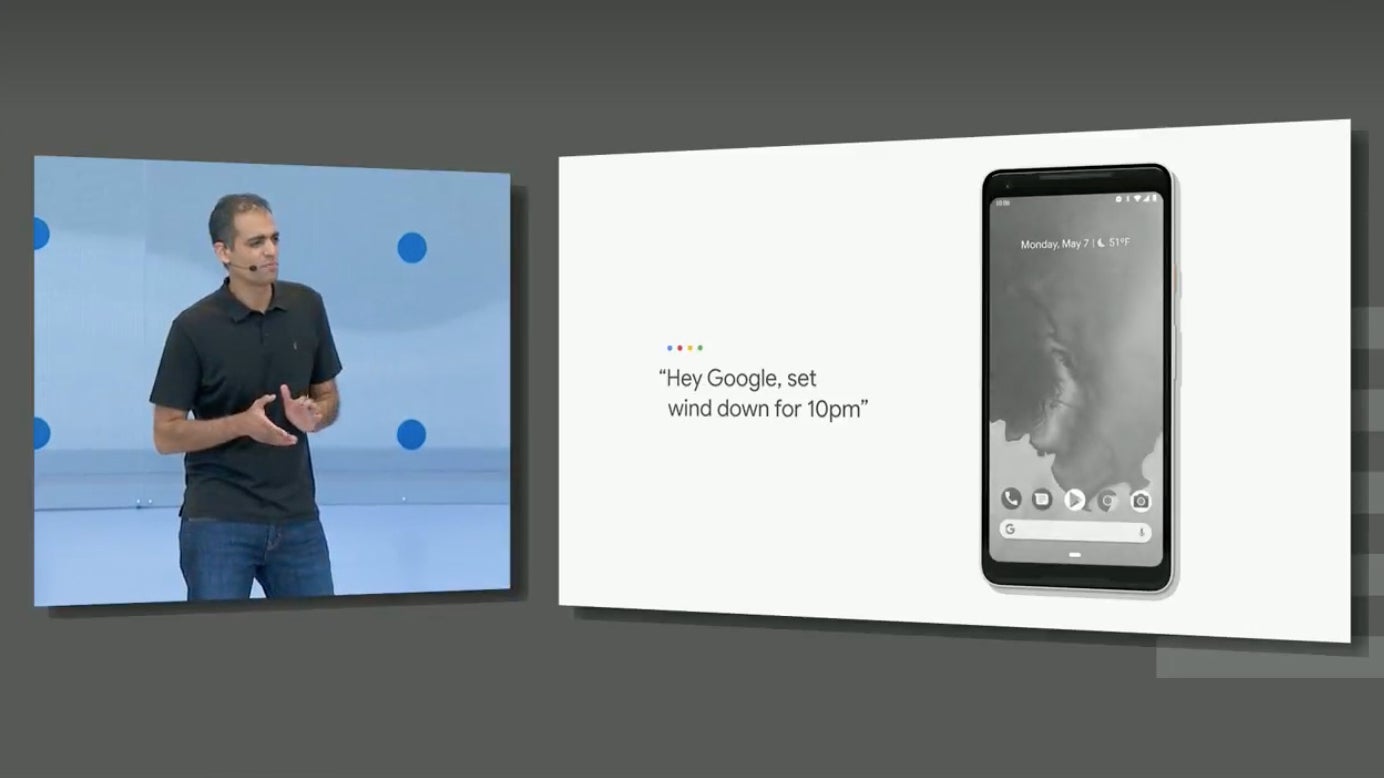 Screenshot: Google
Then, when it's time for bed, Android P also features a new "wind down" mode which will slowly transition your device's screen from colour to grayscale, which Google says is much less stimulating and should help you fall asleep more easily. But for those people who truly want to disconnect, there's also a new "Shush" mode that turns on a special do-not-disturb mode when you set your device upside down on a flat surface.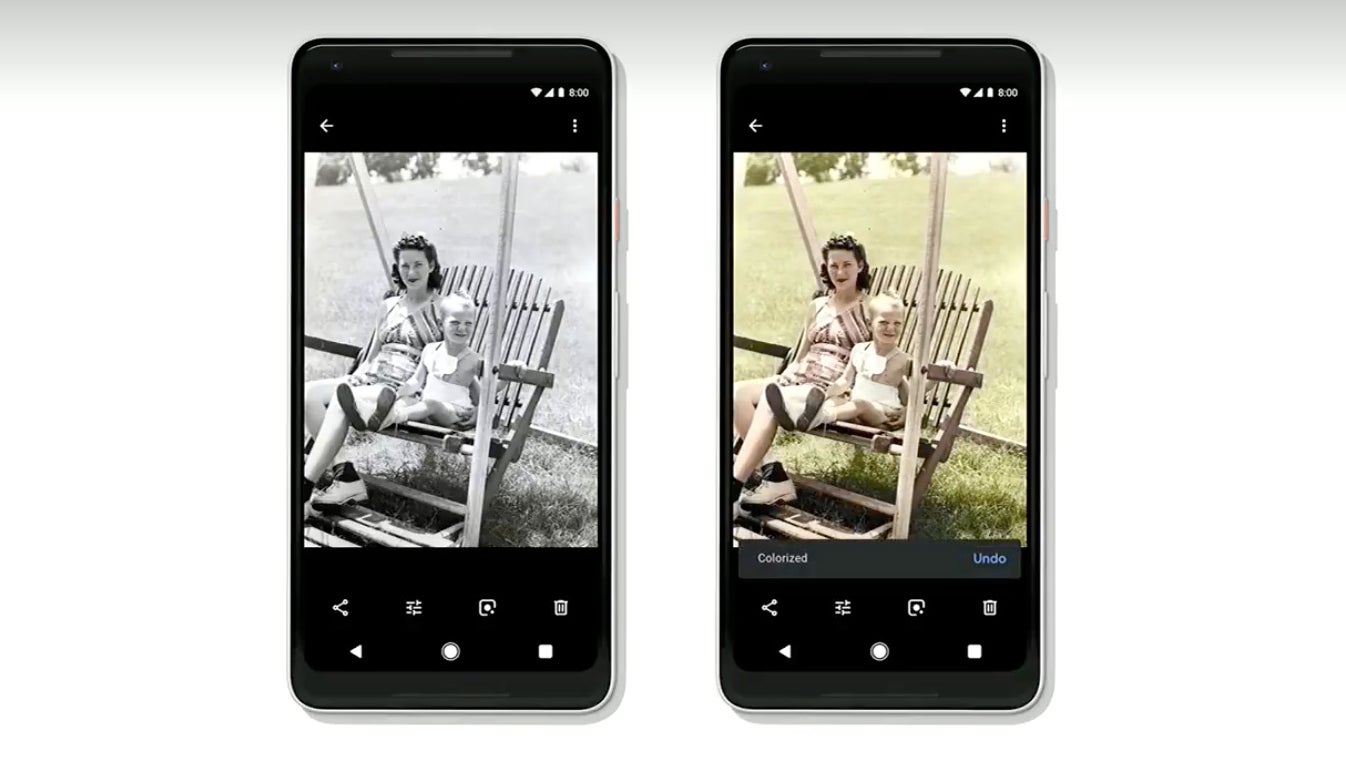 Image: Google
And while it isn't a core part of Android, Google Photos is getting smarter too with a new AI-powered suggestion mode that can colourise old black-and-white photos, suggest edits to improve things such as brightness and contrast, and even turn a picture of a text document into a PDF.
For those itching to check out the next version of Android, the Android P Beta is available today not just for first-party devices like Pixels, but the Essential Phone, Nokia 7 plus, Oppo R15 Pro, Sony Xperia XZ2, Vivo X21UD, Vivo X21, and the Xiaomi Mi Mix 2S as well.