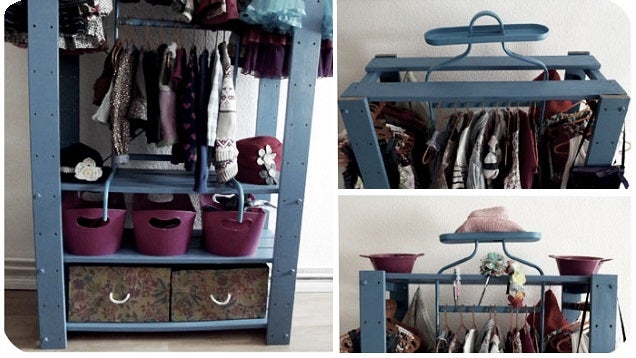 If you're out of space in the kid's bedroom or need to outfit a wadrobe-free guest room, this free-standing solution is cheap and has enough space for a small wardrobe.
Photo by Confessions of a Refashionista
The build, posted by user "Confessions of a Refashionista" over at IKEAhackers, only requires a few parts. The unit consists of a Gorm shelving unit, a Mulig valet stand, and a couple of IKEA coffee table legs. Just remove the central wood slat from the top shelf of the Gorm unit, attach the table legs on the inside for a little more hanging space, and it's all set.
Handily, there's space to hang clothes on three sides and still room for shoes or storage bins on the bottom. To see more, check out the link below.
IKEA Hack Attack: The DIY Munchkin Closet [IKEA Hackers]