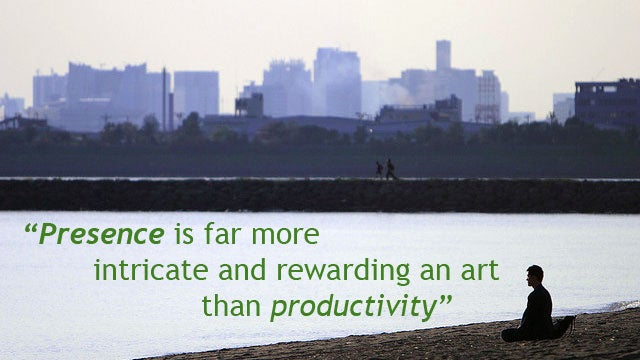 We all love productivity hacks here at Lifehacker and getting stuff done, but this quote from Brain Pickings' Maria Popova reminds us that being present and savouring our lives is an even more worthy pursuit.
Picture: mrhyata/Flickr
The actual quote, from Brain Pickings' roundup of the most important lessons from the last sevcen years, is "Presence is far more intricate and rewarding an art than productivity":
Ours is a culture that measures our worth as human beings by our efficiency, our earnings, our ability to perform this or that. The cult of productivity has its place, but worshipping at its altar daily robs us of the very capacity for joy and wonder that makes life worth living — for, as Annie Dillard memorably put it, "how we spend our days is, of course, how we spend our lives."
That's not to say we shouldn't try to be productive, but just don't let that quest for productivity get in the way of being mindful in everyday life. (I thought this quote fitting, considering the discussion we're having on Lifehacker's mission statement.)
Happy Birthday, Brain Pickings: 7 Things I LEarned in 7 Years of Reading, Writing, and Living [Brain Pickings]