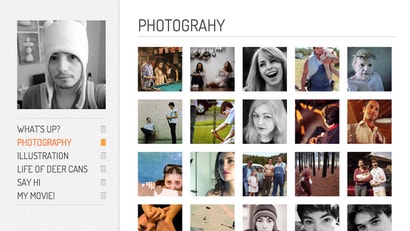 If you need to make a simple website, Strikingly makes that process very simple. After choosing the site you want, you add a few images and some text, and you'll have a page up in minutes.
While you can create simple sites with just a little basic information, I thought I'd throw Strikingly something a little more difficult and try putting up an entire portfolio. While it couldn't really handle music, I had no trouble adding photos, drawings and videos.
Strikingly allows uploads from several locations, whether they're on your computer or elsewhere on the internet. Adding videos often means just pasting a URL, and you can just drag photos onto a drop zone to use them with your page.
In the end, I was able to make this simple portfolio page. While Strikingly comes with some limitations, you can still do a lot. The sites it creates aren't just temporary landing pages but you can actually use them for showcasing your portfolio or an event. If you need to get a simple site online, give Strikingly a try. It's free and you can set up multiple pages if you need more than one.