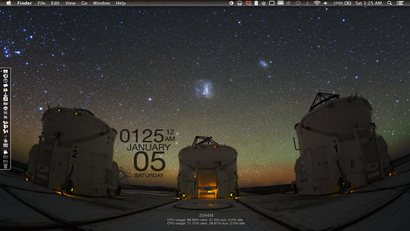 Each one of these buildings contains a 1.8m telescope at the Paranal Observatory, located deep in the Atacama Desert in Chile. They produce very high-resolution images of the night sky in a part of the world where distracting light pollution isn't an issue. On a desktop, it reminds us to focus, stay organised and minimise distractions.
Lifehacker reader tylersmith1 may not have been thinking about that analogy when he put together this great GeekTool desktop, but we can see it as plain as the stars in the sky.
Want the same look (or better!) for your Mac? Here's what you'll need:
Many thanks to Tyler for hosting his icons and posting his geeklets. If you're having trouble with GeekTool and need a helping hand, don't forget to check out our comprehensive guide to GeekTool for some useful tips.