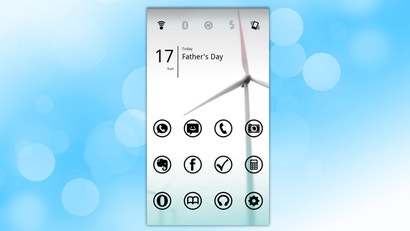 Lifehacker reader pyrohacker breaks the mould of dark home screens with a pretty, lightly coloured screen for Android.
I was pining for a new look on my phone today, so I created one inspired by the Tiny Tree home screen.
I added only the information and shortcuts that I use to accomplish the most frequent tasks on my phone. A swipe down on the screen brings out the notification pulldown, and a swipe up reveals my app drawer. I choose to hide all of the bloatware, in addition to everything that can be reached from the homescreen itself. (It's a programming principle called DRY — Don't Repeat Yourself.)
This homescreen would be different if I could change my ROM and get power controls in the notification pulldown, but I cannot.
Ingredients:
Originally, I was going to use the Codex icons for their cool grey look, but I decided on the more unified look of Metrostation. I also considered using TxMissed for SMS and call notifications, but I really like the blank row in the middle. It could also make a good Minimalistic Text clock/battery/weather widget.
I'm really happy with how this turned out, especially since my phone (Droid 2) fell from ICS to Gingerbread and lost the ability to root. Just goes to show that with some inspiration, you can create a beautiful, custom interface and really enjoy your phone.