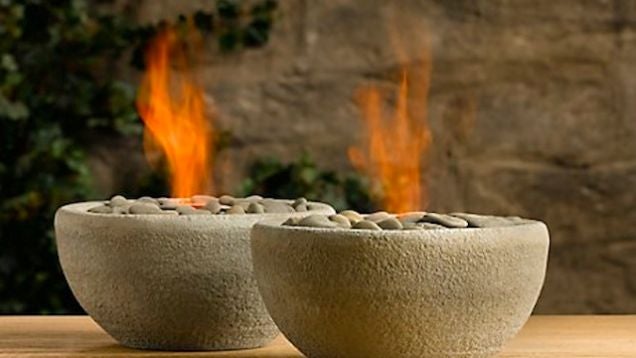 Image: b3 Home Designs
If you want to give your backyard a little design flare for your next get-together, or you'd just like a fire feature for your patio to enjoy on a lazy afternoon, these fire bowls are built to shoot flame up through the rocks in the bowl from the centre as soon as they're lit.
You'll need quick-set concrete, some river rocks, a chafing disk fuel pack (Sterno containers), a large plastic bowl, a can and a few tools to put it all together, but it's remarkably quick and easy (about 30 minutes' work) considering the ingredients needed to make this fire effect come to life. Once it's all finished, just put the bowl outside, light the Sterno, and sit back and enjoy the fire. it looks great and adds some real atmosphere. Would you give this a shot, or would you tackle this project differently? Share your DIY tips in the comments below.
Project 1: Rock + Bowl + Flame [b3 Home Designs via Curbly]