iOS 17 is full of interesting features and quality of life upgrades—some of them more obvious than others. While Apple will happily advertise features like Contact Posters, video messages in FaceTime, and StandBy mode, there are plenty of hidden features in iOS 17 as well. And there's one such feature you simply have to enable as soon as you update your iPhone. It's a game changer.
Does anyone remember 3D Touch?
I do, and I miss it all the time. Apple introduced 3D Touch with the iPhone 6S. The feature let you trigger different functions when applying different amounts of pressure to your screen. You could long-press an element as you can now to have it do something, but you could "press in" to it to have it do something else entirely.
There was a host of use cases for 3D Touch. "Peek" and "Pop" let you press lightly on, say, a web link to get a preview of the page, while pressing a little harder let you "pop" into the full page as if you had tapped the link itself. Back when the Home Button was still a feature of most iPhones, you could press in on the left side of the display to bring up the App Switcher, rather than solely rely on a double-press of the Home Button. You could also use 3D Touch on the space bar to activate the "trackpad" many of us use to quickly move the cursor to a different area of text, and press into an app on the Home Screen to access a menu of quick actions.
Some third-party apps took advantage of the feature too. I remember certain games using it well, essentially adding additional buttons to the gameplay—you could press into the left side of the screen to activate one function, or press in on the right to trigger another.
As beloved a feature as 3D Touch was, it wasn't meant to last. Many apps never figured out how to properly take advantage of the feature, and Apple slowly gave up on improving the technology. Eventually, they released an iPhone without 3D Touch (the XR), then killed off the tech with the iPhone 11 line, replacing it with "Haptic Touch," which is what lets you access different functions by long-pressing on an element.
Haptic Touch is better than nothing, and I use it all the time, but it isn't as good as 3D Touch was. Obviously, you're missing the additionally functionality that comes with the different levels of force, but it's also slow. If you press into an app on an iPhone with 3D Touch, it pulls up its menu instantly, while Haptic Touch makes you wait a second to make sure you're not actually trying to open the app.
iOS 17 fixes what's wrong with Haptic Touch
With a quick settings change, you can make Haptic Touch feel a bit more like 3D Touch. After installing iOS 17, head to Settings > Accessibility > Touch, then hit "Haptic Touch." Here, choose "Fast," rather than "Default" (or, god forbid, "Slow"), then give it a go. You'll be shocked at how much better Haptic Touch feels with this speed boost.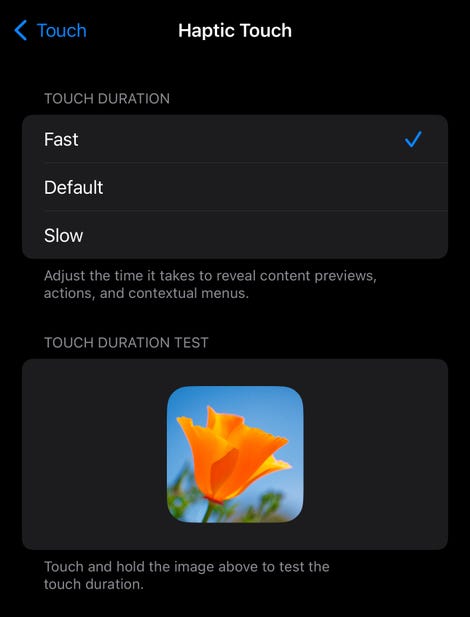 Try it on anything: Pull up an app icon's quick actions menu almost instantly; preview an email in your inbox and hit reply in half a second; react to iMessages that much faster; quickly pull up your flashlight from the Lock Screen; pull up an image from Photos and copy it right away. Anything you can do with Haptic Touch, you can now do faster, which makes it much more pleasant to use.
It doesn't replace 3D Touch for me, and never will. But Haptic Touch finally now feels like an intuitive feature, and it's something that's worth changing on everyone's iPhones (not just the dozens of us who cared about 3D Touch).
---
The Cheapest NBN50 Plans
Here are the cheapest plans available for Australia's most popular NBN speed tier.
At Lifehacker, we independently select and write about stuff we love and think you'll like too. We have affiliate and advertising partnerships, which means we may collect a share of sales or other compensation from the links on this page. BTW – prices are accurate and items in stock at the time of posting.