One week after its initial announcement, Microsoft has released its big Copilot update for Windows 11. Now, this isn't the major Windows 11 update that everyone is waiting on—that's coming later this year—but it does give us a good look at how Microsoft is incorporating AI-based tools into Windows.
Say hello to Copilot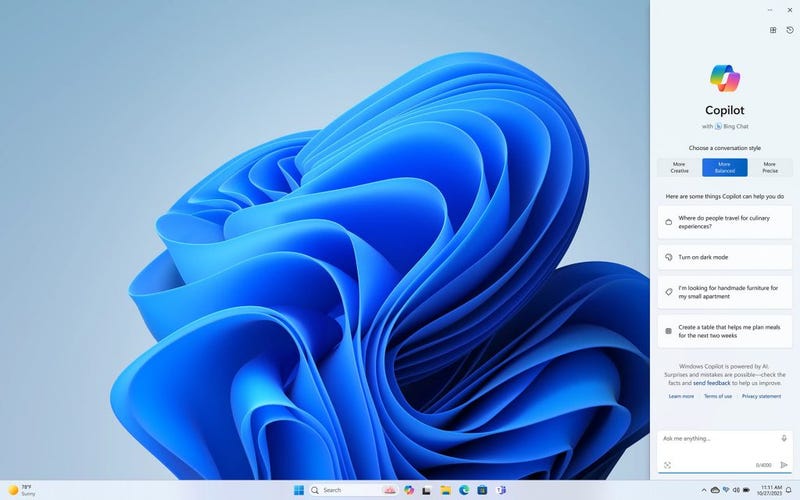 The biggest part of this update is the introduction of Copilot, Microsoft's attempt at a new digital assistant. (RIP Cortana.) The idea is to bring the usefulness of Bing AI Chat to Windows users directly via an embedded AI-powered assistant.
Using a button on your taskbar, you can pull up Bing Chat on the right-side of your screen at any time. From here, you can ask it various questions and choose whether you want it to be creative or serious in its responses—all of this powered by OpenAI's GPT-4. You can also now control your settings from the sidebar, which is handy if you don't like going through your computer's various menus to find the option you're looking for.
Overall, Copilot feels like a solid addition to the OS, though it definitely still suffers from the same large language model (LLM) woes as ChatGPT does generally, which only makes sense, considering it uses OpenAI's LLM to manage the behind-the-scenes processing. Copilot is just the start of Microsoft's AI push, though, as the company plans to bring many Copilot-based features to its other apps, including Office 365, so hopefully things will improve on the usability front.
For now, though, Copilot is a nice extra feature you can either take advantage of or completely ignore. There's no real reason you need to use it, but if you want to mess around with Bing AI Chat directly on your desktop, it's ready and waiting for you.
Paint and Snipping Tool get big changes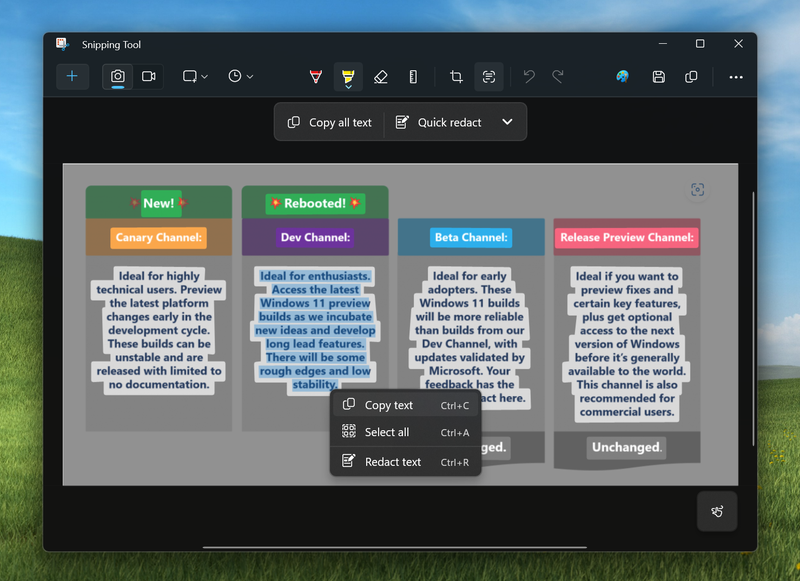 Perhaps two of the biggest changes with the introduction of Copilot and other AI features is how they're being used to drive features within Microsoft's Snipping Tool and Paint apps. Despite almost killing Paint a ways back, Microsoft has now properly revived it with the introduction of AI-powered background removal, as well as the option to generate images using AI. You'll need to join the Windows Insiders group to get access to Paint Cocreator right now, but it will soon be released to all Windows 11 users.
The Snipping Tool will allow you to copy text from screenshots you take, making it easy to snip something from, say, an email, then copy the text over to another source, like a note. Text extraction isn't the only change: You can also retract text from screenshots in the Snipping Tool. This change is really handy in any number of use cases (sharing a screenshot with sensitive personal data, for example,, and could make me use Microsoft's Snipping Tool more than ShareX, my preferred screenshot tool.
Also, the Photos app will now let you edit backgrounds, so you can make edits like blurring the background, among others. These updates are slowly rolling out to Windows devices everywhere, but they'll definitely be worthwhile once they hit your system.
A new File Explorer and gaming features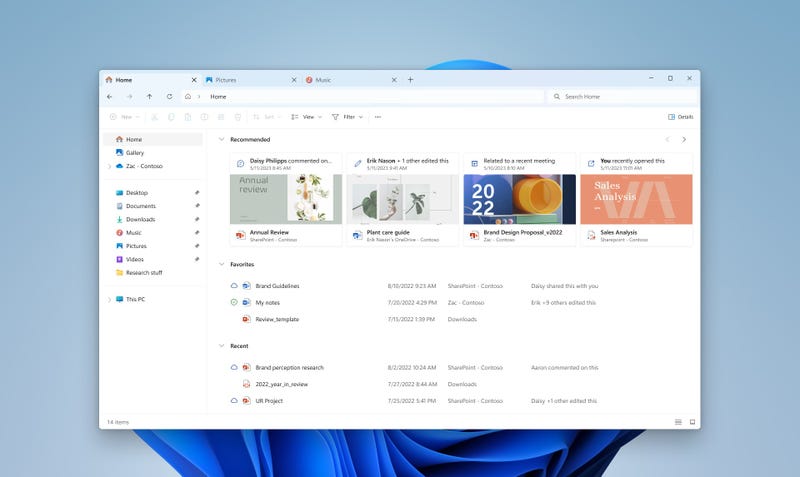 Perhaps one of the most exciting things coming out of this update is the introduction of an improved File Explorer. The new UI features a modern interface sporting a carousel design for recent items and blending better with the Windows 11 aesthetic. It's not much faster than the previous system Microsoft used, but it's prettier to look at.
Additionally, gamers will find Microsoft has added controls for all of your RGB-connected devices—keyboards, computer fans, mice, etc.—from the Windows 11 system settings. It's a nice quality of life upgrade, but seems like it will rely on third-party groups to give Microsoft the ability to control their RGB systems, so it remains to be seen just how useful it will be in the long run.
---
The Cheapest NBN50 Plans
Here are the cheapest plans available for Australia's most popular NBN speed tier.
At Lifehacker, we independently select and write about stuff we love and think you'll like too. We have affiliate and advertising partnerships, which means we may collect a share of sales or other compensation from the links on this page. BTW – prices are accurate and items in stock at the time of posting.