Every once in a while, you come across an iPhone app that reminds you of the days when apps were made just for fun (and not to wring every last cent out of you with micro-transactions). Web Roulette! is one of them. It's a web browser without tabs, lacking a forward or back button, and minus an address bar. And it's extremely addictive.
How can a web browser be addictive, you might wonder. Well, if you're familiar with swiping on Tinder, or going from one video to the next on TikTok or Reels, Web Roulette! combines the best elements of those apps and brings them to every website you want to visit. You just might end up pinging around the web way more than you otherwise would with a browser like Safari or Chrome.
Once you install Web Roulette!, take a minute to add your favorite sites to the app. Start by tapping the menu button in the top-left corner, going through the list of sites, and adding the ones you like the most. You can also use its Add a site button to manually add sites missing from the curated collection. (For what it's worth, Lifehacker is under the Lifestyle section, and you should definitely add it to your personal browsing roulette.)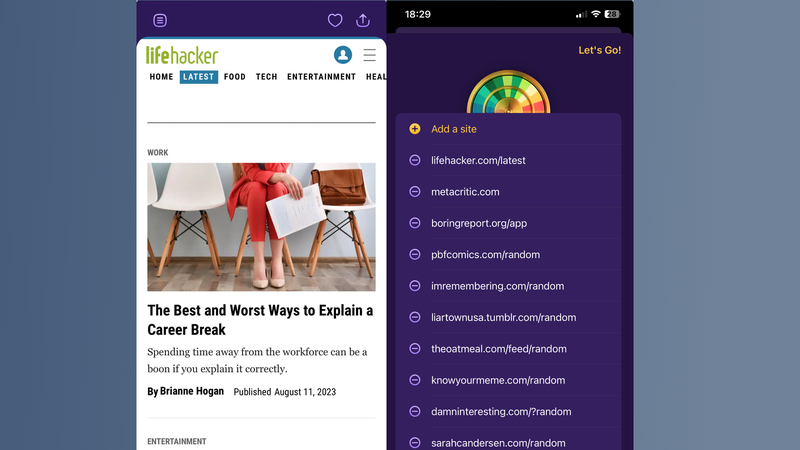 When you're done adding sites, tap the Let's Go! button in the top-right corner and start swiping. You'll find yourself effortlessly zooming from one site to the next and actually discovering tons of interesting things that you may have otherwise missed.
Once you find something you like, you can bookmark it by tapping the heart icon in the top-right corner. There's a share button in the same place if you want to send anything you discover to other people or post it to social media. You can find all the posts you've bookmarked later by tapping the three-lines icon in the top-left and going to Favs.
Web Roulette!'s best feature is only a shake of your iPhone away. When you do that, a roulette animation will play, and a random site (outside of the ones you've selected) will load. It's a lot like StumbleUpon (RIP), a site randomizer that was extremely popular back in the day.
As enjoyable as Web Roulette! is, it doesn't have a lot of features that are considered standard these days: There is no support for browser extensions, which can be a bit of a bummer if, say, you want to read every site in dark mode. The app also lacks a reader mode to make articles easier on the eyes.
Still, Web Roulette! is worth giving a fair, er, shake. It will remind you of the good old days of encountering random weirdness on the internet.