Ah, Facebook. There's something to be said for having all your social media needs in one place, but the problems with Facebook are as numerous as its users. Here we've collated some of our most useful, interesting and amusing Facebook tips and tricks so you can take your take back your News Feed, Timeline and Profile.
---
#1 Control (Well, Kind Of) What Ads Facebook Shows You
Facebook has complicated privacy settings, which tend to default to the least private settings available. Facebook's privacy settings can be an absolute pain to navigate, but it's still worth having a look through them every now and again — especially the ones that concern the way ads are served to you.
To modify your ad settings, click the arrow in the top right-hand corner, go into settings and select 'Ads' from the bottom group of options. This settings menu has three options:
Ads based on my use of websites and apps: Disabling this means that Facebook won't use your activity on other websites to try and advertise to you. You'll still see the same number of ads, but they won't be scraped directly from your browsing history. This means that the ads shown to you will be slightly less relevant, but it also means they won't come straight from your internet history.
Ads with my social actions: This is more related to the ads that others see, rather than those served to you. If you disable this option, it means that your friends won't see ads with a heading like "Hayley Williams likes this", making you some sort of unwilling spokesperson for said brand.
Ads based on my preferences: This isn't an on/off option, but will take you through to the 'Ad Preferences' page instead. On this page, you can manage what things Facebook can and can't use to make ads for you. For example, my Ad Preferences page indicated that I clicked or liked something related to 'Husband', and is now serving me ads based on this click. As something I definitely do not want to see ads based on, I removed that one pretty quickly. It's as easy as clicking the x on the right.
Remember that when you see an ad on Facebook, you can always click on the x in the corner of the ad and select 'why am I seeing this?' to see exactly how things are targeted to you.
---
#2 See Everyone You've Unfollowed
Thanks to Facebook's brilliant unfollow feature, you may be avoiding seeing posts from particularly annoying or uninteresting friends on your News Feed. If you're anything like me, you may have unfollowed a large percentage of your Facebook friends. If you ever need to go back and make sure you haven't unfollowed someone you shouldn't have, there's an easy way to check.
Select the arrow in the top right corner of your Facebook screen, then choose 'News Feed Preferences'. You can see a handy list of everyone you've unfollowed here, along with an approximate date of when you unfollowed them.
If you select 'see more options' you can also see the apps that you've blocked from appearing in your feed (for example, Bitstrips, because everyone should block Bitstrips). [clear]
---
#3 Enable Graph Search
Graph Search is an amazing tool for people like me who are constantly forgetting where I found links, videos and otherwise important information. Graph Search lets you search Facebook like you would search the internet with Google — putting in the word 'puppies', for example, would bring up all your friends'and followed pages' posts that contained the word 'puppies', as well as public posts from other Facebook users. It's great for tracking down posts that you were sure you've seen before.
You can also type fun phrases like "my friends who use Tinder" or "my friends who like Donald Trump". Facebook will obligingly bring up a list of friends who you can name and shame. Thanks, Graph Search!
Graph Search is only available on accounts using US English, however — so if you're using UK English (or you're one of the sorry souls still using Pirate English) then you'll have to swap your language settings around to access it.
Knowing what search type you have is simple. Facebook's regular search will show "Search for people, places and things" as the placeholder text in the search bar, while Graph Search will simply display "Search Facebook".
---
#4 Turn Off 'On This Day'
Some people love nostalgia. Others would rather not have it shoved in their face every morning while they're trying to catch up with the present. Luckily, there's a way to effectively disable this feature.
Facebook allows you to block certain people and dates from appearing in your memories — in case you had a particularly bad year, or a bad ex that you don't want to see popping up again and again. This function also allows you to block a period of time that could be as long as you've been active on Facebook — which you can set to end in 2017, or even later.
Just go to the On This Day app page, click on 'preferences' and choose to block a really, really long chunk of time. Take that, manufactured nostalgia!
---
#5 Access Old Features You've Already Forgotten About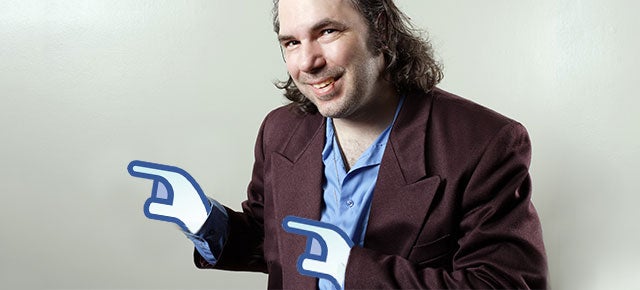 Did you know you can still poke someone? The antiquated form of interaction still resides on a person's profile — click the three dots on the right, bottom corner of their cover photo and select 'poke' from the menu. Now that's real nostalgia.
In that same menu is the ability to "See Friendship" — something that was quite popular back when it was introduced, but has now faded into obscurity. Still, it can be useful if you want to hunt down a photo of yourself with your friend, or check the date of a milestone in your relationship. Interestingly, if you're in a relationship you can also go straight to www.facebook.com/us to instantly access your friendship history with your partner.
---
#6 Messenger Has Its Own Website
Need to chat with someone on Facebook Messenger but don't want the distraction of the full site? Facebook Mobile trying to force you into downloading their app instead of sending messages in the browser site? You can use Facebook's standalone Messenger site for browsers instead.
The site is easy to remember — Messenger.com — and offers the same kind of functionality as the full messenger page on Facebook. If you're using messenger.com to get around Facebook removing non-app messaging capabilities on mobile, however, you'll have to get your phone browser to 'request desktop site'. The mobile site is nothing but an ad asking you to download the app. The desktop site is not a pretty solution, but it works.
---
#7 See All Photos Shared In A Conversation
Trying to find a photo you sent someone on Facebook, but don't want to scroll through months of conversation? As it turns out, you can view all photos sent in a conversation with a single click. Or maybe a few clicks. From the message tab, select the gear and then choose "See Full Conversation". Go to the gear again and this time pick "View Photos In Thread". Voila!
When you click on them, you're given the option to either forward the photo to someone, or download the photo. If you want to delete an image that's been stored here, you'll have to track down the message the image is contained in and delete that — though it will only delete your copy, not the other person's. So… maybe don't send your nudes through Facebook Messenger.
On Messenger.com (as above) these photos come up automatically beside a conversation.
[clear]
---
#8 Play Games In Messenger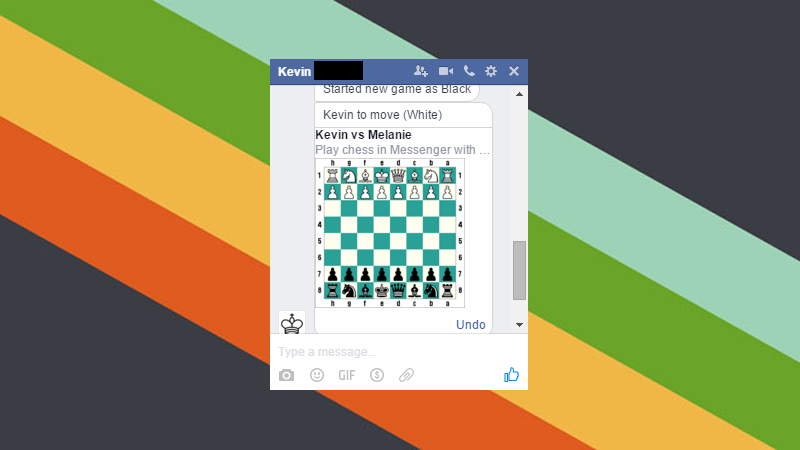 While everyone knows about this one, and it can be kind of annoying, it's still worth a mention. There are two main games in the most recent iteration of FB Messenger — Chess and Basketball.
To play chess against someone you're chatting to:
•During a conversation, type @fbchess play and a board will appear. Your friend will go first. •Select a piece using K for king, Q for queen, B for bishop, N for knight, R for rook or P for pawn. •Then add the letter and number representing the space you want to move it on the board. So, for example, you'd type @fbchess Pd4 to move it to that space. If more than one piece can go there, you'll be asked which one to move.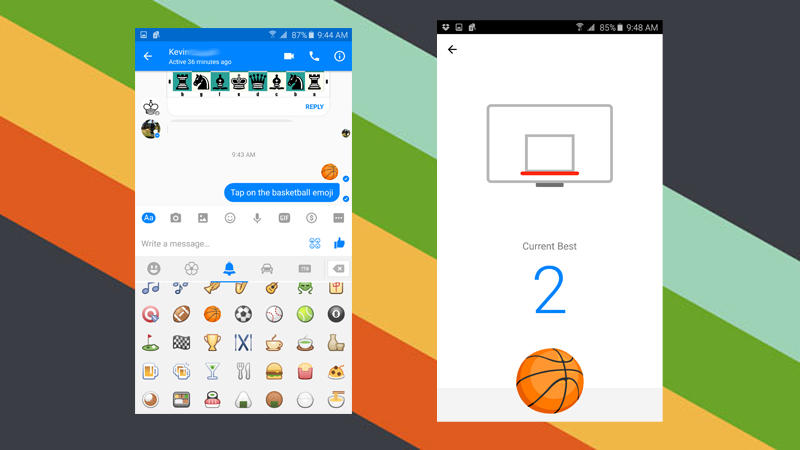 Basketball isn't nearly so collaborative, but it's easier to play and set up. Just send a basketball emoji to your friend, then tap it to play the game. Your friend will also get updates about your high scores. Lucky them.
---
#9 Always Open Mobile Links In An External Browser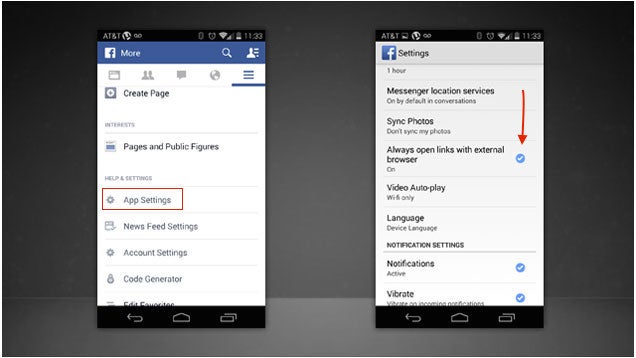 If you're sick of the Facebook app opening everything in its kind of broken browser, you can fairly easily turn it off. Just go to App Settings under Help and Settings down the bottom of the menu bar and switch on the 'Links Open Externally' option. Hello, Chrome for Android.
---
Pick Your Legacy Contact
On the more morbid side of Facebook management, you can actually decide what will happen with your Facebook profile when you die — it's kind of like a Facebook will. At this settings page you can pick a 'Legacy Contact' who will take control of your page if it happens to get memorialised on your death.
If your page is memorialised, Legacy Contacts can change your profile picture for you and can also respond to friend requests (which is a bit odd). They're also able to write a pinned post for your wall. Below the field where you choose your Legacy Contact, there's an option that will let them download the pictures and files you uploaded to Facebook when your page is memorialised — or, if you want, you can stipulate that your page must be deleted if you pass away.
---
#11 Turn Your Facebook Photos Into ASCII Art
This isn't so much useful as it is interesting. As it turns out, Facebook and Instagram generate an ASCII text version of all the photos you upload to the platform. In order to view these, view the image directly in its own tab. Note that this only works for images with a URL that ends in .jpg, without a string of characters after the file extension. In the URL bar, type directly after the .jpg: .txt for a plain ASCII art version of your photo, or .html for a much cooler colour ASCII artwork.
---
#13 Use A 'Soft Publish' For Discrete Photo Uploading
Sometimes you want to add a couple of nice photos to your holiday album, but don't want to broadcast the upload of three photos to your entire friends list. Luckily, there is a way to do a 'soft publish' of your photos.
All you have to do is set the privacy to 'only me' when you click post on your new photos. It's a bit of a pain, but this way you can wait a couple of days before setting the privacy back to your preferred post settings, by which point the post will no longer be appearing in people's News Feeds. You might also want to hide the story (which will appear as something like "Hayley added 3 new photos to the album 'Holiday'") from your Timeline. Unfortunately, there's no easier way to do this (though it feels like there should be).
---
#14 See (And Block) All The Companies Tracking You Through Facebook Apps
Most of us accumulate random apps that are logged into through Facebook, and a lot of them can demand a tonne of personal information — your profile details, your friends' profile details, your posts and photos. Luckily, you can see all the apps that have access to your profile here, and from this page you can either delete the apps from your profile altogether, or you can edit the permission that said apps do have.
A bit worried about how apps can ask for your friends' details as well as yours? This also means your friends' apps can ask for your details — here's how you can avoid that. Down the bottom right of the app settings page is a box titled 'Apps Others Use'. Select 'edit', then untick everything that you don't want your friends being able to share with their apps.
---
#15 See All Your Messages, Including The Ones That Facebook Filters From You
Recently, a number of articles went around telling people about a 'secret' or 'hidden' inbox on Facebook. It's nothing so exciting, in actuality, just the messages that Facebook thinks is spam, but you can potentially find some important messages hanging around in them. Accessing them is fairly simple once you know how, though it's easy to see how this could be considered a 'hidden' inbox.
In the browser, all you have to do is click on the messenger icon in the top bar, click over to the 'Message Requests' tag and then scroll all the way down and select 'See filtered requests'. On the Messenger app, navigate to 'People', from there tap 'Message Requests' and then again scroll down to 'See filtered requests'. Most of these will actually be spam, or ancient group messages from events and groups, but you might find something useful, too.
---
#16 See Who Is Ignoring Your Friend Requests
Sometimes, after you send off a friend request, it's liable to go missing in the mess of people's inbound friend requests. Or, perhaps, they're ignoring it. You can actually see all the unanswered friend requests you've sent off, all in one place — though you unfortunately (or fortunately?) can't see the ones that have been declined. All you have to do is click on your pending friend requests, select 'see all' and then at the top under "Respond to Your Friend Requests" you can click on 'View Sent Requests'. From there, you can guilt all the people who've been ignoring your requests!
---
#17 Hack Your Facebook With Plugins:
In addition to the settings you can play around with on Facebook itself, you can also find some pretty useful browser plugins that will make your Facebook experience much more pleasant. Here are two to get you started.
---
Replace The New Reaction Emojis With More Interesting Images

Not everyone is a fan of reactions — though would you like them more if they were something like Donald Trump's face, or Pokemon images? Of course, there's a plugin for that on both Chrome and Firefox.
It's called Reaction Packs, and it's accompanied by a whole bunch of — you guessed it — reaction packs. You can find hundreds of different reaction image packs at their website, ReactionPacks.com, which range from celebrities to politicians to Ron Swanson to Pokemon to artwork of all kinds. And Minions. Of course there are Minions.
---
Hide Stories That Appear Because Your Friends Liked, Commented Or Were Tagged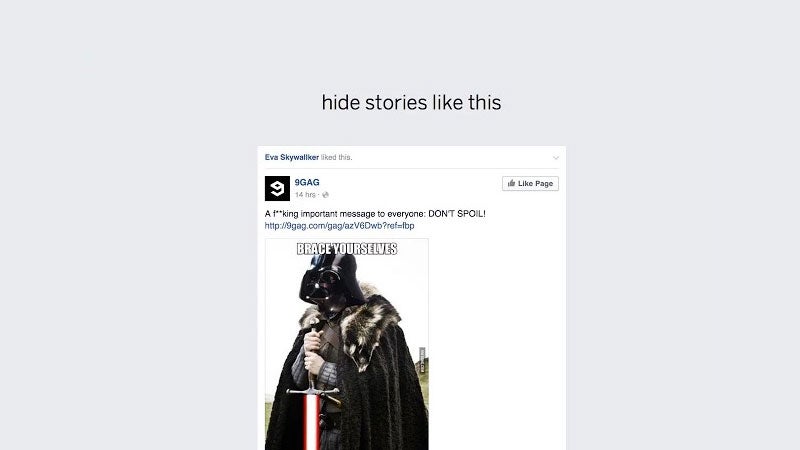 Some of the most annoying stories on Facebook these days surprisingly aren't baby photos or vague statuses anymore — they're the completely irrelevant stories that Facebook brings up because "your friend liked this" or "your friend commented on this". This Chrome plugin called Facebook Friends Feed reduces your News Feed to just that — stories that are actually posted (not liked or commented on) by people that you follow. The Chrome plugin can be found here.
Do you have any Facebook tips and tricks to share? Let us know in the comments!