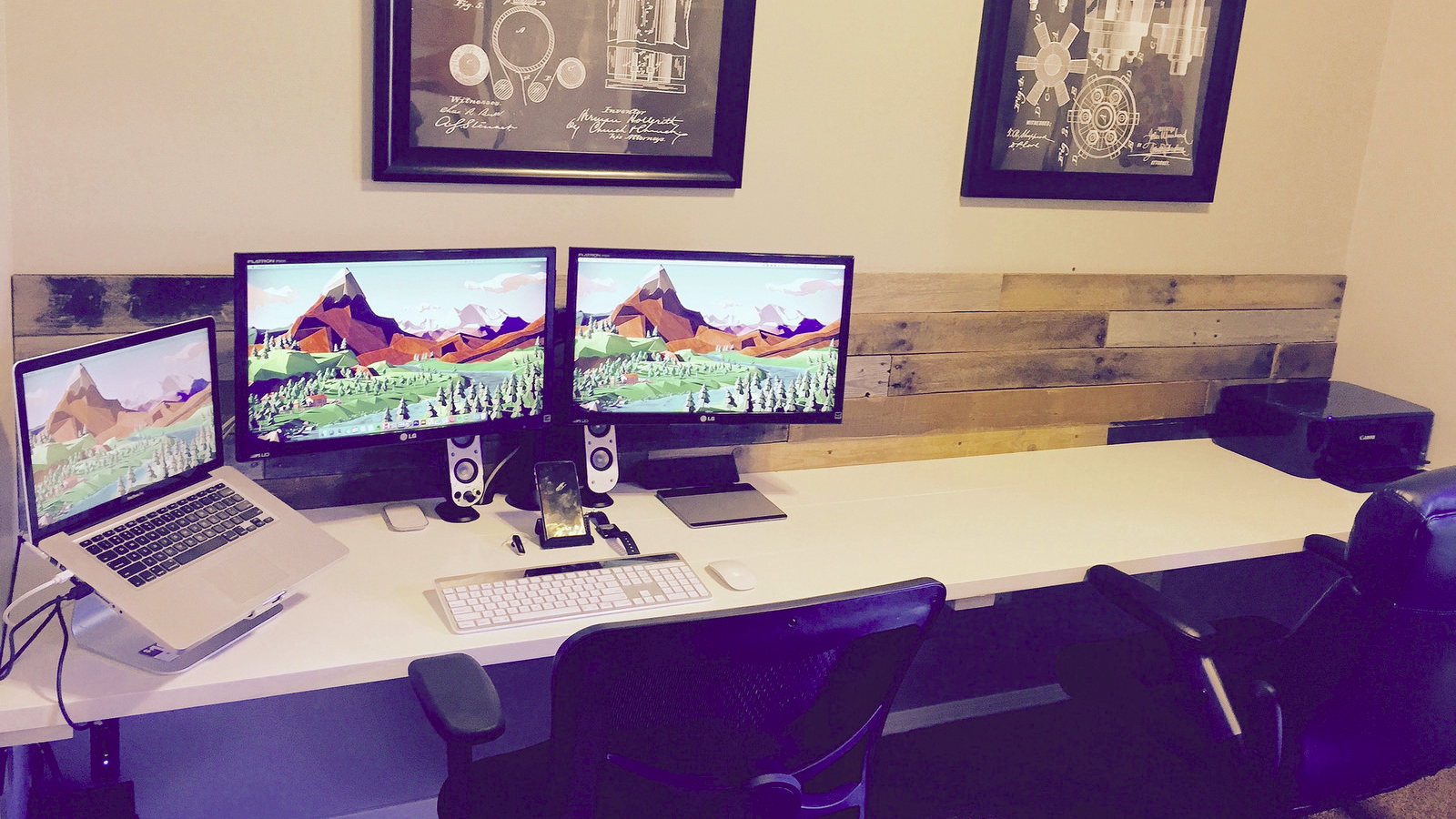 Planks of wood from pallets and a solid 10-foot wide desk make this home office unique without ruining the minimalist vibe. Best of all, you can share it with your loved one. Awww.
The workspace belongs to Flickr user Cory Church, who's kind enough to offer us lots of details:
I bought my Macbook Pro in early 2013, straight from Apple since I wanted it customised to fit my needs. It's a 15.4", 2.6Ghz, Intel Core i7 with 8GB Ram. It sports an upgraded 1TB Hybrid Drive and a 1680x1050 display. Connected to the laptop is a Kensington Sd3500v USB 3.0 Universal Docking Station which runs 1 of the 23" LG IPS235 displays, the Logitech Speaker system and allows for more USB connections. The other 23" LG IPS235 display connects directly to the laptop via mini-display port. The LG monitors are held up by a free standing, horizontal, dual monitor mount by EasyMountLCD. The mStand Laptop Stand supports the Macbook Pro. Gracing center stage is a 64Gb iPhone 6+. Also on my desk is a Wacom Intuos pen & touch small pen tablet, Plantronics M155 MARQUE Bluetooth Headset, Mobee Magic Charger for the Apple Magic Mouse and a 1st generation Pebble Smartwatch. Providing the keys is the solor-powered Logitech k750 keyboard. And of course, the Apple Magic Mouse does all the pointing and clicking. Printing and scanning provided by a humble Canon MG3120. I just finished building the desk and pallet wall this weekend. The desk is a solid 10 feet of amazing desk space, made from 3 2x12x10s. It floats on top of 2 pieces of angle iron and a center speed brace. The partial wall is of course pallets.
This reminds me of the Reclaimed Wood Workspace, but more toned down. You can find more information about this desk creation at the link below.
My minimal pallet wall office [Flickr]