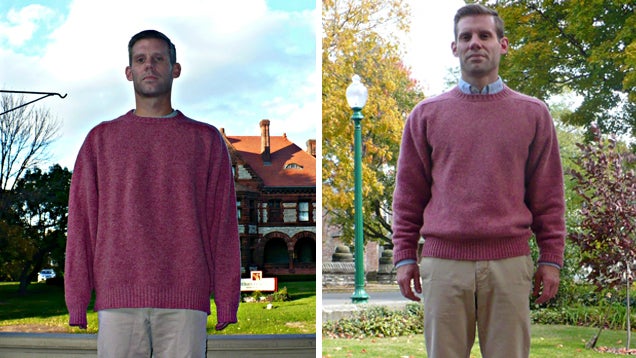 If you have a woollen jumper that's too big — whether it's a hand-me-down, charity store find, or weight loss leftover — you can try to shrink it with these tips from weblog Put This On.
Shrinking obviously isn't as easy with wool as it is with cotton, but it can be done. It's not an exact science, but these tips — from Jarrod over at Oxford Cloth Button Down — should help:
First, you have to be OK with losing the sweater. This is obviously not an exact science, and he's ruined more sweaters than he's saved. However, with the prices in thrift stores, this is usually not such a big deal.
If you need a sweater to shrink a lot, then throw it in the washing machine under a hot, hot water cycle. When it's done, take it out and shape it to the size you want. It should dry to the size you need.
If you only need the sweater to shrink a little, then spray it down with a water bottle and put it in the dryer. Check on it every three to five minutes.
They also point out that most jumpers will "felt", but you can minimise this by putting the jumper in a pillowcase when you wash it. Hit the link below for more details.
Shrinking Wool Sweaters [Put This On]