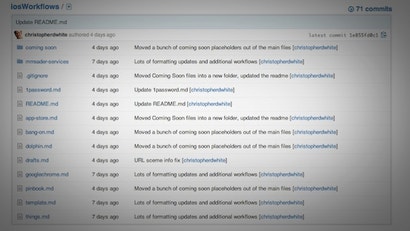 If you want to automate something on iOS, you usually have to use fiddly URL schemes, bookmarklets, scripts or specific apps. Fortunately, Github user Christopher White has done all the hard work and collected a bunch of these workflows together on one page.
The listing currently includes workflows for such apps as 1Password, Drafts and Google Chrome. These workflows automate everything ranging from the sharing of data to application launching.
Essentially, it's a way to create links between apps to bridge them together. For example, you can create a chain where Launch Center Pro opens a HTTPS link in 1Password from your clipboard, or you can create a bookmarklet to send something from Safari straight into Drafts. It's a cool and ever-growing project if you've been wanting to dig into automation on your iOS device.
iOS Workflows [Github via One Thing Well]