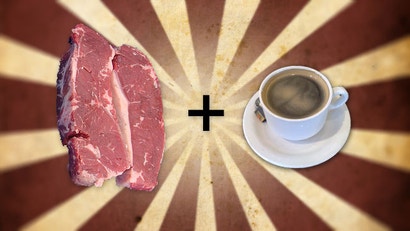 Meat marinades are an excellent way to spice up a steak, but they're often packed with sodium and extra calories. If you want to enjoy a thick steak without the extra sodium, health blog The Greatist recommends soaking your steak in a little coffee.
Photo remixed with anthony_p_c and velkr0.
The process is incredibly simple:
Try soaking those steaks in coffee for an hour before grilling for tender, flavorful, smoky meat without the extra calories and sodium. Coffee grounds also make a fantastic, crunchy rub for all those grilling favourites.
It might sound a little strange, but the amazing-sounding combination of coffee and steak makes it worth at least a trial run. Let us know if you give it a shot yourself.
Use Coffee to flavour Steak [The Greatist]