Whether it's listening to podcasts or watching YouTube while cooking, video calling friends or just seeing the latest pics of grandkids show up as they're taken, Google's new Nest Hub Max has an awful lot of utility and an impressively intuitive hands-off operation. In other words it's exactly what you want in a smart display.
At around the size of a standard iPad, the screen on the $349 Hub Max is by no means excessive but is a marked increase over the Nest Hub (previously called the Home Hub), making it much easier to read at a distance. It isn't the sharpest screen, coming in at the barely HD resolution of 1280×800, but the configurable adaptive brightness and "ambient EQ" (which changes the white balance to suit its surroundings) means it blends seamlessly into the home without drawing too much attention.
Hub Max fits right in with Google's other smart speakers and displays with a white bezel and a fabric-covered stand in either white or charcoal. Fabric seems like a dangerous choice in a device designed with the kitchen in mind, but the screen at least is very resilient to grease and grime.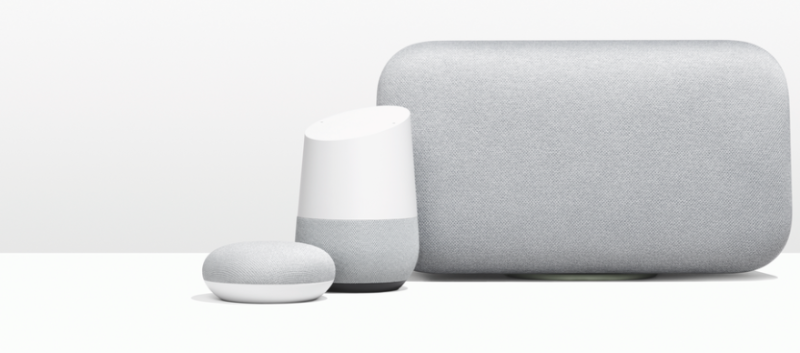 If you picked up a Google Home recently, you may be wondering what it's good for besides checking the weather and playing music. Google's smart speakers may not boast as many third-party skills as Amazon's Alexa, but there's still a ton you can do.
Read more
As with Nest Hub, Hub Max will spend most of its time as a connected photo frame. Using Google Photos you can set the screen to cycle through specific folders of pictures, which combined with live and shared albums means your whole family can collaborate on choosing favourite pictures, or you can make it so that new photos you or your partner take of the kids show up automatically. Of course you can also say things like "show me my photos from the beach".
The addition of a camera also makes the Hub Max a capable video phone, as long as you're happy to use Google's Duo service (the Hub Max does not support Skype, Hangouts or any other service). Duo is a free app for Android, iOS devices or the web, so the only real hassle is convincing your family and friends to set it up. Once you do, making a call is as simple as saying "Hey Google, call Mum". If you miss someone you can also leave a video message.
The Hub Max's wide angle camera can capture an entire room, but video is automatically cropped to frame and follow callers, so you can move around as you talk and the feed will pan after you.
The camera is also used to recognise users, with a feature Google calls Face Match. Like with Voice Match each user needs to set this up and opt in using the Home app for it to work, but unlike Voice Match the facial recognition data is processed locally and not sent to the Google cloud. Face Match means that the Hub Max can serve you personal suggestions and search results when you're using it, without needing to hear your voice first.
In practice this makes it seamless to see your own calendar, access your music and YouTube and get your notifications while making sure nobody else can see them while you're out. You can also set Hub Max to start your morning routine (for example reading news from your selected outlets) as soon as it sees you.
As the name suggests, the Nest Hub Max ties in with the Nest ecosystem of connected home products, meaning you can summon a live feed from any Nest security cameras on the device. If you have a subscription you can also use the Hub Max as a Nest security camera. It features a prominent green LED on the front to remind everyone that the camera is live if you choose to use it this way. If on the other hand you'd prefer the Hub Max didn't see you at all, a simple mute switch turns off the microphone and camera hardware.
Aside from the camera the Hub Max functions much like the Hub, but its increased size makes it better at just about everything (unless you only want a device for your bedside table). A pair of tweeters and a woofer makes the volume and sound quality a little nicer than the original Home, and far superior to the smaller Hub, and you can still get access to your Spotify, Google Play or YouTube Music tracks just by calling out.
Meanwhile the built-in Chromecast makes it possible to use the Hub Max as a decent Kitchen TV and radio. Unfortunately there's still no Netflix support, but practically every other video and audio streaming app you have on your phone will work.
One new feature I really enjoy is the ability to look at the Hub Max and raise your palm in a "stop" gesture to pause or play music and video or stop a timer or alarm. Giving touch-free commands instead of tapping is handy in the kitchen where you might have wet or messy hands, but having an alternative to screaming "Hey Google stop!" over the top of music is very welcome.
Now that Google Home has been around for a while, an ecosystem is building around the platform. That means the number of apps and hardware that work with Google's digital concierge keeps growing every day. What are some of the things you can ask Google to do for you?
Read more
And speaking of the kitchen, the larger display and better sound makes recipe playback easier to follow. You can search for recipes with your voice or send them from supported sites on a web browser, and the Hub does an impressive job of converting them into step by step instructions. It's not always perfect, but thankfully the Hub lets you read the full recipe on the web before you get started so you're not surprised by the "marinate overnight" or "only use half the chocolate" instructions that the device tends to overlook.
Finally the Hub Max does all the smart home stuff you'd expect, from answering your questions and controlling your smart gear with voice commands to the ability to silently check lights, locks and other speakers using the touch screen. Google's Home ecosystem is very robust and supports thousands of devices, though it's still a bit lacking in software support if you want to use non-Google services. For example I'd love to be able to call out reminders and shopping list items and have them appear in my apps of choice rather than having to move my whole family over to Google accounts.
Should You Buy It?
With a vivid 10-inch touchscreen, a built-in face-recognising camera and substantial sound, Google's Nest Hub Max is a great upgrade to the original Nest Hub and a smart, useful addition to your kitchen or lounge room. However, getting the most out of each of the Hub Max's features generally means doing things Google's way, which could be a frustration for some.
---
This article originally appeared in Digital Life, The Sydney Morning Herald's home for everything technology. Follow Digital Life on Facebook and Twitter.