If you need a public-facing logo for your business, one that will appear on signs and stationery and ads, one you and your customers will see every day you work, then you should get it professionally designed for several hundred (or thousand) dollars. If you only need something to put on your Facebook page and your monthly invoices, but you don't have design skills or Photoshop, then you can get away with "customising" a logo on a free or cheap site. We tried several and found two that work well enough to recommend.
My Brand New Logo
If we had to produce a quick and dirty business logo in the next two hours, we'd choose My Brand New Logo. The site charges 50 euro ($80) for high-quality copies of a logo. Honestly, this seems fair, because MBNL is both slick and highly customisable.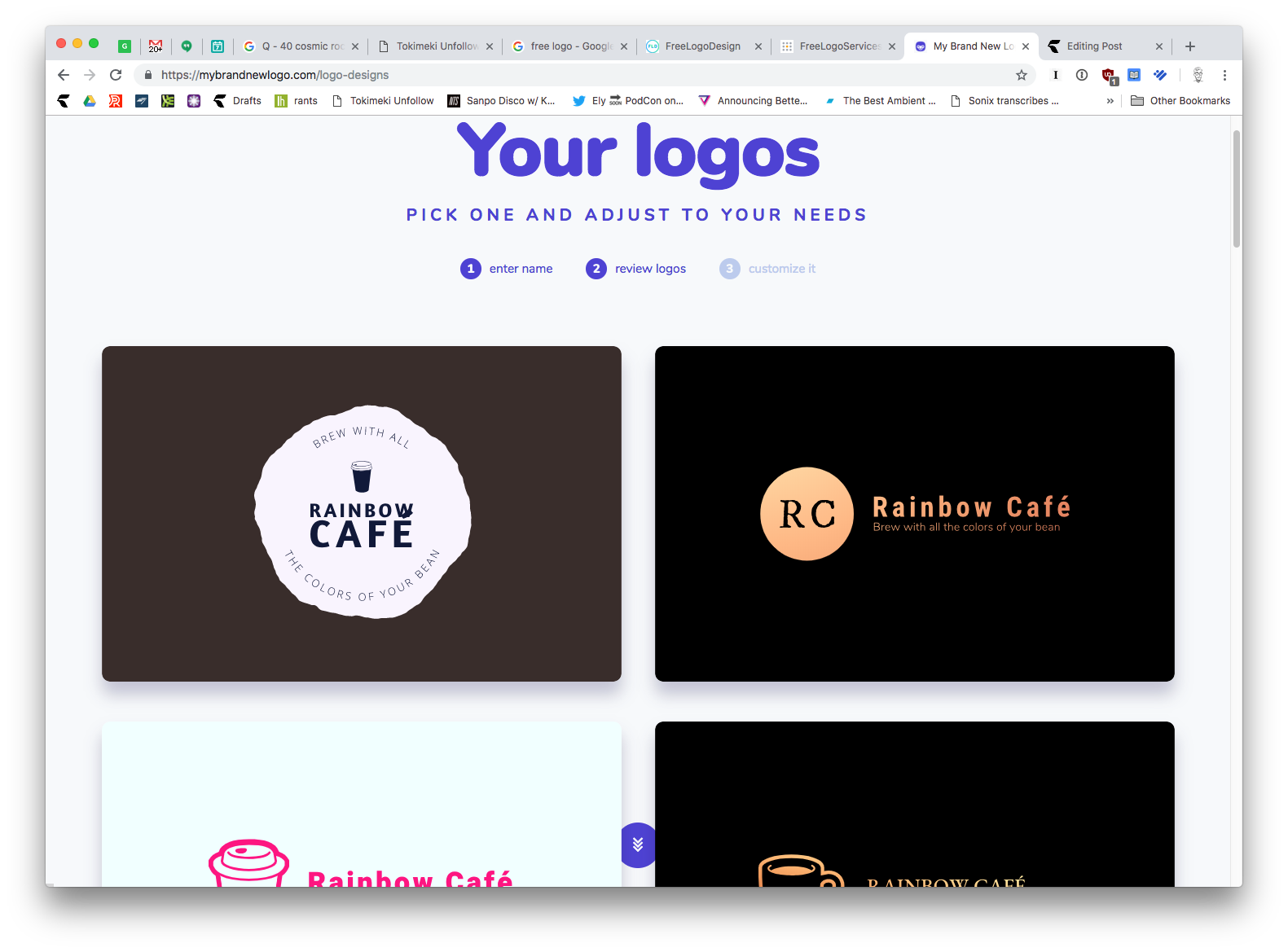 Just a touch of personality
Tell MBNL your business name and slogan, and give it some tags so it can choose clip art. Then pick a layout—some are way better than others — and customise. The site will randomly present you 20 options, but you can load more.
Everything is customisable, including typefaces, icons, sizes, positions, patterns, and colours. You can match any icon and colour scheme to any layout. And you can gussy up a plain logo. You just can't upload your own assets.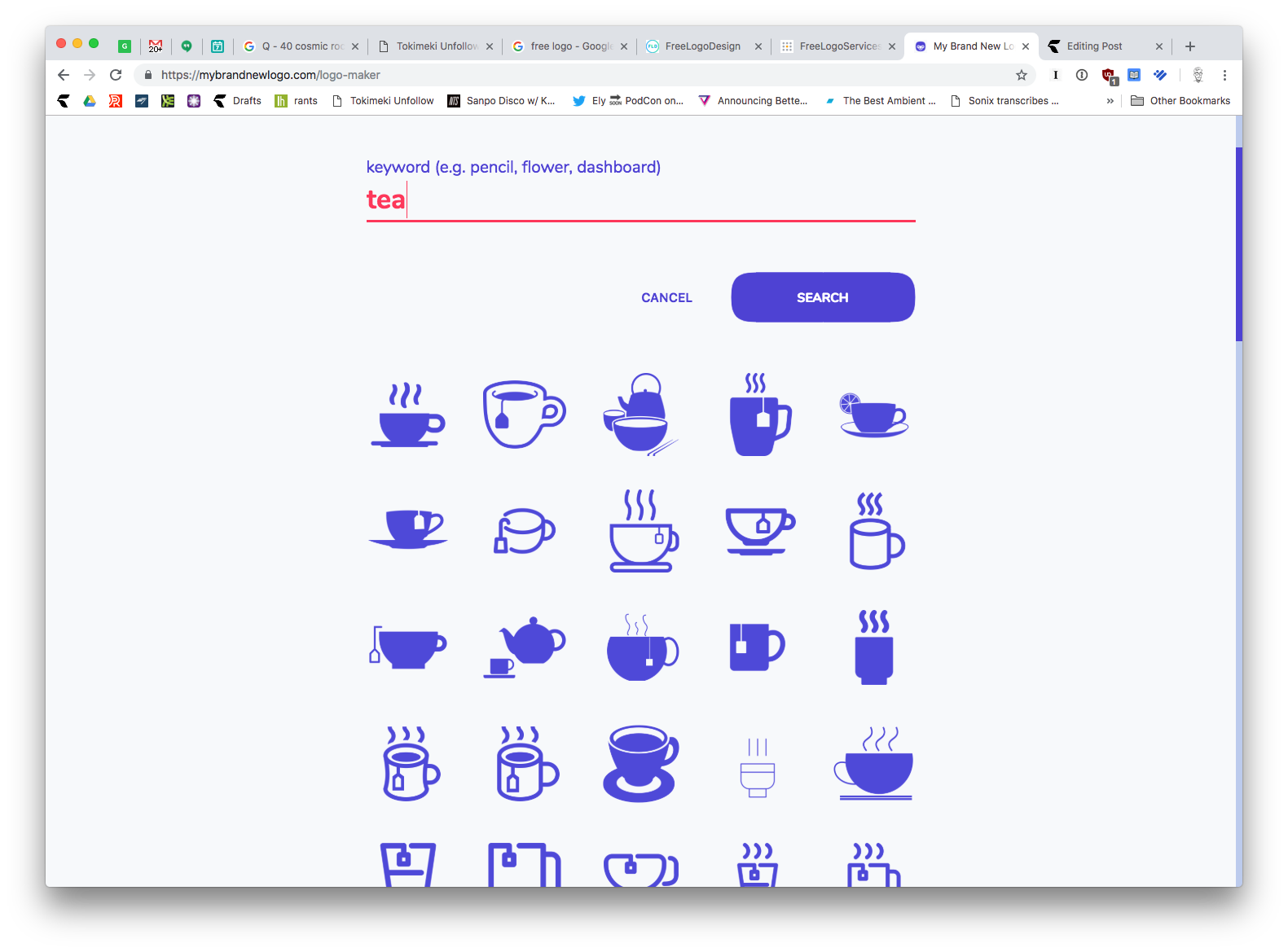 Impressive variety within very specific categories
Most of the logos on this site have the same kind of feel. As long as you're comfortable with the benign design style that's gentrified the world lately — that WeWork/Starbucks/Airbnb style that balances elegance, modernity, and approach-ability — then you'll fit in. And that's exactly the branding I wanted for my soup subscription service, SoupPass.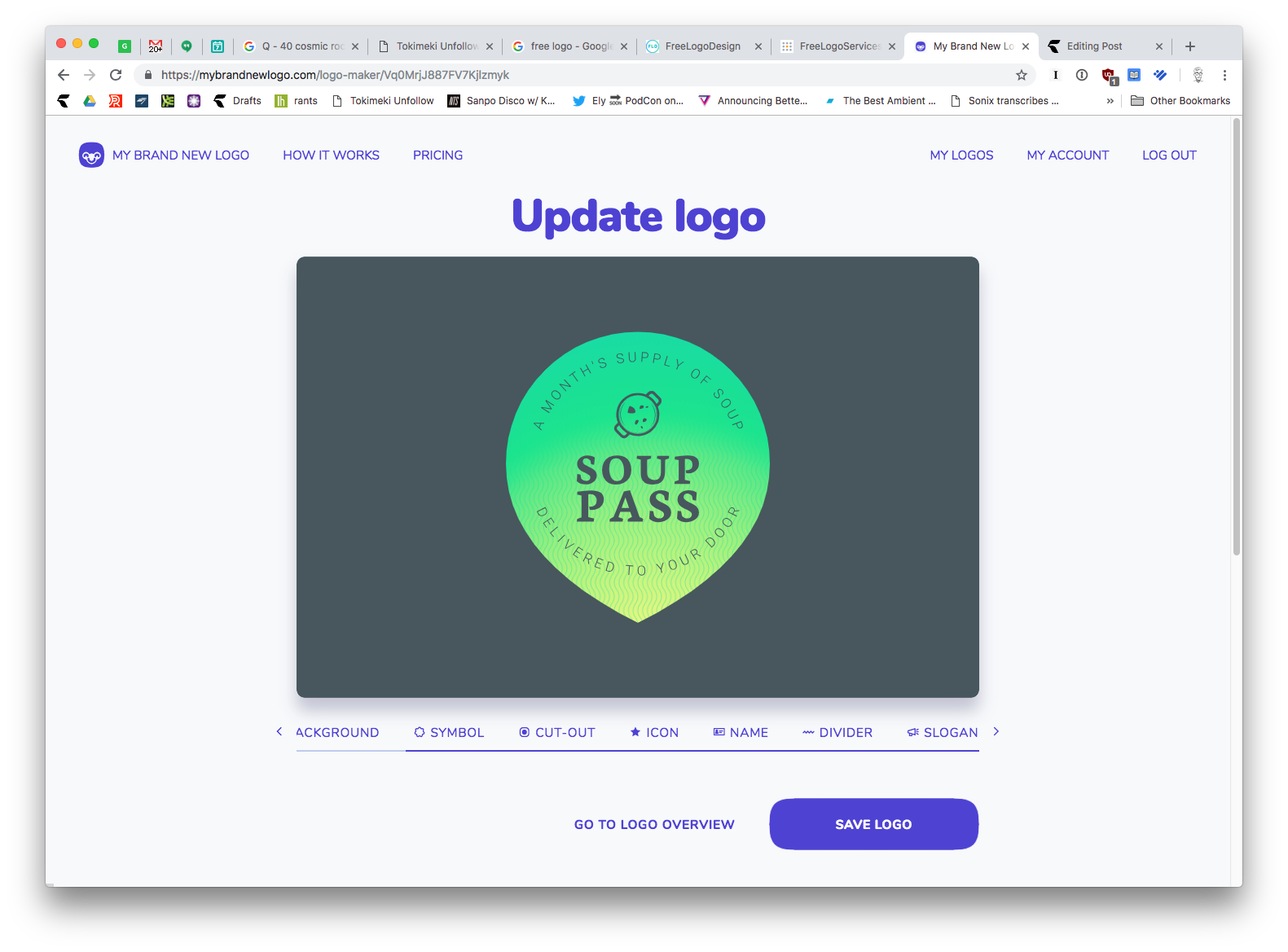 Please zoom in to appreciate my custom "waves of fragrance" texture
Your 50-euro download package includes high-resolution and vector files with different colour and size options, as well as some social media assets. It's all the stuff you'd reasonably expect from a paid service.
Hatchful
Hatchful is a free web-based logo maker (also on iOS/Android) from small-business management suite Shopify. If you can't imagine paying even fifty bucks for your logo, you can still find something decent here.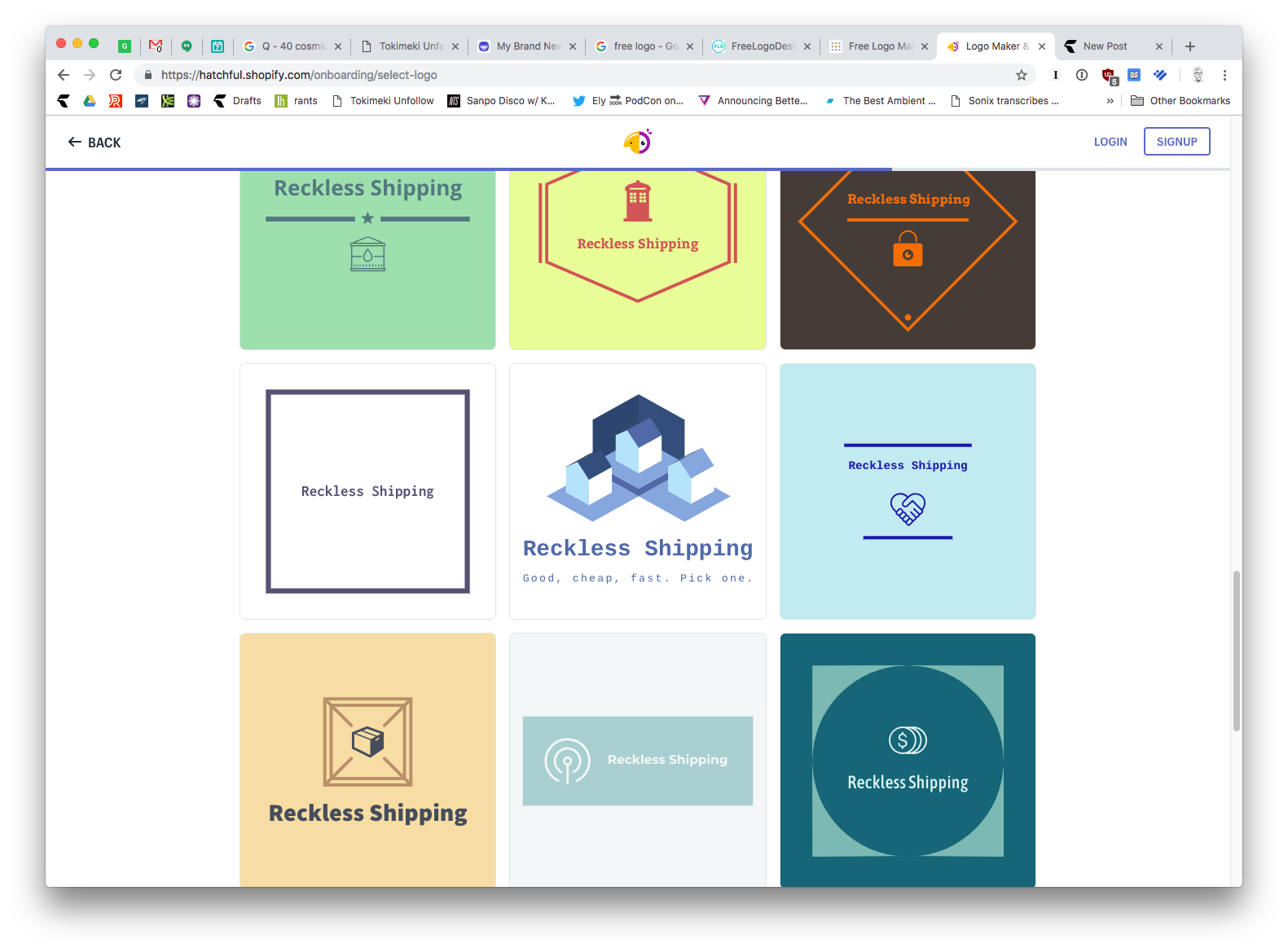 Tell Hatchful your business name and slogan and where it will appear (online, on business cards, blown up on signs), and pick some logo styles.
Hatchful's customisation options are limited. You can only choose certain combinations of colours and fonts. This might keep you from "playing house" and spending all day customising. But I couldn't find any text options hardy enough to convey the rugged spirit of Reckless Shipping.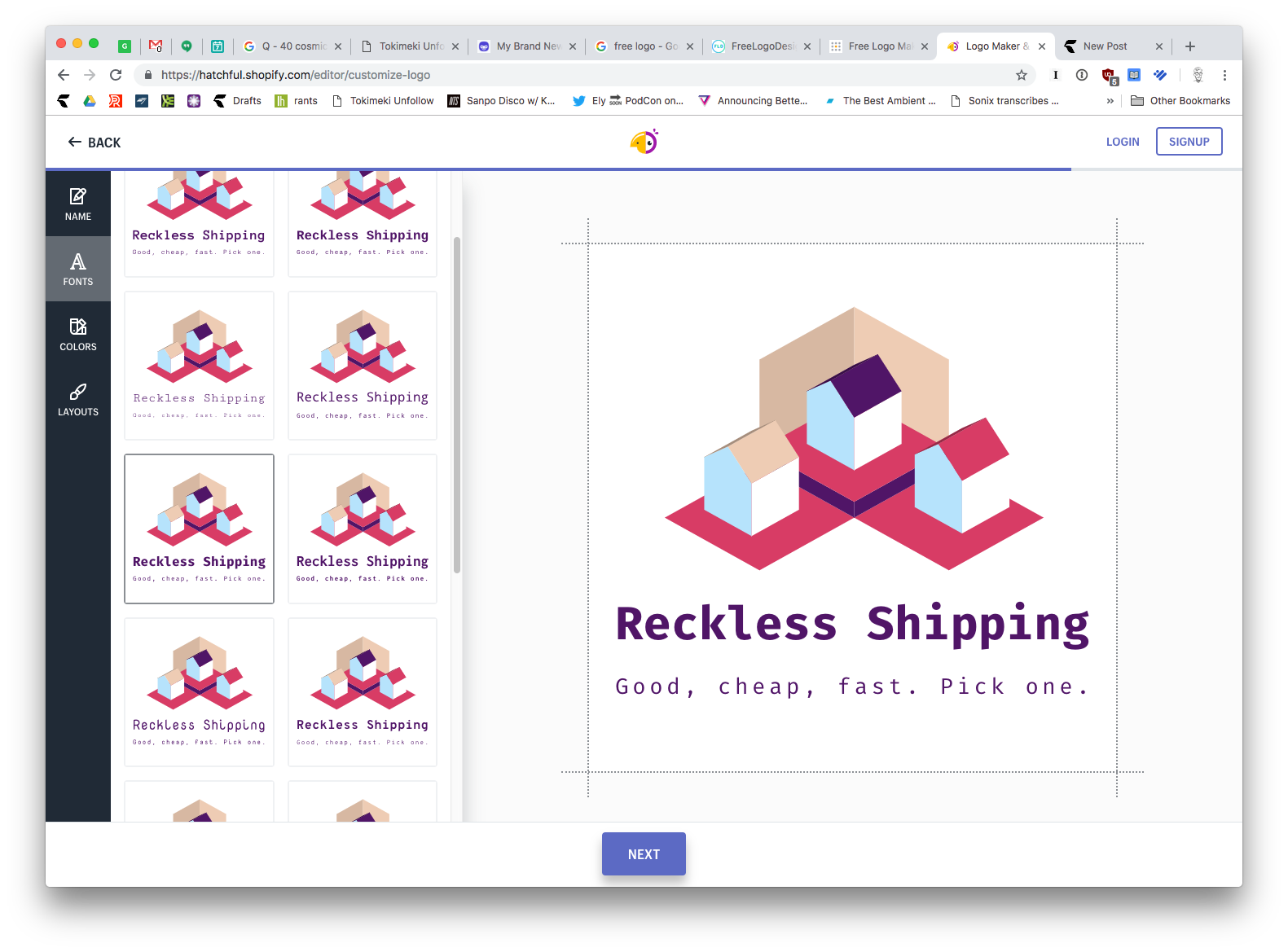 Once you save a logo and make an account, Hatchful sends you a folder of assets to download, including a 1200×1200 image, and versions with different dimensions based on how you said you'd use your image. If you selected "social media," this includes assets for Facebook, Twitter, Pinterest, and LinkedIn. You'll get some terribly cropped options as well as more workable ones where your logo sits in the middle of a banner:

The package also includes a tiny favicon for your website, which in my case ridiculously included the company name and slogan:

You can come back later and edit or re-download your assets. You'll probably want to make some tweaks once you've seen your logo at different sizes and configurations.
If all these designs seem cheesy, then you should probably spring for a real designer. Try searching on Dribbble, Behance, or 99designs. And get ready to pay a lot more than $80 — good designers cost good money, and they should.