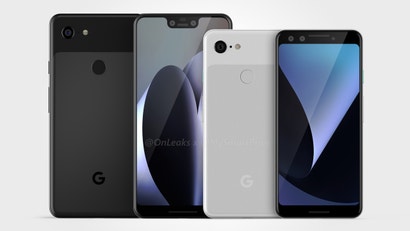 Image:
MySmartPrice
Google's October 9 hardware event is approaching quickly, and over the past few weeks, rumours about what new devices Google will be announcing have been at a fever pitch. While we have a pretty good idea of what announcements to expect, the most obvious are the Pixel 3 and Pixel 3 XL smartphones. Here's how to ensure you get your device on launch day.
Despite the event still being a few days away, we now know when the new pair of Pixel phones will be available for preorder: It sounds like users will be able to place their preorders for Google's next flagship smartphones as early as Tuesday, October 9, the same day as the Made by Google hardware event. So, if the leaks and rumours already have you ready to adopt the Pixel 3 or 3 XL, you won't have to wait long to secure one.
Where to preorder
Surprisingly, it's not leaks that have revealed the preorder schedule, but Google itself. Google has been teasing the Pixel 3 and Pixel 3 XL through promotional emails for the upcoming hardware event, wherein it confirmed that preorders will begin once Tuesday's event has concluded. When it's over, you should be able to find the Pixel 3 and 3 XL live on Google's store page. Both phones will be available in white, black, "mint," and a peachy-pink "Sand" colour.
There's reason to believe this won't just be for US customers, but for worldwide Google phone fans as well. Having preorders open worldwide on Tuesday, October 9 would make sense since Pixel 2 and 2XL preorders went live simultaneously in multiple countries on the same day. With Tuesday's New York event also taking place in Paris and London, and Google advertising the Pixel 3 and Pixel 3 XL's reveal heavily in Japan, it seems safe to assume the company is targeting a global release, including Australia.
We still don't know pricing or specific release date for the Pixel 3 and 3 XL. We're confident we'll know before Tuesday's event is over and preorders go live. We'll also finally know how accurate all the leaks have been.
There have been a bunch of leaks regarding the Pixel 3 and Pixel 3 XL's potential specs. At this point, we've got a pretty good idea of what the phones will look like and the general hardware expectations: Both phones are reportedly equipped with powerful Snapdragon 845 chipsets, and will run a modified version of Android tooled for smoother performance. It's also expected that both phones will hold fast to the single-camera design of its predecessors—which may come as bad news if you were hoping for a selfie cam.
Despite these similarities, the two phones differ when it comes to screen size and shape. The Pixel 3 will supposedly feature a 13cm screen and a thinner bezel compared to the Pixel 2. The larger Pixel 3 XL, on the other hand, is said to have a 15cm, edge-to-edge screen, and will have a much-maligned "notch" at the top edge of the screen. Of course, this could all be proven to be entirely wrong come Tuesday — such is the nature of leaks and speculation.
---