Whether you love switching out beautiful desktop wallpaper or you just want something minimal that you're going to open windows over anyway, there's no shortage of great places to find something to dress up your desktop. Let's look at some of the best.
Illustration by Fruzsina Kuhári.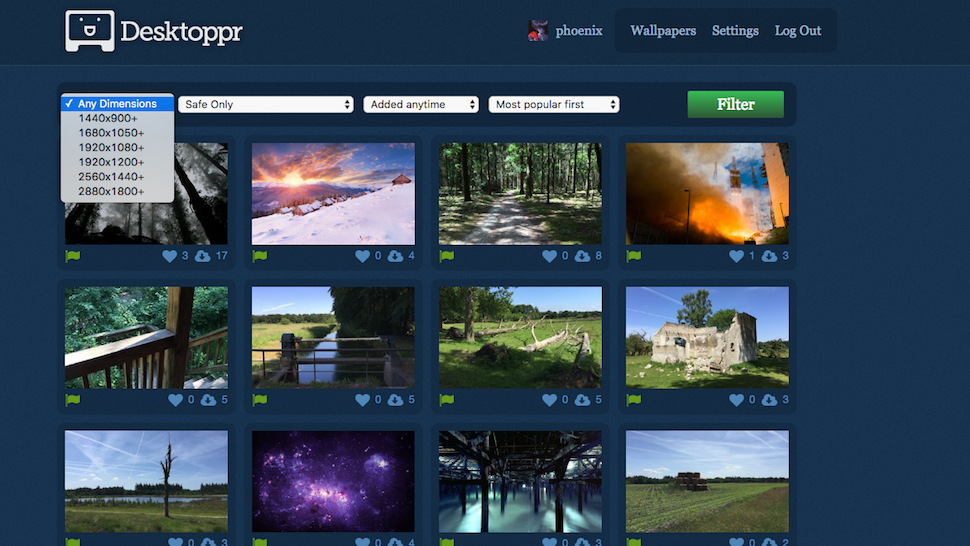 Desktoppr has long been one of our favourite desktop wallpaper services, and it's still a great place to get new wallpaper and quickly download and sync it with your Dropbox to share it with others and get those wallpapers on any computer you may use.
Desktoppr includes high-resolution wallpapers that look great on Retina displays, and a drop-down that lets you filter by resolution to get the perfect size. Create an account to sync your Dropbox, save your favourites, and follow other Desktoppr users who have collections you like.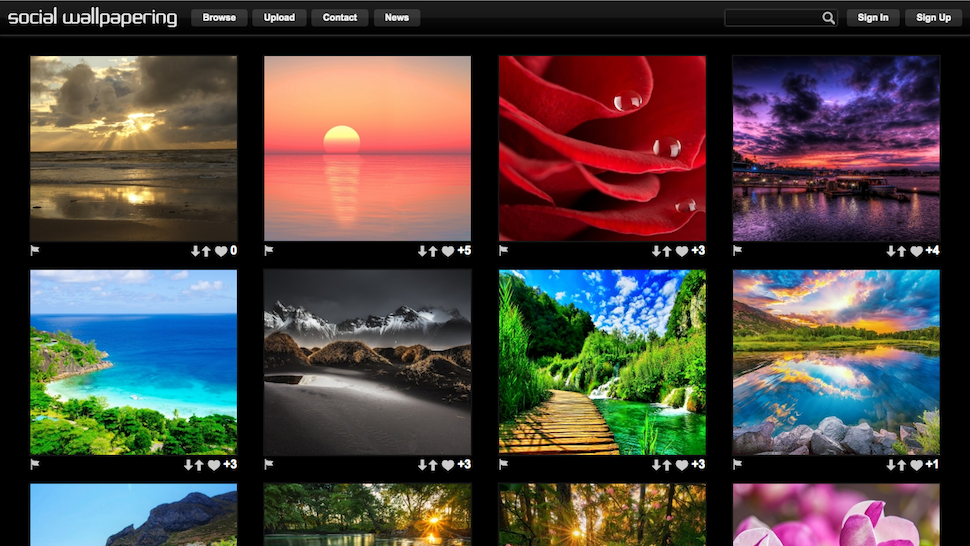 Social Wallpapering started ages ago with a Digg-like approach to create a user-curated collection of wallpapers, organised by quality thanks to user votes. Well, its community may not be big enough to really get the wallpapers organised that way, but the collection of available images at Social Wallpapering is huge and worth checking out and regularly updated with new submissions. You can browse by category, upload your own, or create an account to save your favourites.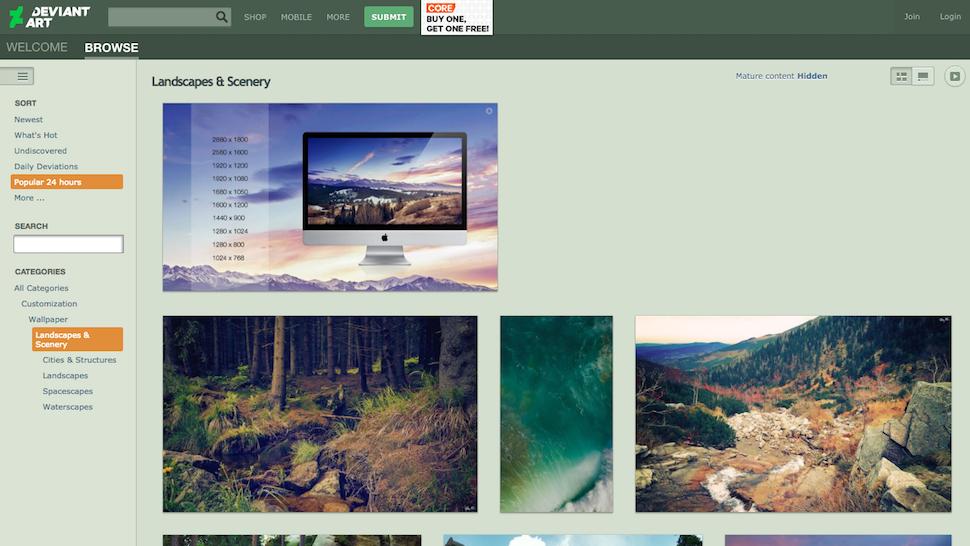 DeviantArt is a huge community of artists and fans, and among the many things you can find on the site is a huge collection of wallpapers. Photos, illustrations, abstract digital art, just about anything — even fantasy or fanart of your favourite movie, video game, or comic franchise.
You can select a category from the menu on the left, or search for something specific in the site's massive database. You can't filter specifically for resolution, but you can browse categories specifically for ultrawide or widescreen displays, multi-display wallpapers and even wallpapers specifically for mobile devices and smaller displays, too. It's consistently been one of our favourite desktop web sites.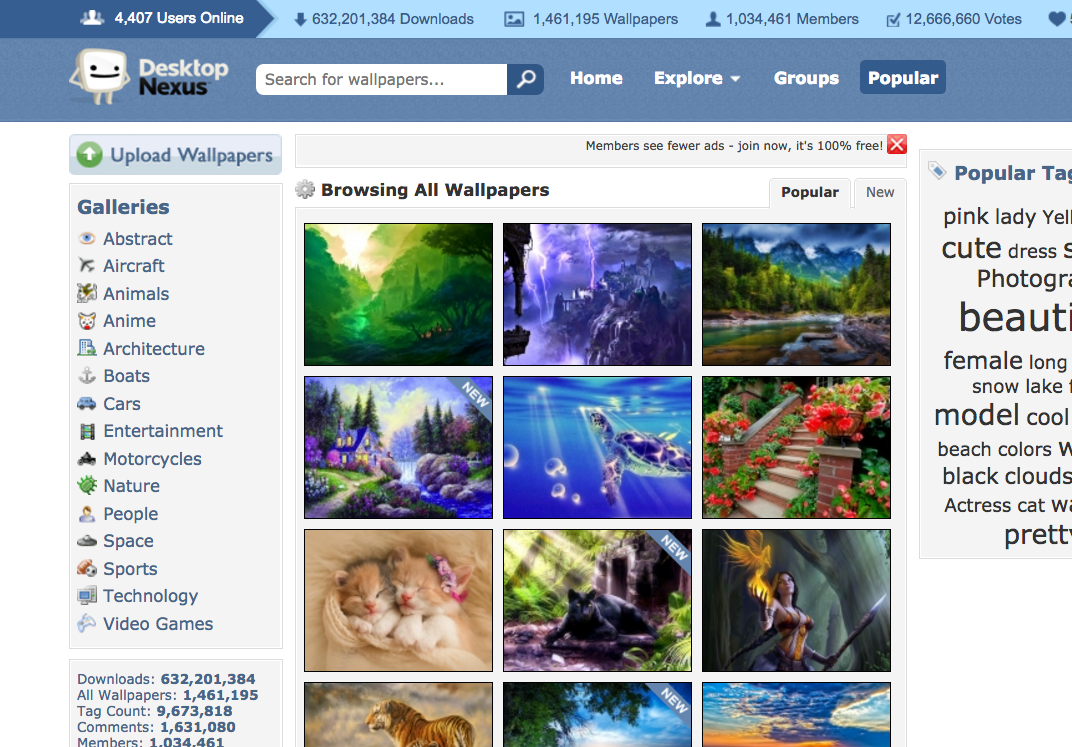 One of our favourite underrated desktop wallpaper sites, Desktop Nexus has a community of over a million users who have collectively uploaded and voted on over 1.4 million wallpapers. Everything at Desktop Nexus is neatly organised by category and if you select one category, a wealth of subcategories opens up underneath it (and you can view them all here.)
All of the wallpapers are organised by member votes (and you have to be a member for at least a month or upload 25 of your own wallpapers to the service in order to vote), so you can see what's popular, or you can search for something specific if you know you're interested in something.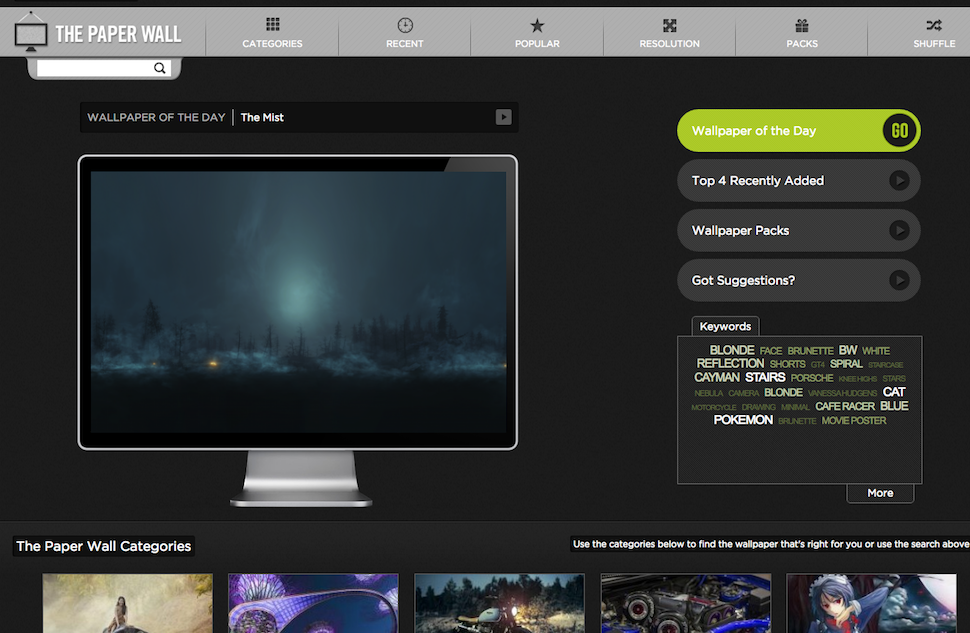 The Paper Wall made its way into many of our old Wallpaper Wednesday features, thanks to its massive catalogue, diverse categories of wallpapers, and tons of resolution options. Its search is actually surprisingly useful, but you may not even use it once you get familiar with the depth of its categories, its popular and trending wallpaper selection, and its resolution filters, which let you choose wallpapers that will only match your display (or larger, if you have to scale down.) The resolution chooser also has options for dual monitor setups and widescreen displays.
If you're looking for a starting point, The Paper Wall also has wallpaper "packs", filled with the best of a given year, or a bunch of wallpapers on a specific theme that you can browse or download whole and add to your collection.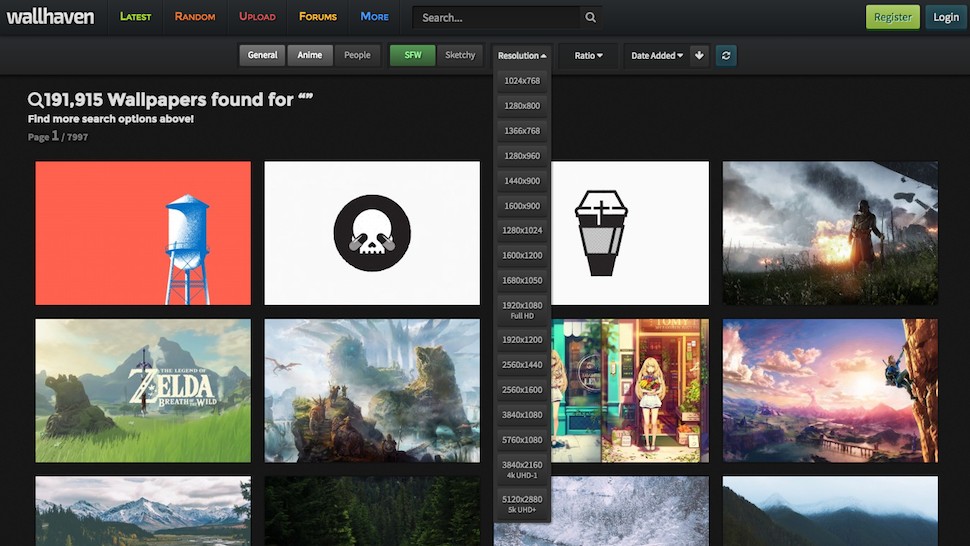 Wallhaven started out as a project to replace/rebuild/improve upon Wallbase, which is dead now but used to be one of our favourite wallpaper sites just because it scraped wallpapers from so many sources we also liked. Technically Wallhaven is still in alpha, but it's been in alpha long enough and has a database big enough we're comfortable recommending it.
The community is massive, the database is large, and once you have a free account, you can browse by tags, filter for work-safe images (or not,) choose specific resolutions (including 4K, Retina and ultrawide), or roll the dice and see what you turn up with. Best of all, the site automatically loads more wallpapers at the bottom, so if you keep scrolling, you'll keep seeing more.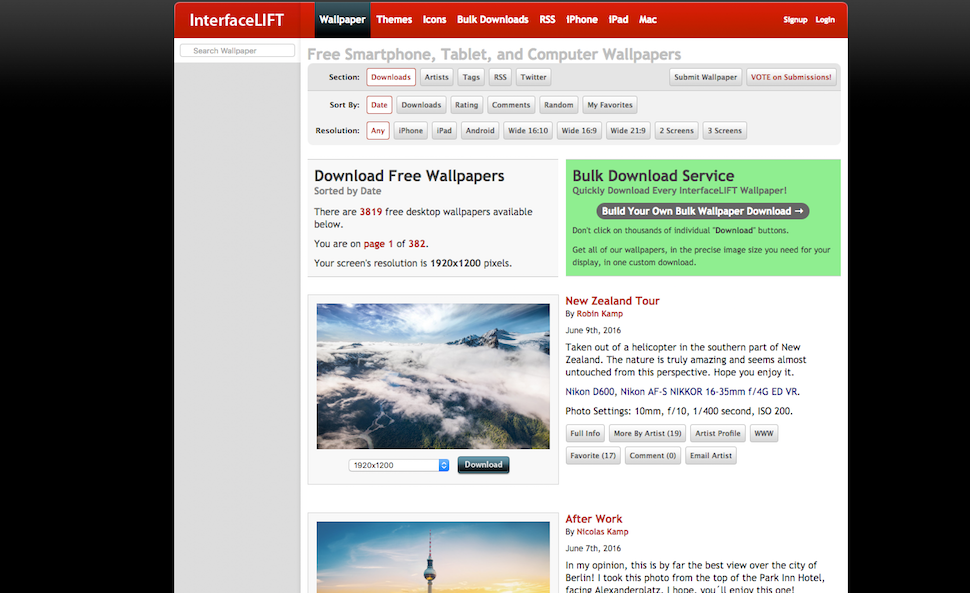 Another old and well-loved standard in the wallpaper community, IntefaceLift has long been a premier source of beautiful wallpapers of natural scenes and photos-turned-wallpapers. The site deals in more than just wallpapers though. Like DeviantArt, there's a huge community of people there making icon packs, system themes, and more. Even so, the wallpapers probably interest you the most, and are likely why you've visited n the past.
InterfaceLift will automatically detect your screen resolution and show you wallpapers accordingly, although you can select a different one if you prefer, or even choose from dual, triple, or ultrawide display options. It may not have the massive selection or scraped images from other sites, but you can see everything about the photos you download for your desktop, including the cameras used to take them, who took them, and their comments.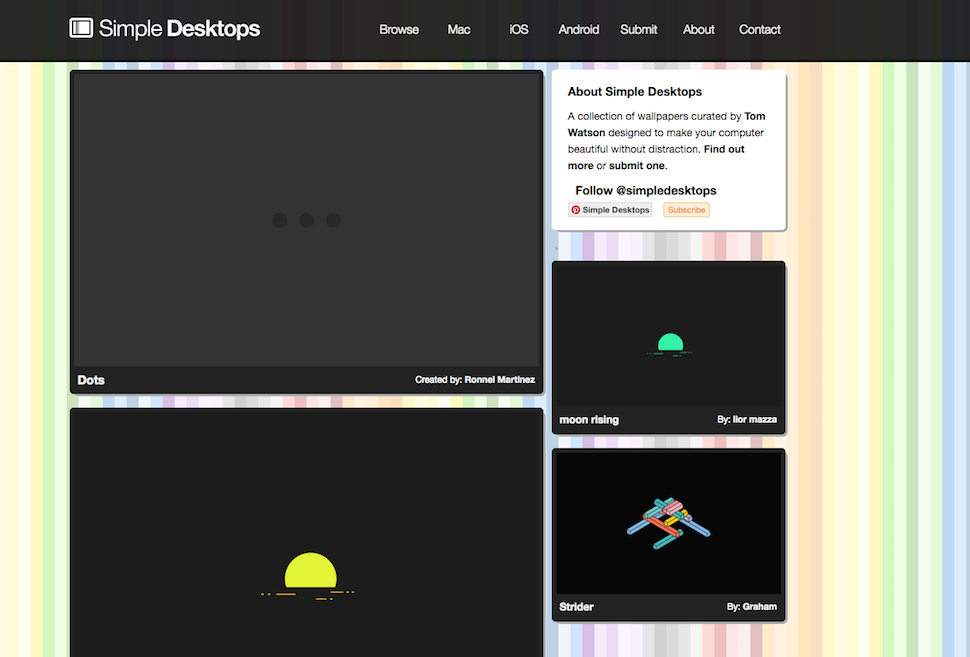 If you're not interested in photos, abstract art, or other busy images for your desktop, Simple Desktops may be more up your alley. All of the wallpapers at Simple Desktops are fairly minimal and include patterns, text snippets, or iconographic images that look great and say a lot without saying much at all.
They will all hand-curated and selected because they're attractive without being busy or distracting — which can be perfect if you want to dress up your desktop without standing out too much in an office, or distracting yourself with what's on it.
Best of all, Simple Desktops has options for mobile devices as well and all of their images are sourced, so you can learn a little bit about the artist who made them too.
No discussion of wallpaper sites is complete without a stop by Digital Blasphemy, run since 1999 by one man (and friend of Lifehacker!) Ryan Bliss. Its beginnings go back to the early web as one of the first places to find really unique and interesting 3D art and unique wallpapers that weren't photos. Today, its current iteration combines all of the things that made it great years ago with modern, up to date fantasy art, landscapes, sci-fi vistas, and natural scenes.
Only a small selection of the wallpapers at Digital Blasphemy are available for free — the real wealth of its catalogue is hidden behind a $US20 ($27)/yr membership plan (with different tiers with more perks, you can see them all here.) Additionally, Digital Blasphemy has wallpapers for multiple monitors, mobile devices and there are Digital Blasphemy apps available on Xbox Live and the PlayStation Store.
1. Automatic Wallpaper Changers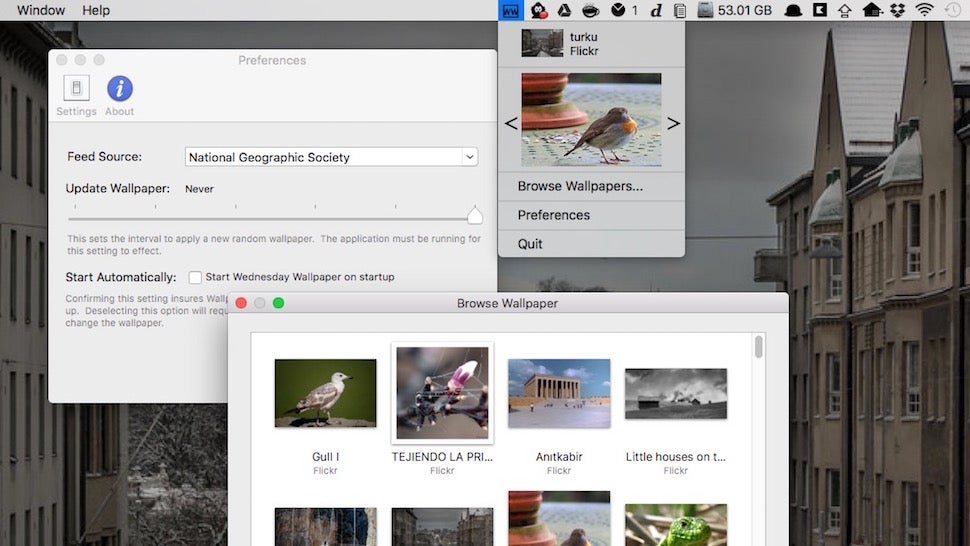 While all of the above are great sources for new wallpapers to dress up your desktop, sometimes the best sources are the ones you install on your computer, forget about, and just let the wallpapers come to you. For example, previously mentionedWallpaper Wednesday for Mac pulls fresh wallpapers from NASA, National Geographic, Flickr's best photos of the day and more, without you having to download them individually.
If you're willing to pay $US5 ($7), Kuvva for Mac can also auto-download and refresh wallpapers for you as well.
John's Background Switcher is our favourite wallpaper manager for Windows, and while it's great with your own downloaded desktops, it's even better if you select some of the preloaded RSS feeds of images and let the app do the downloading and switching for you.
It's not alone though. DisplayFusion can do the same, and Bing Desktop can do the same with Bing's beautiful images too.
For more on these, and some more options, check out this rundown of apps and tools to keep your wallpaper fresh.
Bonus: There's no way we could include all of our favourite wallpaper and desktop services in even 10 items. For even more, check out this post at Big Think, with direct links to the archive of over 400,000 images that the Metropolitan Museum of Art, as well as images from the National Gallery in Washington DC, the Google Art Project, and other museums around the world.
If you're specifically looking for dual or triple monitor desktops, we should give a special mention to Dual Monitor Backgrounds (DMB), which has been serving that need for many years.