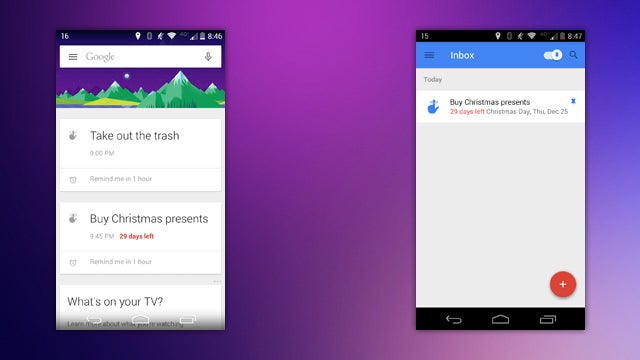 Being able to make your smartphone do things by just giving it a verbal command can be exceptionally useful when your hands are busy or when you're simply too lazy to type. Here are some ways you can use Google App voice commands for your phone.
I remember years ago when I interviewed Apple co-founder Steve Wozniak on what he thought would be the next big thing in tech. He enthusiastically said voice commands. To be honest, I wasn't exactly convinced back then Siri, Google App and Cortana came onto the scene and now I know that Wozniak is actually a clairvoyant.
Today, we look at six tips and tricks that you can use with the Google App, the digital personal assistant available on Android and iOS devices as well as through the Google Chrome web browser. Some of these you may already be familiar with, but hopefully this will enlighten some Google Now neophytes:
Find nearby attractions: Whether you're craving a drink after a long day's work, or just need your weekly gelato fix, all you need to say is "OK Google, where's the closest [e.g. ramen restaurant / Korean BBQ?]", and the options will pop up on your phone.
Search within apps: This one is for people who love their music or movies. Instead of searching through individual apps to find a song or play a movie, you can just say "OK Google, play [e.g. Justin Bieber / House of Cards]" and it will open automatically. You can even say something like "OK Google, play [Sorry by Justin Bieber] on [Spotify]" and it will play the song right through the app, without you even touching a button. (Ed Note: Please don't actually look up Justin Bieber...)
Set reminders: Instead of manually adding a reminder to your phone, you can say "OK Google, [set an alarm for 6am]" and it will pop up at the right time. Location based voice commands means you can set reminders and include a location as well, and next time you're at the location it will remind you. For example, say "OK Google, remind me to [buy milk next time I'm at Woolworths]," and when you're next at Woolworths, the reminder will pop up.
Get directions: Whether you're in a new city or just trying to find your way to your next meeting, you can just say "OK Google, show me directions to [Surry Hills / Fitzroy]" and Google will take you there.
Translate phrases: We can almost all recall a time when we needed to translate a word, phrase or sentence. Just say "OK Google, [how do you say thank you in Korean?]" and Google will pronounce the word for you.
Convert currencies, work out a math equation, or define a word: Ever wondered what the square root of pie is or what's the meaning Quomodocunquize? Well, it's as simple as saying "OK Google, [what's the square root of pi?]" or "OK Google, [what's the definition of Quomodocunquize] and it will get the answers for you.
You can even ask Google App a string of related questions. For example: "What's The Martian about?" followed by "Who's in the cast?" then "How old is he?" and "Who's he married to?"
Do you have a voice command trick you'd like to share? Let us know in the comments.