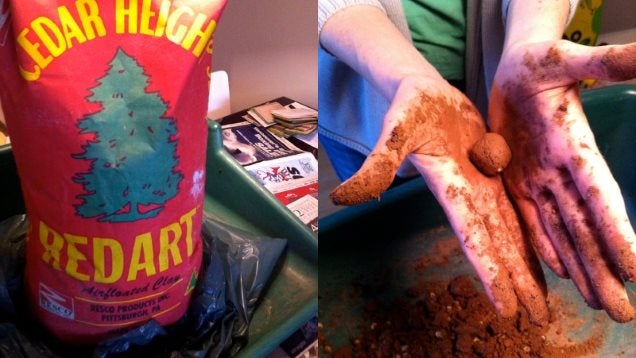 Gardening is a pleasure for many people, but others find it something of a chore. If you fall into the latter camp, try creating seed balls for easy growing with minimal ground preparation.
By coating seeds in clay, soil and fertiliser, seeds can easily establish in areas that are considered difficult or impossible to prepare. The ancient technique is attributed by the Permaculture Research Institute to Japanese farmer Masanobu Fukuoka. Over on Heavy Petal, Andrea Bellamy shows how to create these simple balls that can be packed with your favourite seeds — all that's needed is some red clay and some compost mixed with the seeds you want to grow and some water.
Seed balls are great for reclaiming derelict areas with thin or poor soil, making them ideal tools for guerrilla gardening. I find them especially useful for tossing into empty or neglected lots.
Rolled into balls and dried out, the seed-packed spheres can be easily scattered wherever needed. You can then leave them to their own devices, save for occasional watering depending on the type of seed — Andrea suggests scattering just before it rains to help with germination. Don't keep them all for yourself; seed balls also make great little gifts for friends and family.
How to Make Seed Balls [Heavy Petal]