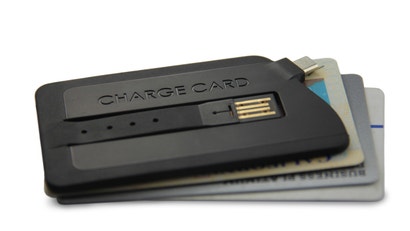 The ChargeCard is a tiny, credit-card sized USB charging card that slips into a pocket or fits into your wallet, ensuring you're never without a USB cable for data or power. If you've ever wished you had a USB cable handy or had to borrow someone else's charger, this gadget is for you.
The beauty of the ChargeCard is that it's thin and small enough to fit just about anywhere. It fits in any credit card slot, money clip, or other sleeve, and it's made of tough, flexible plastic. It's even textured around the outside edges so it doesn't accidentally slide out of your wallet or money clip.
The USB connector itself clicks into place in the centre of the card until you need it, and when you do you can just flip it out and connect it to a nearby USB port (see the image below). The USB connector is flexible, so you can peek at your phone while it's charging, and move it around your desk if you have to. On the edge of the card is the adaptor that connects to your phone (or other device).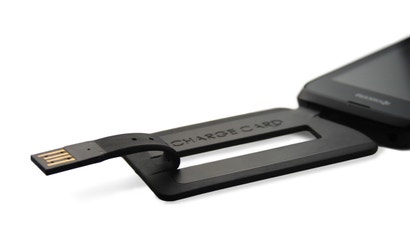 The ChargeCard comes in three varieties, a microUSB version that charges just about any Android device, an iPhone 4 version with a 30-pin dock connector on the side, and an iPhone 5 version with an Apple Lightning connector on the side. Since the cables transfer data as well as power, if you need to plug a microUSB device into your computer — like programming a Harmony Remote or transferring data from a portable hard drive — the ChargeCard works for that too. The iPhone 4 and microUSB versions are available now, and the iPhone 5 version will start shipping next month (but you can pre-order now). All three models are $US25 each, with free shipping worldwide.
The whole project is a KickStarter success story. The folks behind the ChargeCard sent me one to play with, and even after a few short days of use, I've found it invaluable. Keeping it in my wallet is a no-brainer, and even though I have no shortage of USB cables at home and in my laptop bag, it just made more sense to use something this small and unobtrusive unless a longer cable was called for. Right now, the ChargeCard is in my wallet, ready to charge my phone if I'm ever low on battery but near a USB port, or the next time I'm somewhere with a USB device but without a data cable.
The ChargeCard isn't the only tiny USB charging cable or device on the market — I'm sure there are plenty others easily available. Even so, the size and shape, and the fact that it fits anywhere without needing to be coiled/uncoiled or being a pain to carry, make it a very useful tool.