Last year, I told you all about BeReal, a then-trendy app that encourages you to share real-time, unfiltered photos of whatever you're doing in an effort to counteract the curated, contrived nature of Instagram. The cultural pendulum never stops swinging, though, so that's over. Now, there's BeFake, which spits in the face of BeReal's earnestness and makes Instagram look wholly organic.
What is BeFake?
When it comes to digital trends, I like to consider myself firmly nestled in the warm embrace of the zeitgeist, so I was dismayed to learn about an app I haven't downloaded yet. Upon locating BeFake AI in the Apple app store (here's the Google Play link), I read its description: "Why be real when it's fun to BeFake? To be honest, we're not always our creative best and not every moment feels ready to share. So give your reality an AI lift." I created a username and gave it permission to access my contacts (because my data privacy is so far gone at this point, I just don't care) so I could add some friends. Thrillingly, none of my contacts were on it yet. I am, in fact, on the cutting edge.
The app works just like BeReal: At a random time every day, it'll tell you it's time to take a picture and activate your front and back camera simultaneously. Unlike BeReal, though, you don't snap what you're really doing; you come up with something—whatever you want—and use the built-in AI generator to place yourself in that scenario. The idea here is to be as zany or creative as you want. Once a day, you get to imagine something wild, then tell AI to stick you in the centre of it.
The app offers pre-made prompts for the AI—"Logan Paul in a rainforest" was one—but it also allows you to input your own, which is where the real appeal lies. I snapped a photo of myself on my couch with my front camera and let the back camera capture my wall. Then I requested that it look like I was at a birthday party on a rocket ship. You have 20 minutes from the moment the timer goes off to create your scene and post it on time to not be penalized, but within that 20 minutes, you can revise your creation over and over. "Taking a nap inside a cheeseburger" yielded the kind of AI nightmare where you feel like you're hallucinating because nothing you're seeing makes any sense, but "taking a bath in a giant cup of coffee" worked well enough. Two things happened I did not ask for: The artificial artist gifted me with brown hair for some reason but also added a hunky cartoon man in the front-camera picture, implying strange things about my coffee bath.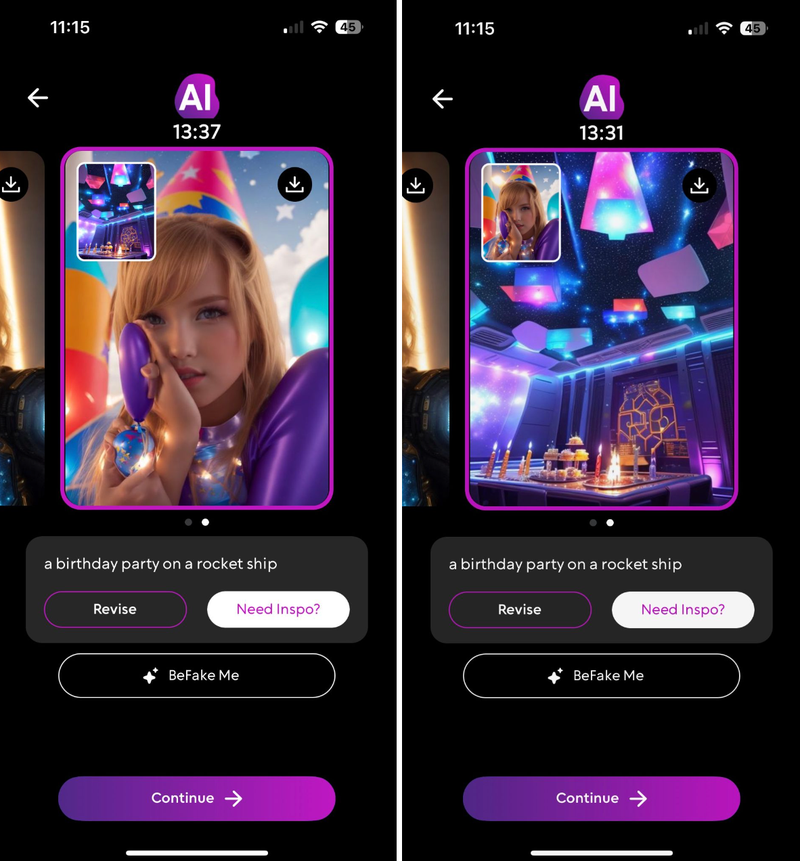 Like BeReal, you have a feed for your friends and a feed for global discoveries, so the potential to amass a following for being super creative and posting publicly to that discovery feed is definitely there. A major selling point is also the anonymity that comes with posting altered images. If you don't want to be yourself, you don't have to be.
There's a real catch to BeFake
There's a catch with BeFake that you don't get with BeReal: It costs money to access certain features. When I was ready to upload the generated image of myself partying on a rocket ship, I was presented with the option of hiding my original image. Since that was a busted-ugly photo of myself in a ponytail, I hastily toggled the button—and was denied, as I'm not a subscriber. Pressing the button to subscribe revealed additional features that come with payment, like unlimited AI generations, late posts without penalties, and the ability to see friends' old posts instead of just what they post on a given day.
It costs US$2.99 per week or US$9.99 monthly. A year upfront is knocked down to US$99.99. You can also buy credits separately just to use for image generation without the other perks, at 500 for US$9.99. The app gave me 150 credits upfront when I joined, but I wasn't sure what they were for. After six image generations, I checked my balance and still have 150, but the platform doesn't make it clear what actually reduces them or why you would pay to get more. Even after I posted my seventh image generation ("fighting a bear in an office building," which—in a creative, if sexist, move—turned me into a man), the credit amount did not go down. So, do you need the credits? Unclear!
I didn't buy any credits, but I'll leave the app on my phone for a while to see if any of my friends join. It would be much more fun if they did. If the app takes off the way BeReal did, I can envision it being pretty entertaining, whether I'm spending money on it or not.