Nothing about the Labo VR Kit, Nintendo's foray into virtual reality, should work. Compared to other virtual reality systems, the frame-rate is sluggish and the graphics are kind of crap. It's so cheaply constructed it's literally made of cardboard. There's no huge, immersive world to get lost in. There isn't even a strap to keep it attached to your face.
But Nintendo has defied conventional video game logic and created one of the most interesting, useful and fun application of virtual reality I've seen.
Instead of figuring out how to inject gamers deeper into often-alienating and lonely digital spaces, Nintendo re-thought the concept of virtual reality with Labo.
This suite of colourful mini-games and imaginative cardboard constructions encourages real-world creativity, exploration, expression and social play instead of a slack-jawed injection of digital smack. It's VR, but it isn't virtually fun. It's actually fun.
Like the best toys, Labo expands with the interests of your child. If they just want to chill out with a fun little VR game, Labo offers dozens. If they're into art, they can mod their projects into cardboard masterpieces.
If your kid likes working with their hands, they'll love the actual building of the toy-cons, and Labo provides a ton of tools and instruction so young programmers can code their own games and toys.
Make things
The idea behind Labo is that you and your kid build cardboard "toy-cons", motion-controlled creations, for use in specialised little games. The VR kit adds a new dimension (literally) to the Labo library, with a collection of six new projects and many, many VR mini-games to go with them.
With a little effort and some folds and creases, you and your kid will transform a few sheets of cardboard and some rubber bands into a majestic bird with flapping wings, a camera with a working focus ring, a bazooka-looking space-blaster and more cool toys.
We built all the currently available Labo VR projects: The VR goggles, the camera, the elephant, the blaster, the wind pedal and the pinwheel. They range in complexity from the relatively simple and quick construction of the cardboard VR goggle housing to more complicated builds such as the blaster. That one took a couple of hours.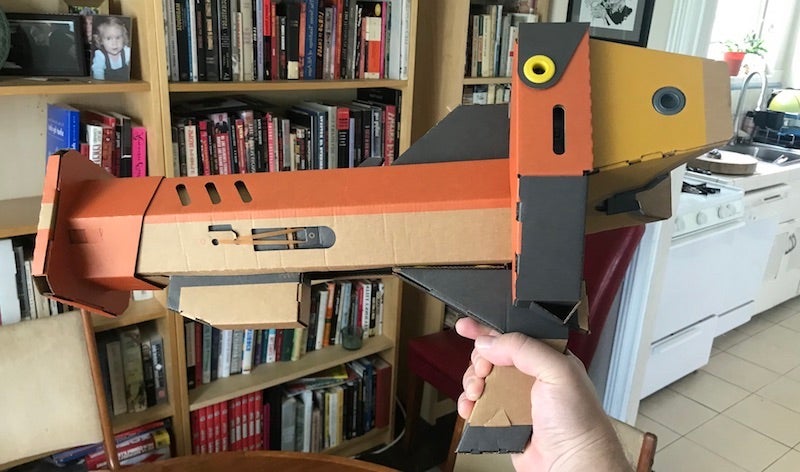 Photo: Stephen Johnson
The on-screen instructions are clear and easy to understand. The Switch lets you look at a project from any angle and repeat steps as often as you need to get it right.
The building process is simple enough for most kids to understand (although smaller ones will probably need a little help from an adult), and it's fairly fun to put them together — although you might hear a few "are we finished yet?" when working on more time-consuming toy-cons.
The finished toy-cons are solid, durable and work exactly as advertised, and they often contain surprising details: The ring on the camera lens clacks like a real one would when you pull focus. The bird controller can be paired with the wind pedal and the pinwheel, letting you control your virtual bird in different ways.
Play games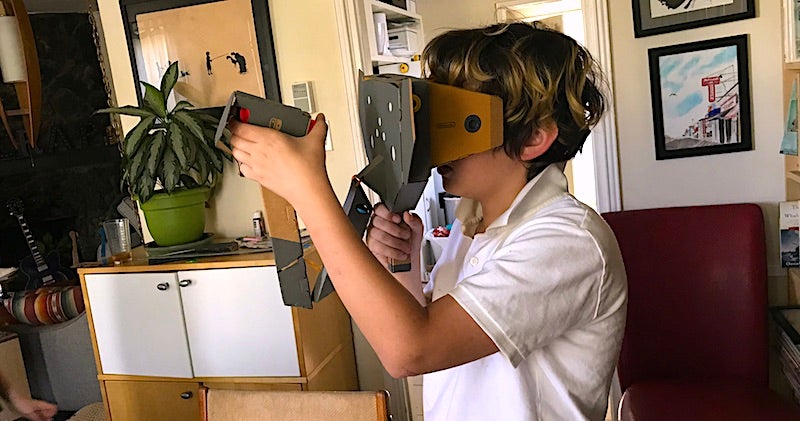 Photo: Stephen Johnson
Once you've built a toy-con, it's time to put it to the test. The games for each project combine motion-sensing and virtual reality into bite-sized, easy-to-learn games designed to be experienced quickly and shared.
While the fun quotient of each game varies, every title we tried (and we tried dozens) is solid and playable, and many are amazing little slices of video game nirvana. None of the included games are huge, world-shaking experiences, but, in true Nintendo style, even the smallest rewards exploration with moments of surprising depth beneath their shining surface.
You can use your cardboard camera to explore and photograph a gentle, undersea world, diving to the virtual ocean floor to capture the strange light-emitting creatures that live at the lower depths, or you can swim upwards and break the surface to photograph seagulls circling a lighthouse. Another player can even strap on a cardboard snorkel and swim through your world.
Photo: Stephen Johnson
The bird controller offers the chance to fly through an avian world by flapping your cardboard wings. You hatch your eggs and feed your little chickies until they join you and fly by your side. It's gentle and reminds me a bit of ancient N64 favourite Pilotwings 64.
There is no elephant game to go along with the elephant controller. Instead, the "trunk" is a sectional arm with a joy-con controller at its end, allowing you to manipulate objects in 3D space.
We loved the Pictionary-style co-op drawing game where you take turns drawing a 3D object in space and guessing what the other player drew. It's silly and fun little game, but Nintendo included a surprisingly complex set of drawing and colouring tools to render 3D models, hinting at the deeper possibilities of VR.
Maybe the silliest and most surprising of all the Labo VR toy-cons and games is the wind pedal and its accompanying frog-based gaming experience. You put the bulky cardboard contraption on the floor, and make your froggy jump by pressing down on the pedal. Cool enough, but the fan attached to the pedal directs a puff of air into your face with each hop.
It sounds silly, but feeling the wind in your face in the virtual world will definitely make you laugh.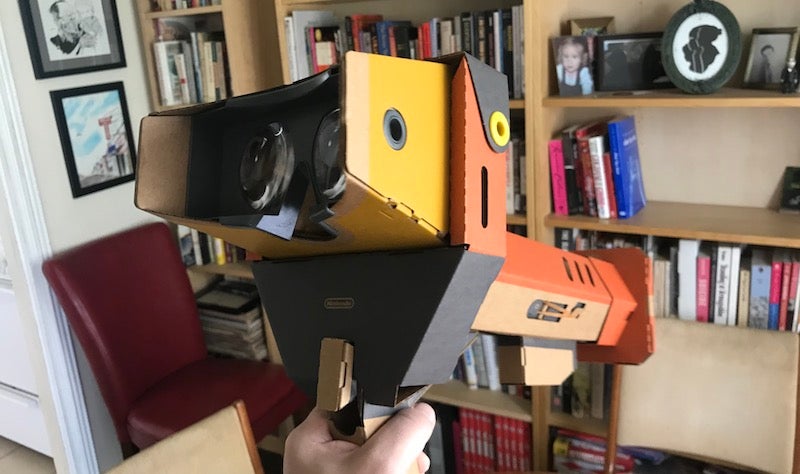 Photo: Stephen Johnson
The main event of the toy-cons for most kids will likely be the blaster. The most complicated build, the blaster has you folding cardboard into a bazooka-like gun. You pull back the barrel to cock it, and it makes a satisfying "wonk" sound when it fires. Not bad for some cardboard and rubber bands.
The games that come with it, an on-rails alien shooter and a two-player strategy game that involves feeding little hippos, demonstrate why there's no strap to hold the Labo onto your face. You play them for a little bit, and pass the device to your friend. No strap needed. No calibrating and adjusting the VR. Just a fun little novelty to share with a pal.
Learn how stuff works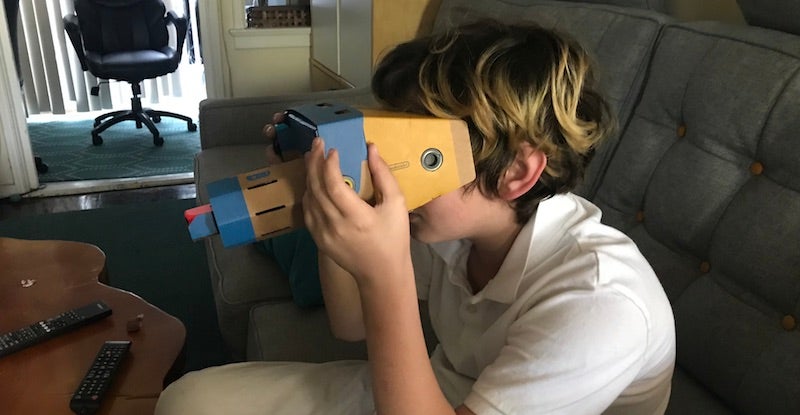 Photo: Stephen Johnson
All these projects and games would have been more than worth the price, but Labo VR also contains a deeper level that's way more educational than teaching your kids how to follow cardboard-folding instructions.
In a world where technology can seem like magic (I mean, does anyone really knows how an iPhone works?), Labo invites users behind the tech scenes by carefully explaining and demonstrating the ingenious mechanisms that power the toy-cons and the Nintendo Switch itself.
For example, the pinwheel controller works by using the IR camera embedded at the end of the joy-con to read reflective stickers on the pinwheel's blade: The faster they spin, the faster the on-screen action happens.
Once they understand the basics of how the Switch's IR camera, accelerometer, rumble and other features work together with cardboard and stickers, your kids are free to make their own working projects. They can start from scratch with their own creations, or mod one of the existing mini games in any way they can dream up.
If you have a budding coder on your hands, Labo is a non-threatening and fun way to learn coding and express creativity. Sadly, there's doesn't seem to be any way to share Labo projects online. I'd love to see the cool home-brew games and toys people are cooking up with Labo VR.