Whether you're on Tinder, Hinge, or Tudder (it's an app for farmers to meet cows, platonically!), safety is key. You never know who you'll meet when you're separated by a screen and a grainy photo.
With your digital privacy more at stake than ever, it's good to practice a little discretion when you venture into the dating world.

This week, Wired covered the ways in which you can approach the dating app game with a little more precaution. We went ahead and added some tips you should use in your quest to find a partner — and why editing your profile these days is a necessity:
Edit details pulled from your social media accounts
On an app like Tinder, you can easily sync your Facebook and Instagram accounts. With that information comes the ability for your profile to absorb personal details like your job and photos from high school (you're different now!).
As Wired recommends, consider editing any data pulled from your accounts. Even if your name and high school are the only details available, this information can easily be used to find you elsewhere (Linkedin, for instance).
Change your primary photo on your dating app account, too. By reverse-image searching, this could be used to find your Facebook profile or other websites where your image appears.
Don't give out your number so quickly
We get it, good conversation on an app leads to a number exchange. Here's why you shouldn't give out your number too quickly: Once someone has that information, they can use that to pull your Instagram account if it's linked to your phone. Unlink your phone number from your Instagram if that's the case. An area code, alone, has identifying information about where you live/lived, so keep the chat in-app if possible.
People joke that all anyone care about on dating apps is the photos, and it's kind of true. But you're not only being judged on a hotness scale — folks are trying to sense of you as a person without reading your bio. A picture says more than you realise about your taste, social life, and world view. Here's what to think about when you're choosing the perfect pic.
Read more
Turn off location settings
Some apps purposefully track your location relative to prospective daters. Turn that off on your phone settings, so someone can't locate you. Yes, some apps require your location for basic functionality. In that case, set it to a mode in which location is only in use while operating the app.
Consolidate your dating identities
Sometimes, we need to cast a wide net, which means trying out every app until we find success. Yes, they very well could increase your odds of finding the one but consider striking at least a few of them.
When you stumble upon the same person on two or three different apps, it's easy to build out identifying information across them (if you combine someone's OkCupid questionnaire with their respective Hinge account, you practically have an encyclopedia on information on them).
Delete the app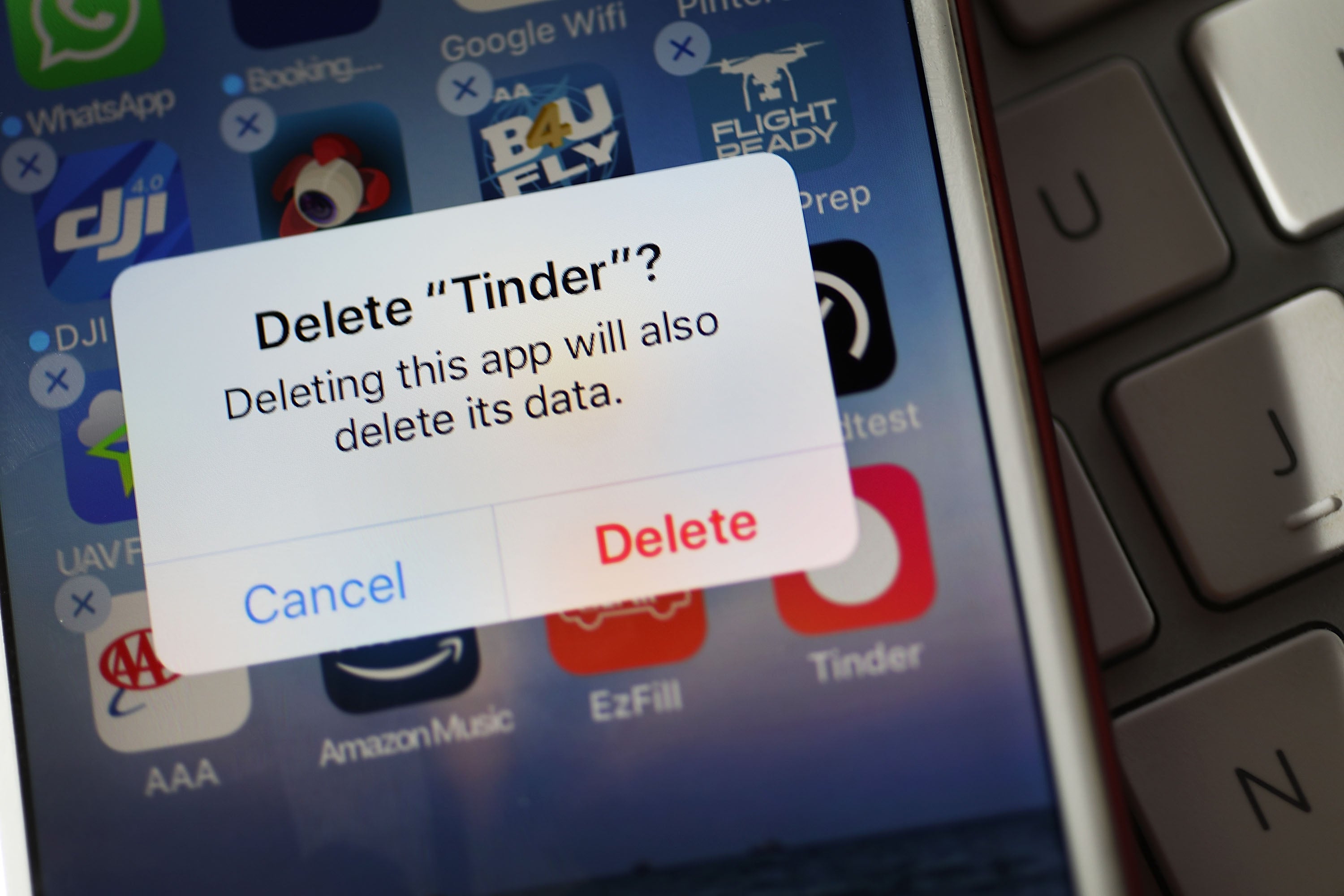 Getty Images" loading="lazy" > Photo: Joe Raedle,
Getty Images
So you've met someone! Congrats, you can enthusiastically delete the app. Unfortunately, it's never that easy. Many apps, like Tinder and Hinge, require that you delete it in-app beforehand.
Others, like Coffee Meets Bagel, force you to email their customer service to do the deed. Make sure you complete the extra steps before you delete the app on your phone, otherwise your digital self will continue to live the single life (and who wants that?)