Contributor: Edith Jennifer Hill
What does it mean to be well? Wellmania, inspired by Brigid Delaney's book of the same name, attempts to answer this question.
Liv (Celeste Barber) is stranded in Australia after losing her green card, desperate to return to her job in the United States. After failing the necessary medical exam to apply for a new card, Liv embarks on a journey to "get well".
And she's going to do it in four weeks.
The show dives into the world of overconsumption of all kinds: food, drugs, sex and, eventually, wellness. Wellmania is a show where a glass of orange juice can't be presented without a comment about the vitamin C content.
Liv's health (or apparent lack thereof) is never presented in terms of her weight; instead, her "have it all" lifestyle is constantly critiqued by her friends and family.
You cannot, it turns out, have it all – if the all is a functioning career, family life, and copious amounts of cocaine and alcohol.
Throughout the eight episodes of this mini-series, Liv encounters all manner of wellness tropes, from green juices to vaginal crystal eggs. We are taken on a journey with her to cupping massages, watching intensely attractive people glistening on exercise bikes, to a nude session with a sex therapist.
Her journey is never presented as the clean, soft and beautiful acts of wellness we see on our Instagram feeds. Instead, it is hilarious, sweaty, vomit-covered, and has fallen so far off the wagon we are left wondering if she ever actually got on.
In the words of Liv: "Fuck diet, fuck exercise. All I need to do is starve myself and have my colon rinsed out."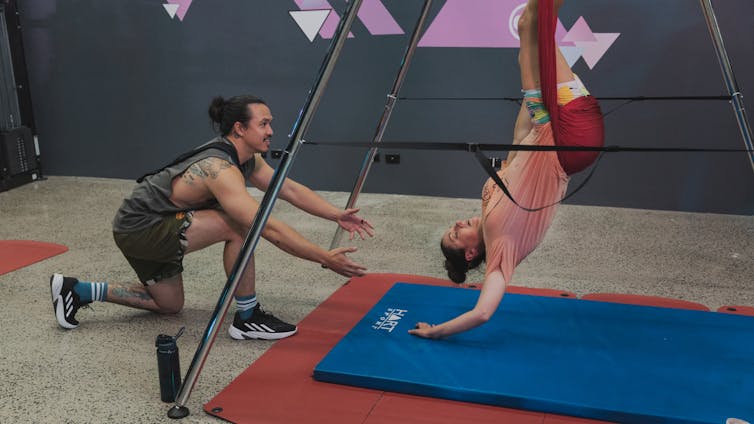 Wellmania shows us in no uncertain terms that while many of us crave quick fixes for our health, no such thing exists. It is quickly apparent Liv's wellness extends beyond what she puts in her body (or up her nose). We see a complex relationship between friends, family and coming home.
This is, of course, coupled with all the humour of returning home and turning into an adolescent version of yourself when you are around your adult sibling. There is nothing quite like being 39 and flipping off your younger brother behind your mum's back.
What we mean when we talk about wellness
Wellness is a part of our everyday vernacular. We see it on our Instagram feeds, in news headlines and in a recent trend in publishing.
Self-help books, keto diets, green juices and ways to "get well" are promoted everywhere.
Wellness meant something distinctly different when the word first became commonplace. The history of the word wellness dates back to 1961, with medical doctor Halbert Dunn's book High Level Wellness.
Dunn's definition of wellness relies on an individual's ability to function to their maximum potential physically, mentally and emotionally.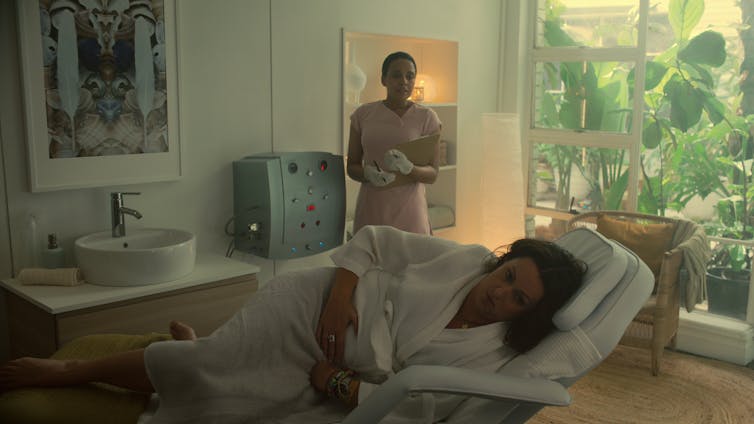 Dunn's work inspired physician John W. Travis to create the world's first wellness centre. Travis believed health is not the absence of disease, but an "ongoing dynamic state of growth".
His centre did not claim to treat or diagnose patients, but to help them understand why they are sick.
Since then, wellness has transformed from an ideology of self-examination used to describe relaxation, meditation and managed nutrition, to its current medicalisation alleged to treat health issues. Today, wellness is an unregulated word. With the popularisation of social media platforms and the commodification of bodies and health, wellness can be bought and sold online.
In Wellmania, we see Liv enter multiple wellness spaces.
Some of these spaces endeavour to help Liv understand her mind and body, like her very concerned and unbelievably patient GP. Others indirectly assist Liv to explore her past and relationship with her body: she hitchhikes to Canberra with a death doula; she sees a tarot card reader while microdosing on LSD.
It's not all health and wellness. The show includes a significant amount of drug use and shows the dangers and dark side of the wellness industry, and of Liv. Liv's self-destructive behaviour is mixed in a dangerous cocktail with fasting, bloodletting cupping and an inability to confront the past.
A holistic journey
Health is not linear. A consistent theme running through wellness discourse for the past 60 years is that to be completely well requires a holistic approach – not holistic as in the bastardisation of the word by the multibillion-dollar industry of juice cleanses and essential oils, but holistic as in the sense of the whole body.
Wellness is the physical body, yes, but also emotional, mental, sexual and spiritual health. Each episode of Wellmania shows us this, woven throughout a story of family, home, flourishing careers and the downfalls of them all.
Alongside its wonderful, crude humour (necessary in a show featuring colonics), Wellmania unexpectedly tells the story of grief and how uniquely it penetrates and devastates our bodies.
This series shows us one woman's world of wellness. But, more than that, it reminds us how closely wellness is tied to our lives, bodies and loved ones, and the consequences of being unwell.
Wellmania is on Netflix from March 29.

---
Edith Jennifer Hill, Associate lecturer, Flinders University
This article is republished from The Conversation under a Creative Commons license. Read the original article.