Twitter just announced that it is planning to free up usernames for inactive accounts. While that means that the coveted Twitter handle you've been eyeing might finally be yours, if you happen to grab it before anyone else, Twitter's move comes with an unfortunate side effect: If someone you love is no longer around to use the service, their accounts might disappear, too.
Dear @Twitter , please do not delete @realjonghyun90 on your inactive accounts list! This is an account belonging to our angel who has passed and this Twitter space allowed us to keep memories of him. It is very precious to us and we want to protect it. Please keep it active ???????????? pic.twitter.com/Omxc7E2ajL

— 샤이니 월드 SHINee World (@Forever_SHINee) November 27, 2019
While the Twitter team is allegedly "thinking" about some kind of account memorialization feature, there's been no announcement that it's seriously working on a way to preserve Twitter accounts like that. Until then, you should assume that your loved ones' inactive accounts might disappear at some unknown point after December 11. (Twitter isn't doing the great purge all at once, but inactive accounts are subject to removal after that date.)
Also worth considering: "inactive" also includes things such as @POTUS44, an archive of Obama's tweets while in office. Whoever maintains that account (Obama Pres Library, according to bio) will need to log-in and verify. Can't just leave it there.

— Dave Lee (@DaveLeeBBC) November 26, 2019
If you want to preserve the tweets of any account, you have two options. The first, and most obvious solution, is to log into that account. Not only will this unflag it as "inactive," but you'll then be able to use Twitter's built-in archiving feature to download everything a person posted.
If you don't have access to a person's account, there's another, more imperfect method to archive tweets. Head on over to All My Tweets, connect the website to your account (it's fine), and then enter a person's Twitter handle. Assuming their tweets aren't private, All My Tweets will create a single page of their last 3,200 tweets or so. (That's an API limit.) You can then save that website wherever you want, and you'll have a record of the most recent things that person posted.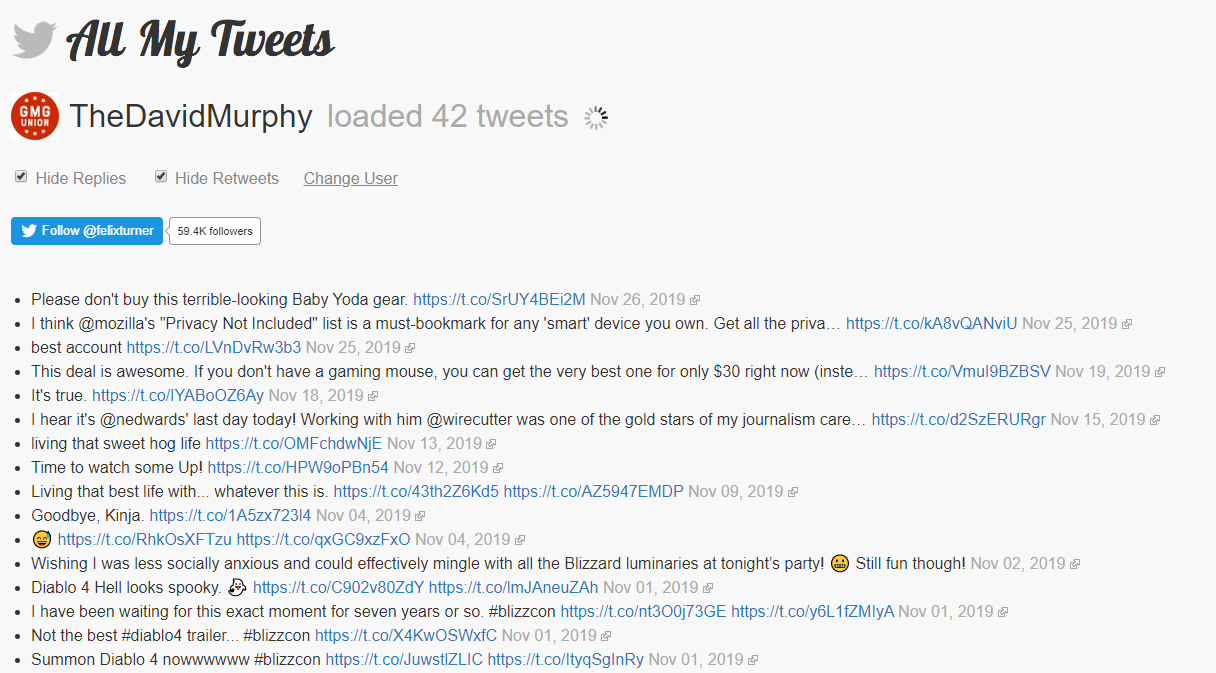 Screenshot: David Murphy
Does this get you everything a person posted on Twitter? No. I'm trying to find a great way for an average person to do this without wading too deep into some crazy coding solution, but in the meantime All My Tweets is an easy solution that's worth checking out. While I also suspect Twitter will come up with some way to allow people to preserve important inactive accounts, it doesn't hurt to save as many tweets as you can just in case.