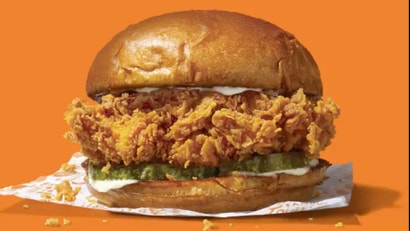 Screenshot: Claire Lower, Popeyes via Twitter
Yesterday marked the return of the much-hyped Popeyes chicken sandwich, and people promptly lost their marbles. Though I understand what it's like to be excited about a once-scarce food item (hello, Taco Bell fries), I am urging—nay, pleading—with everyone to please chill out.
The sandwich, which was pointedly re-released on a Sunday, promptly caused a bit of mayhem. According to CNN (and the sandwich-seekers of Twitter), drive-through lines "stretched into the streets," and I have seen multiple videos online of people acting very inappropriately towards the workers. I understand it's a delicious sandwich, but there is no scenario where yelling at Popeyes employees (or any fast food worker) is an acceptable move. Even if you wait hours in a line, only to find they sold the very last sandwich to the person in front of you, even if they seem to be moving very slowly, even if they forget your pickles—none of these instances warrant you (an adult) to yell at a restaurant worker over a sandwich. Even with the promised additional staff (of two people per restaurant), the virality of the sandwich meant its return was never going to be easy on the workers, and I wouldn't be surprised if some of them are still recovering from the first go-around. If long lines send you into a rage, maybe avoid the chain until things die down, or make your own damn sandwich.