At Lifehacker, we independently select and write about stuff we love and think you'll like too. We have affiliate and advertising partnerships, which means we may collect a share of sales or other compensation from the links on this page. BTW - prices are accurate and items in stock at the time of posting.
Disney Plus is set to officially launch in Australia on November 19. At $8.99 a month, it's already one of the cheapest streaming options on the block, but there's a way to get the price down even further – and there might be a special offer coming that sees it drop below $5 a month. Here are the details!
For those who have been living obliviously under a Netflix blanket, Disney Plus is a new video-on-demand service that promises to seriously shake up the streaming status quo. With access to Disney's full catalogue of TV shows and movies – including everything from Pixar, Marvel Studios and Star Wars – it's a compelling package even before you factor in its original programing.
Disney has revealed the Australian launch date for its new streaming service, Disney+ - and it's coming much sooner than we all predicted. It will be available this November and it's bound to shake up Australia's streaming scene in a big way with Disney likely scrounging for all its content from the various streaming services, like Stan, Foxtel and Netflix, already hosting its content. Here's everything you need to know, including how much it will cost Aussie subscribers.
Read more
Unlike Netflix and Stan, Disney Plus won't be using a tiered Basic/Medium/Premium pricing structure. Instead, there'll be just one option available that will set you back $8.99 a month.
This is a highly competitive price that trumps every other streaming service in Australia apart from Amazon Prime Video. As Tegan Jones on Gizmodo notes, you're basically getting all the premium perks of a top-end streaming plan – including seven simultaneous devices and access to 4K video – without paying anything extra.
But there's a way to get that attractive price point down even lower. In addition to month-to-month pricing, Disney also offers a yearly payment option which costs $89. If you opt for the yearly price instead, it brings the cost down to around $7.40 a month. Bonus!
If that still seems too high, there might (and we stress the word 'might') be a way to pay substantially less.
In America, Disney is currently offering a "Founder's Circle" deal via its D23 fan club, which anyone can join as a general member for free. The D23 discount cuts $US23 off the annual price when you sign up for three years, which works out to just $US3.92 a month. That's a saving of over 30 per cent!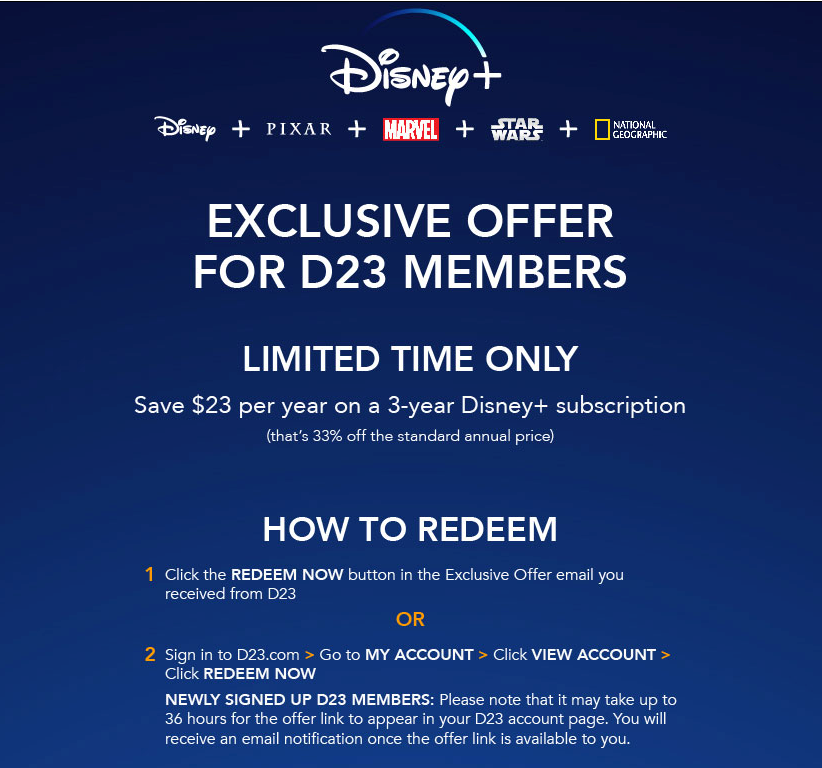 Screenshot: D23 / E.Price
Currently, the offer is restricted to US residents using US payment methods, but there's an outside chance it will be extended to the Australian market in the leadup to Disney+'s launch. (The D23 fan club is available internationally, which is encouraging. If Disney is willing to take a bath to attract subscribers in the US, hopefully the same holds true in Australia.)
If you're planning to subscribe to Disney+, you should definitely sign up to be a D23 member, just in case. With any luck, a similar offer will appear in your account in the weeks ahead.
Disney says it may take up to 36 hours for the offer link to appear in your D23 account page, so we advise not leaving it to the last minute. If Aussies are blessed with the same deal, Disney will email you a link to redeem the offer when it's available for you. Fingers crossed!
The emergence of several new streaming services is bad news for Netflix, Stan and other incumbent streaming platforms. And as traditional TV networks slowly get their ducks in a row, we might be at the beginning of the end of having one streaming powerhouse that delivers most of what we want.
Read more