A few years ago, the "Mississippi roast" became a popular American dish. Being both from Mississippi and a big fan of pot roast, I was intrigued, because I wasn't aware that we had an official roast. I asked my mother, my father, my roast-making grandmother, and a couple of aunts if they had heard of the recipe. They had not.
The Pinterest darling did, however, sound like something that could have been conceived in Mississippi, particularly the Mississippi I grew up in, where Southern food is less Sean Brock/home grown, and more Little Debbie/poured out of a can.
The Southern food I see fetishised by non-Southern people, usually 'elevated', is rarely what I grew up eating. This makes sense when you consider that Mississippi is the poorest state, and people rarely want to think about what poor folks eat, particularly if it involves a packet or a can.
Though fresh, sliced tomatoes and cornbread were omnipresent in my childhood suppers, so were canned soup, garlic salt, and heat-and-serve rolls. (For the record: I am not complaining about any aspect of those meals.)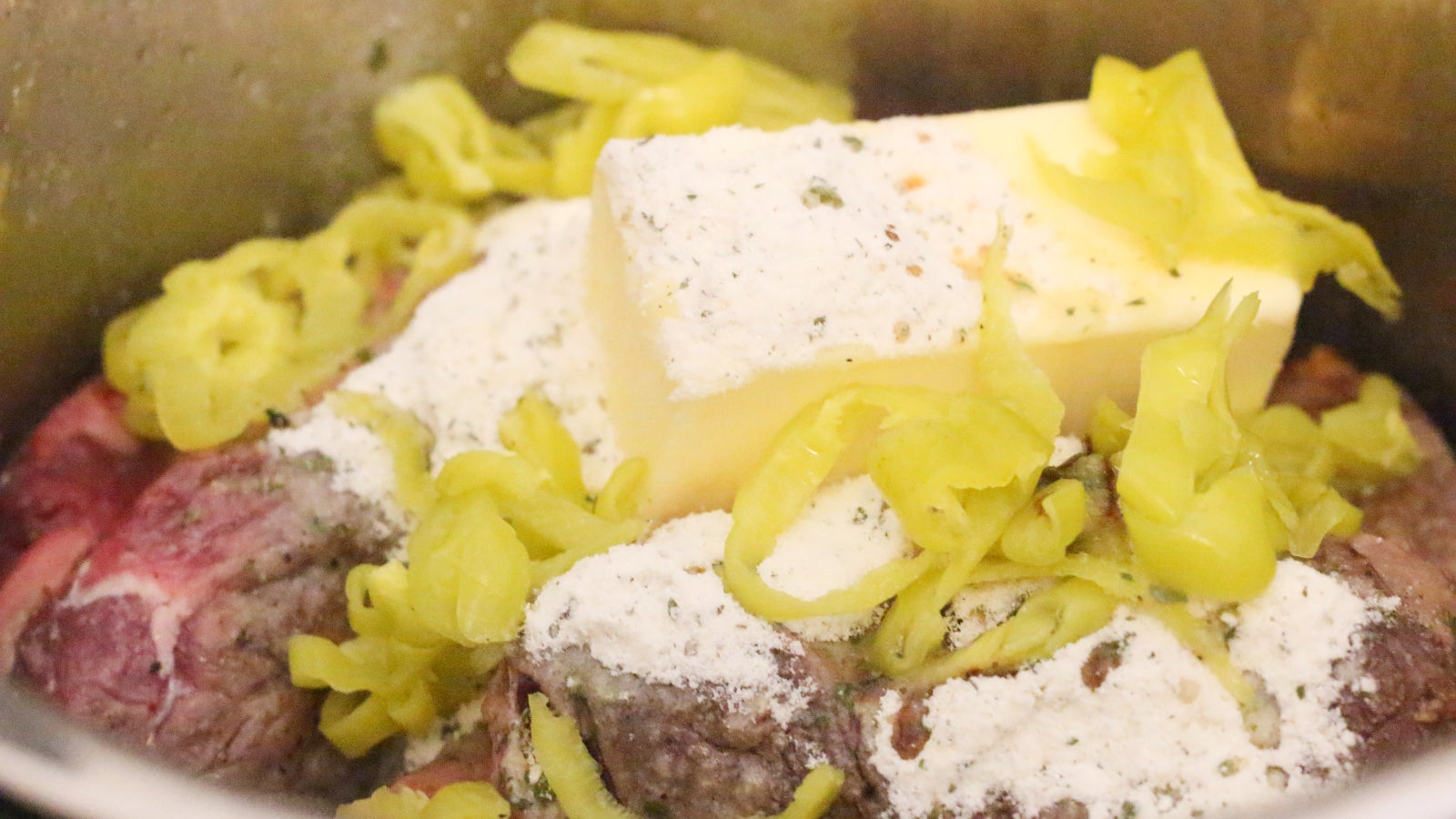 Photo: Claire Lower
After reading about the origin of this roast and its rise to popularity, the name rings true for me. Robin Champman, the OP who got the recipe from her aunt, looks extremely warm and familiar, even though I have never met her.
The recipe is a classic "fix and forget," usually made in the slow cooker, but you can achieve faster, fall-apart-with-glance results in a pressure cooker.
I made very few tweaks to the original recipe, but you should feel free to tweak it yourself. Southern cooking – at least the Southern cooking I was raised on – is mostly about preparing delicious food with few ingredients, and utilising what you happen to have.
To make it yourself, you will need:
1 chuck roast, approximately 1.8kg

Flour for dredging

1 tablespoon of vegetable oil

1 stick of unsalted butter

1 packet of ranch mix

2 teaspoons of beef stock

1/2 cup of jarred banana peppers + 1/4 cup of the liquid from the jar

3/4 cup of water (or wine)
Season the roast with salt and pepper and dredge it in flour. Turn on your pressure cooker and set to high. Add the vegetable oil and, once it is very hot, sear the roast on all sides to create a crust. Turn off the pressure cooker, then add the remaining ingredients.
Set the cook time to 60 minutes. After the cooking time has elapsed, release the pressure manually. If you would like to thicken the gravy, remove the meat, and add a slurry of one tablespoon of cornstarch mixed into three tablespoons of water.
Serve with carrots, potatoes, and heat-and-serve rolls.