You should install the recent Windows 10 May 2019 update, if you haven't already. The update has a cool new feature, Recommended Troubleshooting, that makes diagnosing and solving common PC issues much easier.
Recommended Troubleshooting automatically recognises and fixes critical PC issues, and can even recommend small changes users can make to boost their PC's overall performance—such as closing or uninstalling dangerous apps, updating drivers, deleting unnecessary files, and more. At the very least, it should reduce the time users might have otherwise spent scrolling through pages of internet search results to figure out why their system is running slower, or why their internet connection keeps dropping out.
We'll show you how to enable Recommended Troubleshooting, plus explain all the various ways you can tweak the feature's settings.
How to turn on Windows 10 Recommended Troubleshooting
Windows 10 will automatically perform any critical fixes it discovers, but with Recommended Troubleshooting turned on, users will be able to let their PC handle non-critical changes on its own.
Click the Quick Start icon or press the Windows key to bring up the start menu

Click the cog-shaped Settings shortcut.

Go to Privacy & Diagnostic & feedback& "Recommended Troubleshooting"

Turn the Recommended Troubleshooting slider to "On."
From here, you will be able to select a default behaviour for how Windows handles any recommended fixes:
Ask me before fixing problems: Windows will send you a desktop notification when a problem is discovered and will ask if/how you wish to fix it. (This is the default behaviour.)

Fix problems for me without asking: All fixes will be done automatically, without sending you a notification before or after. Windows will automatically apply the solution it deems best.

Tell me when problems get fixed: Same as above, but Windows will send a notification whenever a problem is fixed.

Only fix critical problems for me: Only critical fixes will be applied, and the rest will be ignored. You will not receive any notifications.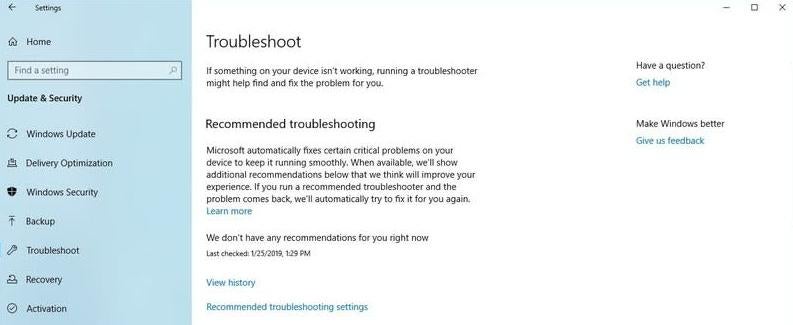 Screenshot: Microsoft
As long as the Recommended Troubleshooting feature is on, you can see a list of recommended fixes and a history of any changes by going to Settings & Privacy & Diagnostic & feedback & "Recommended Troubleshooting," then clicking "View history." You can then browse a chronological list of all fixes Windows has made or suggested, and whether they successfully solved the issue. This is helpful for instances when an issue remains unsolved even after Windows' recommended fixes have been applied, or if you missed/forgot a previous notification.
We should note that if you have Recommended Troubleshooting set to only fix critical problems, or if you have the feature turned off entirely, you're still able to get recommended fixes manually by using the built-in "Troubleshoot" option in the Diagnostic & Feedback settings page.
You'll be asked to select the nature of the problem you're running a manual troubleshoot for (such as Internet connection, hardware, etc.) then click "run troubleshoot." Windows will offer you the solution(s) it thinks is best—just like when the automatic recommendations are on. However, these manual scans will not be saved in your Troubleshooting history for future reference.