The worst part of any wedding—beyond waiting in the sweltering heat for the bride to stride down the aisle or eating an especially overcooked steak at the reception—is having to endure one alone.
If you're attending a wedding without a plus one and don't know anyone beyond the bride and groom, I've been there (and a few times, too). It's always awkward to sit at a table with strangers or make conversation by the buffet table—here's how to enjoy it as best you can, without having to stay really, really close to the open bar.
Turn a wedding into a vacation
If ever you're invited to a multi-event wedding—the kind that involves rehearsals, a brunch, and a series of optional "fun" events—request time off from work and make the trip a vacation, if you're able to.
I recently attended a wedding in Hawaii, and while flying in for exactly one day wouldn't make any sense anyway, I took a week off to enjoy it while I could. Consider it a reward for the travel arrangements you've made just to attend the wedding.
"I've started driving to those weddings and booking a night in a really nice hotel away from the party," one traveller, who has attended a number of weddings alone, told Refinery29. "I stay as long as I feel comfortable and as long as I'm having fun, but as soon as it gets awkward or people get romantic with their partners, I slip off and enjoy having a mini break by myself."
Splurge on a room and a rental car if you can and enjoy your time away from the office.
Introduce yourself to family
If you're attending a large wedding without knowing anyone beyond the bride or groom, it's easy to cling to them out of necessity—but it's likely their attention is divided. As someone who experiences bouts of social anxiety, I find it easiest to speak with those closest to the wedding party, like their family members, who (obviously) have a long history with the bride or groom; it's fun to chat and compare stories.
"The first wedding I went to, I went alone as well; it was on the opposite side of the country, so literally the only person I knew there was the bride, not even the groom," Redditor u/carolinemathildes writes. "I'm naturally an awkward person, but when I went, I was lucky that the parents of the bride met me as I walked in, and introduced me to another group of people there around my age that knew had the same interests as me, so we all hung out together when the bride was busy."
So introduce yourself and ask how they know the bride or groom; you might end up with temporary, new friends you'll never speak to again (but remember fondly).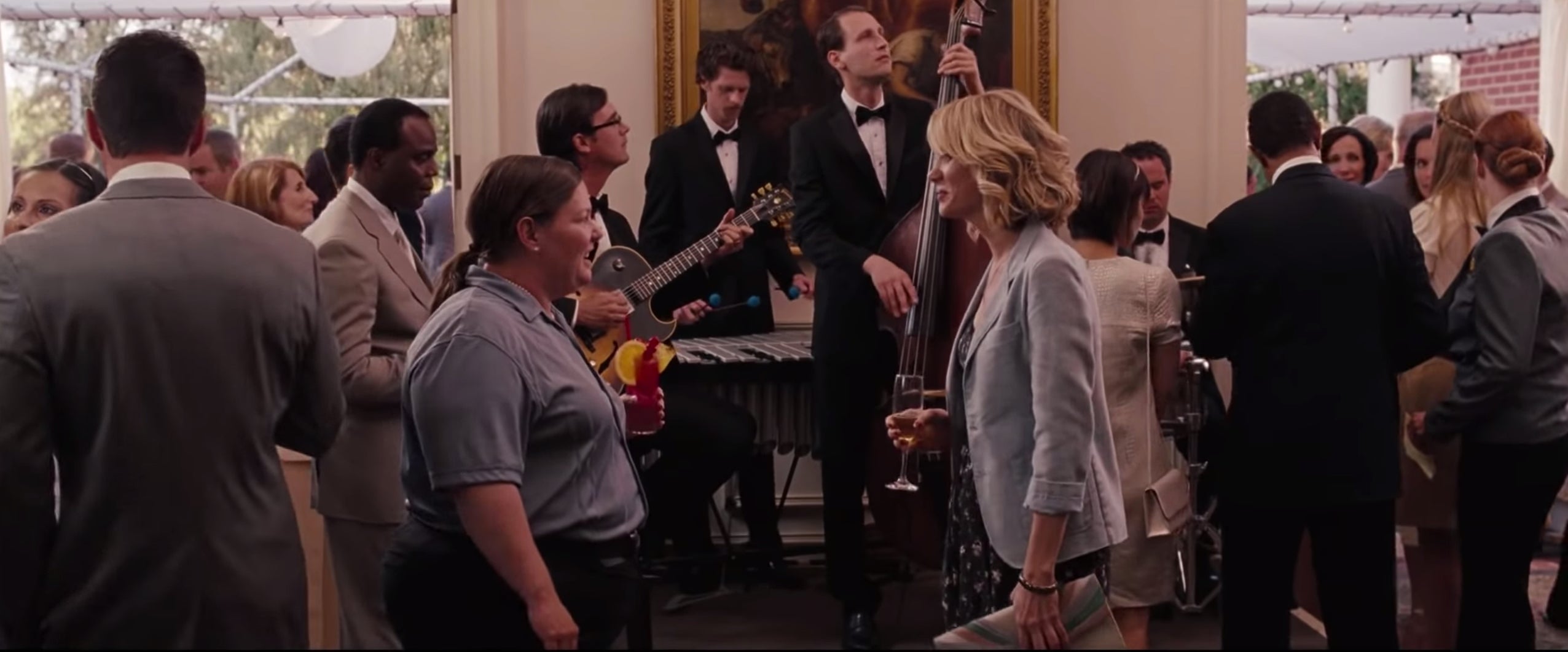 Screenshot: Bridesmaids
Find other solo guests
It's unlikely you're the only guest attending a wedding without a plus one. For this reason, lock eyes with the lonesome attendee at your table and find mutual solace (and conversation) in your temporary co-dependence.
Better yet, if you can in advance, ask the bride or groom about your seatmates at your table well. You might be able to make some adjustments if you're feeling a little uncomfortable about being sat at a particular table—just don't be a dick about it and send a polite text (and not last-minute).
If you're at a particularly undesirable table at the reception, you're not entirely stuck; once the dance floor opens, make your swift exit as other seats become available.
Don't overdo it at the open bar
Because it needs to be said, don't find yourself clinging to the open bar, as wonderful and beautiful a place as it is. If you're driving home, it's not a smart decision, but you also don't want to ruin your friend's wedding. Drink one or two an hour and perhaps a little more as the night progresses, but know your own limits. (Also, word to the wise, cool it on the shots and energy drinks.)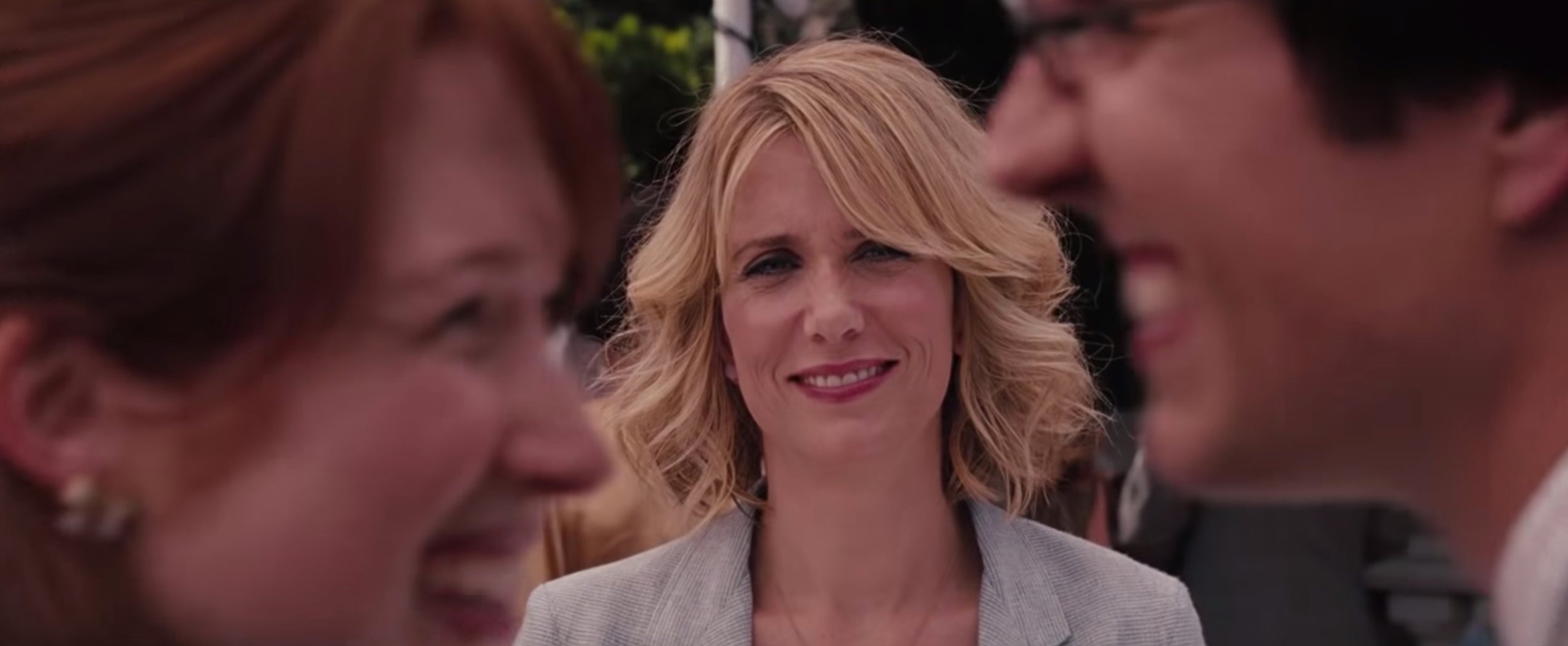 Screenshot: Bridesmaids
Have an exit strategy
In terms of etiquette, when's the soonest time you can leave a wedding reception without causing offence? Well, you'll likely read that as soon as the cake is cut, you're free to go. (If you're at a larger wedding, it's unlikely your departure will be all that visible, though.)
If you plan on leaving early, you might also ask yourself whether you should greet the newly married couple before departing; for the most part, that's an outdated rule, unless you haven't had a chance to speak.
"If you already offered your best wishes and had some alone time with the couple, it's fine to leave without saying goodbye," Nancy Mattias writes for Martha Stewart Weddings. So don't feel bad about taking off after the cake's cut.
If you're planning on drinking, you should check to see if Uber or Lyft are available in the area of the venue, too. If not, make arrangements with a local car service so you're not left stranded.
Set your alarm for the following morning, in case you have an early departure, too.
Or just say no
If the idea of attending a wedding where you know absolutely no one feels daunting, you don't have to subject yourself to unnecessary torture. (If it's a close friend, you may want to reconsider, though). How do you say no to a wedding invitation? Well, besides a physical "no" in the form of an RSVP card, u/argella1300 has a helpful tip.
"If it's an especially close friend, I would still get them a small gift and send them a card apologizing for not being able to attend, and maybe make future plans for both couples to celebrate together on their own in a more comfortable environment."
If you're one of three hundred guests, it's unlikely they'll take any offence by it—but if you're one of ten or twenty possible attendees, it's best you stick it out for your friend.