Last week Instagram added a new feature that allows you to add lyrics to your Instagram stories. The feature allows you to not only add a song to your Story (you've been able to do that for a while), but also sing along with those lyrics, similar to what you might do with the app TikTok.
To add lyrics to your Instagram story you'll want to launch the app and then select the camera icon at the top of the screen, just like when you're adding anything else to a Story.
From there, scroll to Music from the bottom menu and then select a song and drag the music bar to the part of the song you'd like to play as part of your story.
Above the song, you'll see a button for Lyrics. The way the lyrics are displayed can be customised for you. Here are a few versions I did on top of a photo of my new friend "Donkey."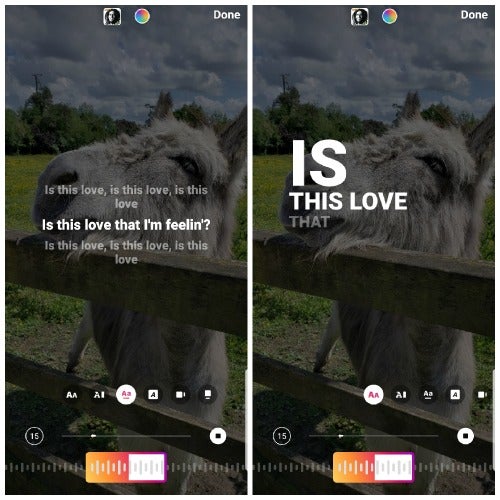 Lyrics react in real time with the slider, so if you select a different part of the song then the corresponding lyrics will automatically show up as well.
It's a super-easy trick and can be a fun way to add a bit of flair to your Instagram stories.