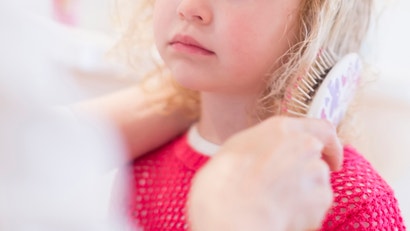 Photo: Jam Visual Productions, Getty Images
If you're curious about the morning routine of this parenting editor, I will tell you that a large portion of it involves scampering around the house, asking: "Has anyone seen a hairbrush?" (I say "a" hairbrush because we have about six of them lying around somewhere.)
This has been a silly, ongoing issue. I never have a brush when I need a brush to smooth my kindergartener's hair into a high ponytail, a la Jo Jo Siwa, just the way she likes it.
It's because our morning hair styling session doesn't take place in the same location every day. Sometimes, I'll do her hair as she's eating breakfast. Sometimes, we'll sit on the stairs. And on those days when we're all just racing the clock, I'll finish up her 'do as she gets herself into the car.
And that is why this hack posted by Mike Thiessen on Facebook speaks to me deeply. Thiessen used an eye hook and metal chain to attach a brush to the bathroom wall. The solution is hideous, yet brilliant.
We might just have to adopt the idea, or one like it. I'm thinking you could also use a two-hook lanyard, which looks a bit less like something you'd find in a prison restroom. Just make sure to go with a brush with a loophole in the handle.
Sure, the more dignified option would be to enforce a rule that everyone in the house must put the brush back in a specified spot every single time. But if you're looking for a surefire way to end the morning hairbrush hunt, an ugly chain will do it.