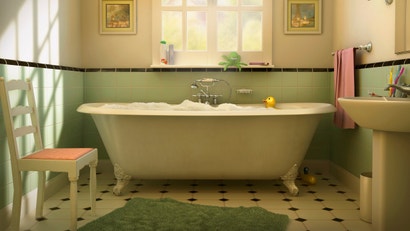 Photo: Chris Clor, Getty Images
There's really no bad time or place to read to a child (ok, maybe while scuba diving or getting a root canal, but you know what I mean). Still, when my daughter was younger, one of the greatest story time setups involved sticking her in the bathtub, grabbing a stack of books and plopping myself on the covered toilet or a stool.
Reading to your little kid while they're bathing is great because 1) you're multitasking, 2) your child is contained (he has no choice to but to listen to your dramatic performance of The Gruffalo), and 3) if he's fidgety, he can play with toys and splash around as he soaks in the tale. The routine can last an hour or more—or as long as the water stays warm.
A bonus: If you start reading a truly riveting book, your kid might even look forward to bath time. Make sure to use this to your advantage. "Hey, if you want to learn the fate of Wilbur, you've gotta scrub behind your ears ..."